Am I the only one that enjoys eating soup during the hottest days of the year? I don't know if I enjoy it so much as I'm just used to eating steaming bowls of broth and veggies on super hot days. It brings me back to my childhood where my mother would decide that cooking soup all day long was only logical when the temperature rose to a high number. Her logic behind it would always be the same, "the heat from the soup counteracts the heat from outside and hence, it cools you down." Does this make sense? It makes perfect sense. I remember playing outside and staring up at the windows in the house and it would be foggy and steamy from the heat of the stove and I'd be miserable and a little excited (but don't tell my mamma) because I knew that soup was in store for us. This also meant that we'd be eating it for a few days because whenever my mamma made soup, she made enough to feed the entire neighborhood. ENTIRE NEIGHBORHOOD. She would have it cooking away on the stove in the biggest pot I'd ever seen, and would stir it with a bowl. Not a spoon, but a bowl. Standing on a chair because she wouldn't be able to reach the top of the pot from the floor. If that's not dedication, then I don't know what is.
Not much has changed since then, except we're all a little older now, but my mom is still making too much soup and I still get the craving for a giant bowl whenever it begins to warm up. Two of my favorite soups are meatball and chicken tortilla (neither of which I grew up eating, go figure), so I thought the smartest thing to do is to combine them both into one mega soup. It was the only solution. That way, I can eat both of my favorites at the same time, without having to make them both separately, which I'm not opposed to doing by the way. Best idea, or extra best idea? Either way we all should be having soup this summer because it's the way to go. My mamma says so, and after all, mammas know best. Don't try to fight it, just accept it.
Let's start with the chicken meatballs. The faster we get them out of the way, the faster we can go about eating them. Deal? Deal. So in a large bowl, combine all of the meatball ingredients. I'm throwing some Tex-Mex spices and flavors in these meatballs like cilantro, cumin and chili powder to give them that extra tortilla soup taste.
**Tip: The egg and the breadcrumbs are crucial for meatballs, especially for ground chicken, because it helps bind them together. I find ground chicken to be very soft and moist, so adding breadcrumbs and an egg creates a perfect consistency. Don't leave them out.**
Give it all a great big mix with your hands until evenly combined. Then shape the meatballs into even sizes (a bit smaller than a golfball) and place them on a baking sheet.
**Tip: Two tips for the price of one here: First, use damp hands to shape the meatballs because it'll help them not stick and the second tip is to line the baking sheet with foil so that clean up is a breeze!**
Bake in a preheated 400ºF oven and bake for about 15 to 20 minutes, turning halfway, until golden brown and crispy.
**Tip: To get a super extra crispy exterior you can place them under the broiler for about 30 seconds to brown right before they're finished.**
You can forget about the meatballs for a bit and get to working on the soup. You can actually start the soup while the meatballs are cooking, if you're good at multi-tasking that is. Make sure they don't burn, so keep an eye on them. If you burn them, our friendship is over. OVER.
Start by sautéing the the onions and garlic in a large pot for about 3 to 5 minutes, to soften. Then you can stir in the remaining veggies. I'm throwing in some zucchini, yellow squash, red bell pepper, jalapeño, corn and chayote.
**Note: Chayote is part of the gourd family, almost like a squash or melon. It's really common in Latin American dishes. I grew up eating it all the time so that's why I like adding it to my tortilla soup. If you can find it, by all means use it, but if you can't just omit it.**
Cook, stirring often, for about 10 minutes to soften all of the veggies you've just added. Then stir in fire roasted tomatoes, tomato paste, lime juice, salt, pepper, oregano, chili powder and chicken stock (broth will work too).
Reduce the heat to low and simmer, uncovered, for about half an hour to allow all the flavors to blend and marry and get super perfect for us. You can stir it every now and then, to ensure that the veggies don't stick and burn.
While the soup simmers, you can make your tortilla strips for topping. Cut a few corn tortillas into strips, as thick as you'd like them, and fry in batches into golden brown and crunchy. Season with a bit of salt right when they come out of the fryer.
Continue frying the tortilla strips until you've got as many as you'd like. My favorite part of tortilla soup are the strips on top, and somehow I can never get enough of them so that's why I like to make sure I have a big pile of them when I make it at home. It's just like making homemade tortilla chips, just in strip form!
Carefully drop the meatballs into the soup, one by one to prevent splashing, and simmer for another 20 minutes to reheat and infuse them with the soup's flavor.
Do you know how in some restaurants they serve tortilla soup puréed and it's all smooth with just a few toppings, like cheese, avocado and tortilla strips? Yeah, I hate that. I like when it's chunky and there's actual texture to the soup.
Serve the soup with all kinds of awesome toppings like our homemade tortilla strips, avocado, cheese, cilantro, sour cream, chopped onion, and radish slices. The possibilities are are endless! (But they're sort of kind of endless because you don't want to add too much on top and have it all mask the delicious flavors in the soup).
I made chicken meatballs because traditional tortilla soup is most often made with grilled chicken so I wanted to keep some of the same flavors. But if you're not a fan of ground chicken, feel free to make regular beef meatballs instead. (You could also use ground turkey if you prefer).
Now matter what the temperature is outside, just get in the kitchen and make this soup right now. Take my mamma's advice and know that everything is better with a big bowl (or two) of soup. This one just happens to be two great soups all rolled into one mega tasting meal. I'm all about this. Enjoy!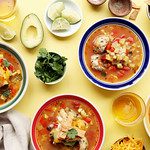 Chicken Meatball Tortilla Soup
It's my two favorite soups coming together to make one ultimate tasting soup. Chicken meatballs are browned and then simmered with a mix of veggies and chicken stock. Crispy tortilla strips, cheese and avocado finish this dish the right way.
Ingredients
For the meatballs
2

pounds

ground chicken

or turkey

1

large egg

1/2

cup

plain bread crumbs

1/4

cup

grated parmesan

1/4

cup

fresh cilantro

chopped

1/4

cup

onion

finely chopped

1

teaspoon

salt

1/2

teaspoon

black pepper

1/2

teaspoon

granulated garlic

1/2

teaspoon

granulated onion

1/2

teaspoon

cumin

1/2

teaspoon

dried oregano

1/2

teaspoon

chili powder or paprika

1/2

teaspoon

crushed red chili flakes
For the soup
1

tablespoon

olive oil

1

yellow onion

diced

2

garlic cloves

minced

1

zucchini

diced

1

yellow squash

diced

1

red bell pepper

diced

1

jalapeño

chopped

1

chayote

diced

1

ear of corn

cut off kernels (1/2 cup frozen corn)

1

15 oz can fire roasted tomatoes

1

15 oz can black beans, drained

2

tablespoons

tomato paste

8

cups

chicken stock

1

lime

juiced

2

teaspoons

salt

1

teaspoon

black pepper

1/2

teaspoon

dried oregano

corn tortillas

cut into strips

canola oil for frying
Toppings
avocado

sour cream

cilantro

cheddar cheese

diced onion

radish
Instructions
Preheat oven to 400℉. Line a baking sheet with foil and grease with olive oil or cooking spray, set aside.

In a large bowl, combine the chicken, egg, bread crumbs, parmesan, cilantro, onion, and spices until well incorporated. Roll into small meatballs a bit smaller than a golf ball and place on prepared baking sheet, evenly apart. Bake in the oven for about 15 to 20 minutes, until golden brown and crispy, turning about halfway.

Place a large pot or dutch oven over medium-high heat with the oil. Add the onions and garlic and sauté for about 3 to 5 minutes, until softened. Stir in the zucchini, yellow squash, red bell pepper, jalapeño, chayote, and corn. Season with a bit of salt and pepper and cook for about 10 minutes. Add the tomatoes, black beans, tomato paste, and chicken stock, lime juice, salt, black pepper and dried oregano and stir until combined. Lower the heat and simmer uncovered for about 30 minutes.

Fill a saucepan or skillet with about half an inch of oil and place over medium heat. Once hot, add the tortilla strips and cook until golden brown and crispy. Drain well and transfer to a plate or platter lined with paper towels. Season with a bit of salt.

Drop in the chicken meatballs into the soup and simmer for another 20 minutes. Serve with desired toppings. Store leftovers in the fridge for up to 4 days. Enjoy!