I grew up catholic, I was baptized, did my first communion and all. We went to church every Sunday and observed lent year after year. That meant no meat on Fridays. Which also meant tuna sandwiches at the end of the week. Even though I no longer go to church, I still observe lent because I'm so used to it. It's a part of my upbringing, and I'd feel bad if I didn't. So around this time every year, I'm always on the lookout for vegetarian meals to make on Fridays that don't involve canned tuna. Not that there's anything wrong with that because I still crave tuna every once in a while. Sometimes we need something more than that though. So last year I had a Seafood Week on the blog, where I shared recipes for Crunchy Fish Sticks, Seafood Sliders, and Roasted Shrimp Cocktail just for such an occasion.
One of my favorite Indian dishes has to be tikka masala, which is usually made with chicken. I used to be really intimidated to make it myself, but lately I've been trying to step outside of my comfort zone. So I thought I'd take that favorite dish of mine and turn it into a vegetarian tikka masala with tofu, paneer and garbanzo beans, which is perfect for this lent season. So whether you're like me and are in need of a vegetarian meal on Fridays, or you're into Meatless Mondays or you're just a vegetarian all around, then this recipe is for you. Julian said that it was really the best vegetarian meal he's ever had, which is saying something because he doesn't really like eating vegetarian. That alone should make you want to make it and eat it.
With dishes like these, it's important to develop flavors in every step. It's all about develop as much flavor as possible. Cook the onions, garlic and serrano peppers in large pot with a bit of oil until softened.
**Note: I added three serrano peppers and the masala with perfectly spicy. Feel free to add as much or as little of the peppers as you'd like, depending on how hot you like your food. With three peppers it was spicy, but not too crazy. It might just be because I'm used to spice. You can also just omit it altogether if spicy just isn't your thing.**
Then stir in the tomato paste, and spices which include, ginger, turmeric, garam masala, coriander, cardamon, cumin, curry powder, salt, pepper and crushed red peppers flakes. All these spices help develop that the flavor. They're not all authentic masala spices, but like I said, this is my take on it.
**Note: According to Wikipedia, Garam masala is a blend of ground spices common in India, Pakistan, and other South Asian cuisines. It's a blend of black and white peppercorns, cloves, cinnamon, mace, cardamon, bay leaf and cumin. Some brands might vary slightly.**
Adding the spices and tomato paste into the hot skillet helps to open up those spices and really bring out their aroma and flavor. Stir in the crushed tomatoes, cilantro and heavy cream until evenly combined. Lower the heat and bring to a simmer. Cook until slightly reduced and the sauce has thickened, about 30 to 40 minutes.
In the meantime, drain the tofu. It's important for the tofu to be completely drained and dried to ensure browned and crispy perfection. The best way to go about that is to place the tofu on a plate lined with paper towels. Then top with more paper towels and place a plate on top, weighted with a heavy can. Let it sit for about 20 minutes to ensure that all the water is gone.
Brown the tofu in a large skillet, set over medium high heat. Make sure to give the tofu a stir every now and then to ensure that it gets evenly browned on all sides.
Add the tofu into the sauce, along with the cubed up paneer cheese and drained garbanzo beans. Give it a stir to evenly combine and then look to simmer for about 10 minutes longer.
** Tip: Paneer is a fresh cheese common in South Asia, especially Indian cuisine. If you can't find it in your local store, then just omit it. There really isn't a proper substitution for it.**
Allow the tikka masala to cook over low for about 10 minutes longer. Everything is cooked, we're just looking to warm everything through.
**Tip: If you're not a fan of tofu, feel free to leave it out. Try adding cauliflower instead! Or if you're like my sister, you can add potatoes and peas as well!**
Curry, much like with soups and stews, just gets better the longer it sits. So if you want to make this a day or two in advance, that would be great. It'll just keep getting better and better. It'll give all the flavors in the masala a chance to really blend together and the spice to mellow out.
**Note: You can rewarm the tikka masala on the stove top over low heat, stirring often. If the sauce gets too thick, add a splash or two of water to thin it out.**
I like to serve this with basmati rice and of course lots of naan bread to mop up all of that delicious sauce we worked hard to create. Basmati rice is great because it's easy to make and sort of foolproof. Sort of. I mean you can still make it mushy, don't get me wrong. So I always recommend that you skimp on the water a bit to prevent that from happening.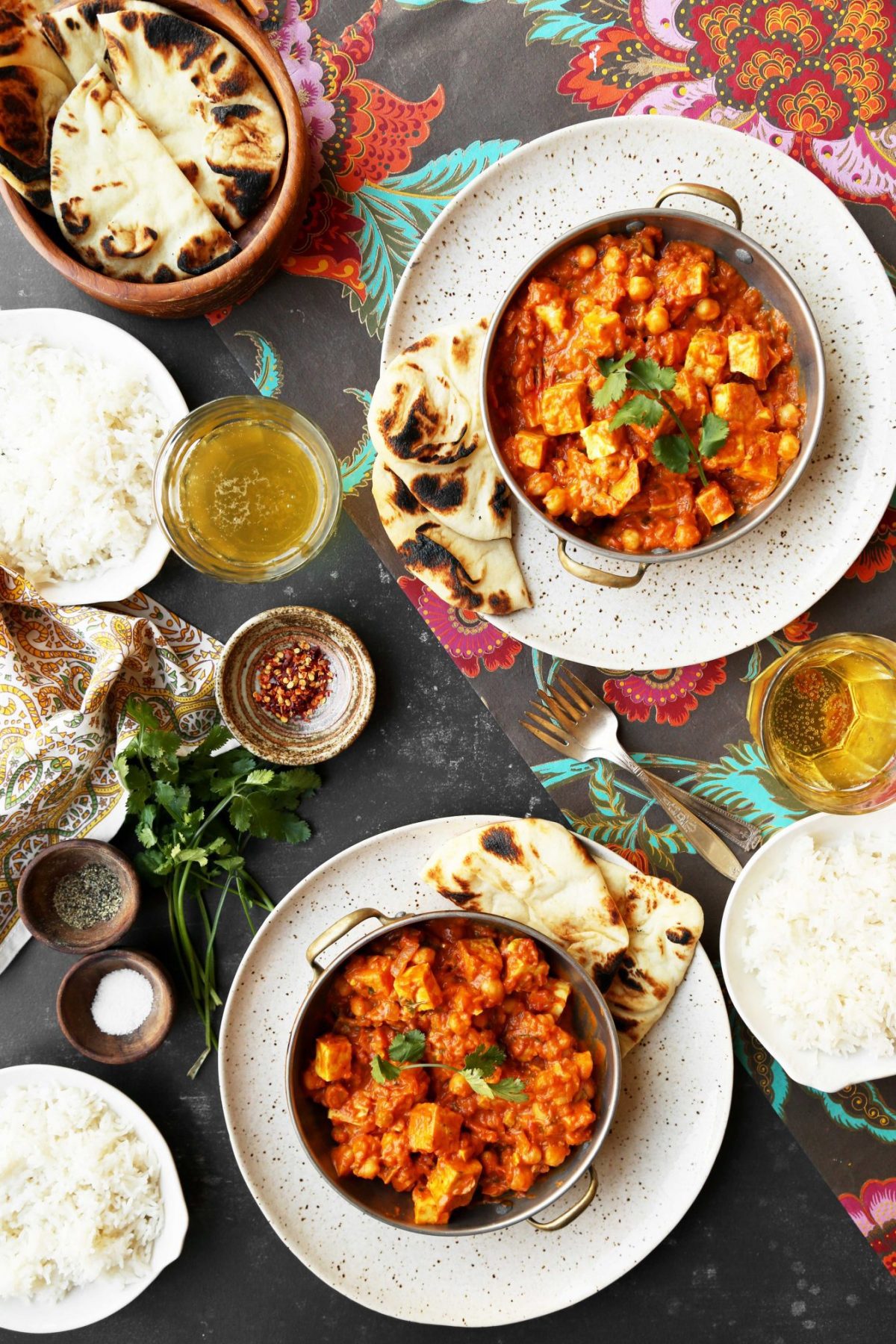 Vegetarian Tikka Masala
Make this Vegetarian Tikka Masala the next time you're in need of a delicious and flavorful vegetarian recipe. It's perfect for Fridays during lent. Try it!
Ingredients
3

tablespoons

ghee or vegetable oil

1

small yellow onion

diced

3

garlic cloves

minced

1 to 3

serrano peppers

depending on how hot you want it

2

teaspoons

freshly grated ginger

2

teaspoons

ground turmeric

1

teaspoon

curry powder

1

teaspoon

ground cardamom

1

teaspoon

garam masala

1

teaspoon

ground coriander

1

teaspoon

ground cumin

1

teaspoon

salt

1/2

teaspoon

coarsely ground black pepper

1/2

teaspoon

crushed red pepper flakes

2

tablespoons

tomato paste

1

28-ounce can crushed tomatoes

2

cups

heavy cream

3/4

cup

fresh chopped cilantro

1

16-ounce container tofu, drained and cubed

1/2

cup

diced paneer cheese

1

15.5-ounce can garbanzo beans, drained

cooked basmati rice

for serving

naan

for serving
Instructions
Set a large heavy duty dutch oven over medium-high heat with the ghee or oil. Once hot, add in the onion, garlic, and serrano peppers and cook until softened, about 3 to 5 minutes. Stir in the ginger, spices, and tomato paste. Stir and cook for about 1 to 2 minutes, or until the tomato paste has darkened. Stir in the canned tomatoes. Cover and cook until just beginning to simmer. Stir in the cilantro and heavy cream. Lower the flame and simmer until the sauce has reduced slightly and thickened, about 30 to 40 minutes.

In the meantime, set a large skillet over medium high heat with a tablespoon of oil. Once hot, add in the tofu and cook, stirring often, until browned and crispy on all sides.

Transfer the tofu, paneer, and garbanzo beans to the sauce, stir to evenly incorporate and cook for about 10 minutes longer to warm through all the ingredients. Serve the masala with cooked basmati rice and naan. Garnish with fresh cilantro. Enjoy!