I'm really bad about eating breakfast, especially during the week. I know that it might sound like I'm throwing a line around, but I mean it when I say that eating breakfast gets away from me sometimes. I need to be better about forcing myself to eat something in the morning. Even if it's something small. At times, if I can remember, I'll have a breakfast bar or some cereal because it's convenient and I can do it while I'm working. Not the best situation, but I do feel like it's way better than eating nothing. Believe me though, if it was up to me I'd eat breakfast burritos every single day of my life and I'd most definitely be the happiest person on the planet. That isn't possible however appealing as it may sound, so I'm always on the look out for quick and delicious recipes to make myself for breakfast. I'm a big fan of avocado toast, along with everyone else I'm sure, because it's filling and super easy to make. It takes no time at all and doesn't actually require me "cooking." This Tex-Mex Avocado Toast takes the classic dish and tops it with all of our favorite taco toppings. It really doesn't get much better than this, so let's not worry too much about talking about it, let's focus on actually making it so we can eat it as fast as humanely possible. The avocado toast just continues to please.
We can't have avocado toast without the toast part. I mean, if you were to take that away you'd be left with avocado only and that wouldn't be the worst thing on the planet. But we're keeping the toast so let's work on that first. Arrange some sourdough or French bread slices on a baking sheet and then drizzle with olive oil. Bake until golden brown and crispy, about 5 to 8 minutes.
**Note: You can also pop the bread under the broiler for a few seconds on both sides until lightly toasted.**
The key to avocado toast is that you need a sturdy base to hold all of that delicious mashed avocado goodness and all the taco toppings that we're about to load on top. Toasting the bread creates that sturdy base we're looking for.
While the bread toasts, you can mash the avocado in a large bowl with a squeeze of fresh lime juice, for flavor but also to prevent it from browning, along with some salt, pepper, cumin and chili flakes. Mash it all with a fork or potato masher until somewhat smooth. Although some chunks throughout is okay too.
I'm poaching my eggs for this dish in a shallow pot of simmering water (mixed with a splash of vinegar). The trick to poaching eggs is to crack the eggs into individual dishes or mugs and then creating a circular motion to the water with a wooden spoon and then carefully dropping the eggs in one at a time.
**Tip: If poaching eggs gives you anxiety, you can also just fry them sunny side up or over easy and serve the toast in that way. Or you can scramble them and place the eggs on top.**
Spread the mashed avocado evenly over the toasted bread. This is where you can go crazy and just really load it up with avocado because this is avocado toast after all. There is no going back now. We're full on in it.
Top each of the avocado toasts with your choice of egg.
Then spoon some salsa on top of each, store-bought salsa is the way to go because you want this is be super easy. Then sprinkle with crumbled cotija cheese, pickled jalapeños, and fresh cilantro for garnish.
**Note: Cotija cheese is a very crumbly sharp Mexican cheese that is sold in almost every grocery store now-a-days. But if you can't find it for some reason, crumbled feta works great.**
This dish is best eaten right away because you don't want the toasts to get soggy from all of the toppings. The good news is that it really doesn't take that much time at all to put together, so you don't have to worry about making it ahead of time.

These are vegetarian because I feel like breakfast is the only time I ever feel like not eating too much meat. But if you wanted to you can sprinkle the toast with crumbled crispy bacon or breakfast sausage or even chorizo. Those are all great options to consider.
This is a great recipe for a quick weekday breakfast or even as a weekend brunch for a crowd. Scramble the eggs so that it's easier to feed a crowd, fast. Instead of poaching all of those eggs or frying them all up. I also love avocado toast as a simple and yet delicious snack. I love it because you can easily make it as a single serving for just yourself.

It's all the things we love on a taco, but on top of toast and I'm definitely not complaining about it. In case you're in need of more avocado toast inspiration, check out this Avocado and Crab Toast (for when you're feeling oh so fancy) which is also one of my all time favorite renditions of this classic dish.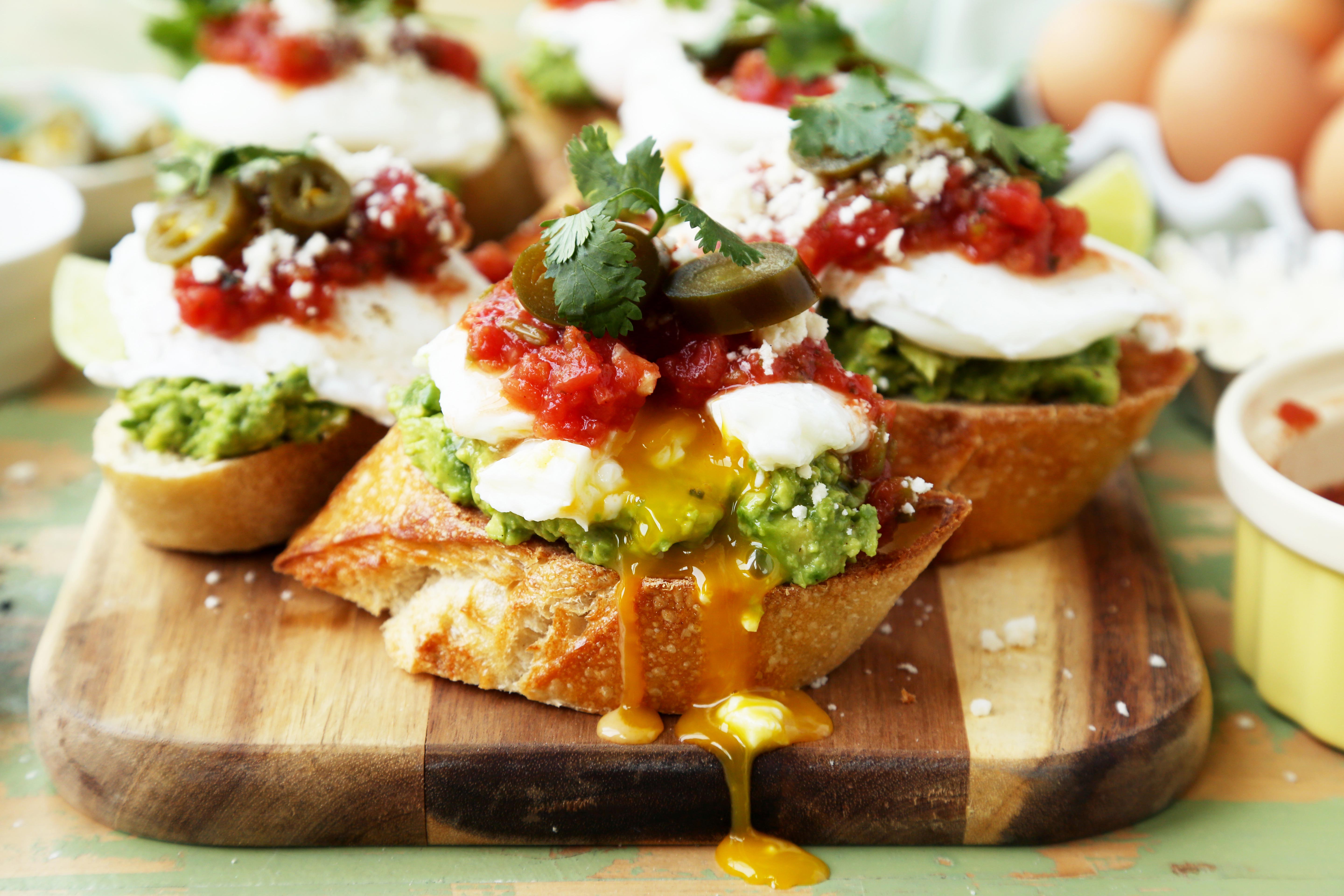 Tex-Mex Avocado Toast
Start the week off right with this simple and delicious Tex-Mex Avocado Toast! Crunchy toast topped with mashed avocado and all of the classic taco fixings!
Ingredients
6

large slices sourdough or French bread

2

tablespoons

olive oil

3

medium avocados

1

tablespoon

lime juice

1

teaspoon

salt

1/2

teaspoon

black pepper

1/4

teaspoon

ground cumin

1/4

teaspoon

chili flakes

6

large eggs

poached or fried

1/2

cup

store-bought salsa

1/4

cup

crumbled Cotija cheese

or feta

1/4

cup

pickled jalapeños

drained

fresh cilantro

for garnish
Instructions
Preheat oven to 375 degrees F. Arrange the bread slices in on a single layer on a large baking sheet. Drizzle with olive oil and bake in the oven until golden brown, about 5 to 8 minutes. You can also pop them under the broiler for a few seconds on both sides.

In a large bowl, mash together the avocado, lime juice, salt, pepper, cumin, and chili flakes until somewhat smooth. A few chunks is okay.

To assemble the toasts, spread the mashed avocado evenly among the toasted bread slices. Top each with a poached or fried egg, and then top with salsa, cotija cheese, jalapeños, and cilantro. Serve immediately.