Summer is right around the corner. Now, I'm not going to start saying what everyone else is saying and that's "Summer is here! Summer is Here!" I won't do that because here's the thing. Summer is NOT here yet. We still have a couple of weeks to go, and the people saying that summer is here are depriving us all of spring. I'm not ready for the scorching summer heat. Let me enjoy the nice weather just a little bit longer please. However, with that being said I am starting to feel the shift, and I'm very sad about it. The last couple of days has been very hot which basically means the end is near. Can you tell I'm not a fan of the heat? Anyhow, I want us to be prepared for summer, and the only way I know how is with a seasonal beverage. This Summer Rosé Sangria is refreshing. Some might even say it's magical. I've teamed up with Winc to bring you this summer's beverage of choice. For those of you that aren't familiar, Winc connects you to a world of exclusive wines tailored to your tastes and offers wine delivery right to your door. And believe me when I say, they have some amazing wines. Their best selling rosé, Summer Water, is insane. Jules and I are addicted. It really is my favorite rosé on the market. I used it to make this sangria and I think you should too. If you head on over to their site, you can pick up some great wine and if you use the code "CandidAppetite" at checkout, you'll get $22 off your order! It's really the gift that keeps on giving.
Let's start by pouring the rosé into a large pitcher. This is best if done in a slow long steady stream. Really go to town with it. Make a grand show of it. Go big or go home. (I'm joking, just pour the wine in any way you want).
**Note: You want a drier rosé for this. Make sure it isn't too sweet or else the sangria will be too sweet because of the sugar and the fresh fruit. I'm using Winc's ever so popular Summer Water. It's amazing.**
To the pitcher you want to add brandy, orange liqueur and sugar. You can also add in raspberry liqueur, instead of the orange liqueur, if you'd really like to hone in on that fresh berry flavor.
**Tip: I like to use superfine sugar for this because it dissolves a lot easier and much faster than regular granulated sugar. You don't want the sugar to just sit at the bottom of the pitcher without dissolving.**

Give it all a big stir and then add in fresh sliced strawberries, raspberries, lemon slices, lime slices and blood orange slices. Cover with plastic wrap and chill in the refrigerator for at least 1 hour or up to overnight.
**Note: You can really use whatever fruit you like for this sangria. Nectarines, plums, peaches, grapes or pears would also be great!**
Right before serving, you can pour in the seltzer water. I'm always a big fan of sangria that has a bit of bubbly to it. Whether that's seltzer water, ginger ale, ginger beer, and/or champagne.
Now, I'm about to say something that is perhaps very controversial. I like to serve the sangria over ice. That might make me a monster, but I like cold sangria. Lukewarm wine is never okay in my book. So let me live and let me pour my sangria over ice.
If you want to make this sangria ahead of time, you can keep it in the fridge (sans seltzer water) and then just pour it into the sangria right before serving on a hot summer's day. It travels well, so you can definitely bring it to parties. People would love you about it. Also, the longer it sits the better tasting it will get.

Everyone needs a refreshing summer drink, and because I'm your friend, I've got you covered. Why can't it be this summer rosé sangria? I mean it's loaded with fresh fruit so it's basically the healthiest drink you'll have all summer (I'm not a licensed professional so take it with a grain of salt).
Don't forget to head on over to Winc to get exclusive wines tailored to your tastes and have it delivered right to your door. And if you use the code "CandidAppetite" at checkout you'll get $22 off your order! Now that's a summer deal worth taking. You owe it to yourself!
**Thank you for your continued support of the occasional sponsored post on this site. They help keep the blog going, allowing me to continue to share my recipes with you on a weekly basis. I never want my sponsorships to feel forced, which is why I only partner with companies I feel very passionate about and actually use on a regular basis.**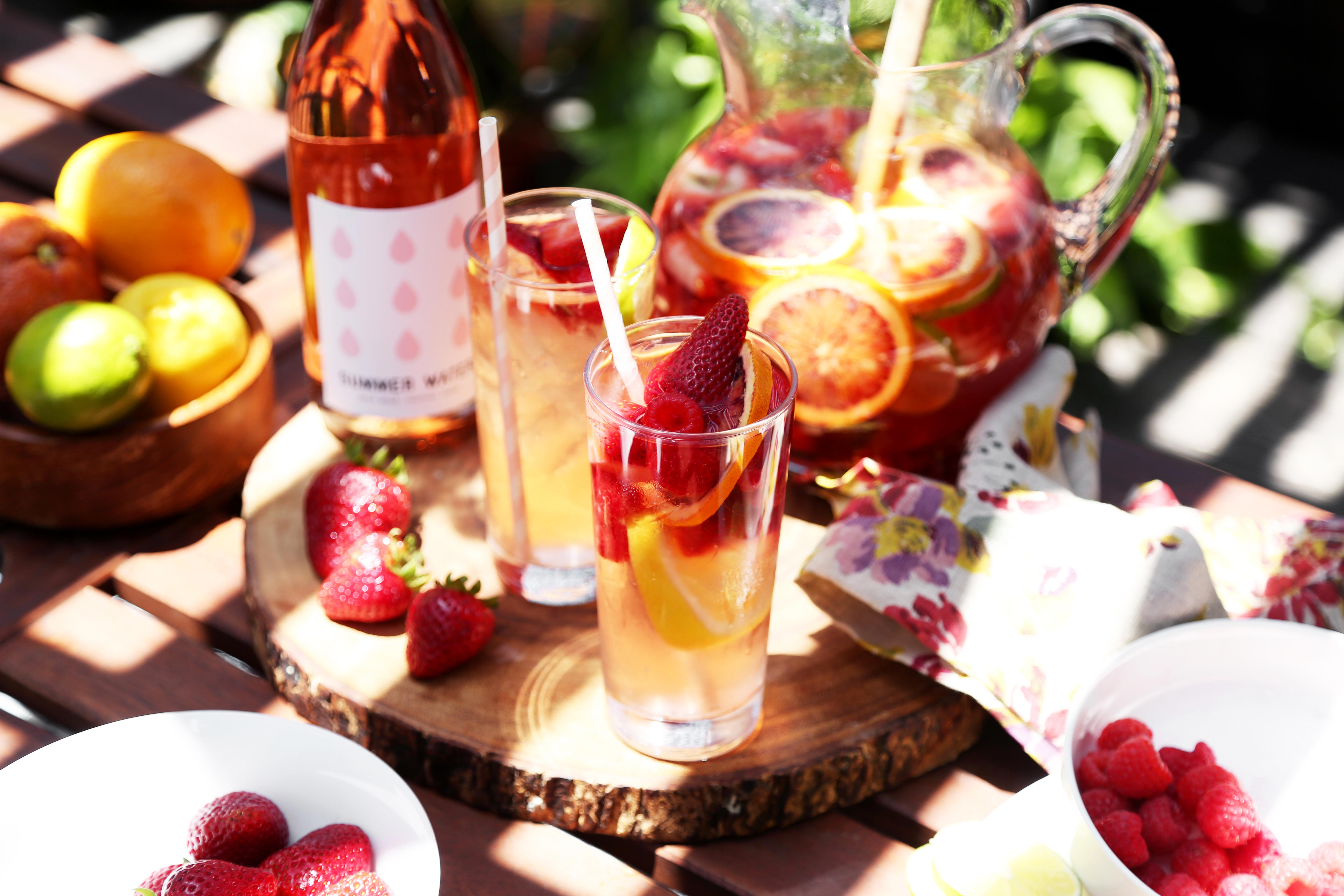 Summer Rosé Sangria
Summer Rosé Sangria is a light and refreshing summer take on a classic Spanish drink. In partnership with Winc, this sangria is made with their popular Summer Water Rosé! Flavored with brandy, orange liqueur, and lots of fresh fruit; strawberries, raspberries, lemon, lime, and blood orange.
Ingredients
1

750 ml bottle Rosé wine

1/4

cup

brandy

1/4

cup

orange liqueur

2

tablespoons

superfine sugar

1 1/2

cups

sliced strawberries

1 1/2

cups

raspberries

1

medium lemon

sliced

1

lime

sliced

1

blood orange

or regular orange, sliced

1 1/2

cups

seltzer water

ice for serving
Instructions
In a large pitcher, combine the wine, brandy, liqueur and sugar, stirring until the sugar has dissolved.

Add in the fruit and citrus slices, and refrigerate for at least 1 hour or overnight. Stir in the seltzer water right before serving.

Serve over ice and enjoy!