I wanted to share a ridiculously easy recipe that requires hardly any time at all to put together because I'm no monster, and I know that we don't always have all the time in the world to spare in the kitchen, especially during the work week. Those few and far in between moments of freedom in life need to be cherished and not spent working away over a hot stove. Let's keep that in mind from now on and for the rest of summer, deal? I'd like to think that everyone of you (myself included) has the chance to make some of the more lavish recipes on the blog, on a daily basis, but I know that isn't always the case. Sometimes we're too tired or just simply too busy. I totally understand that. So that's where these Steak and Brie Sandwiches come in. They're not only incredibly simple to whip up, but they're also super delicious and very filling, which is my main concern half the time. No one needs an unsatisfying lackluster meal. If I told you that the only thing we have to cook for this recipe was the steak itself, would that convince you even more to give it a try? You don't even have to answer because I know you'd say yes. I'm already saying yes for the both of us. Whenever steak and brie are involved, we don't have to think twice about it.
Let's start with the steak part of the sandwiches, shall we? Season both sides of your steak liberally with salt and freshly cracked black pepper.
**Tip: I'm using a flank steak for this recipe because I feel like it's the perfect steak for sandwiches. But a boneless ribeye or strip steak would work fine here too!**
Sear the steak in a very hot cast iron with a little olive oil and unsalted butter. You want to cook the first side for about 4 to 5 minutes without touching it at all. I know you might be tempted to flip it and mess around with it, but resist. Leaving the steak alone for that first sear is crucial. It'll ensure a nice crusty exterior and juicy (I'm sorry) interior. Flip over and continue to cook for another 2 to 3 minutes for medium rare. Once the steak is done, transfer to a plate and let rest for about 5 to 8 minutes before slicing.
**Tip: Whenever you make steak or chicken, it's really important to allow it to rest for a short period of time before slicing. This ensures that all the juices stay within the meat and don't just drip out, creating a dry piece of meat.**
This is a hearty sandwich so you want a hearty thick sliced bread. I'm using a crusty Italian loaf but anything sturdy will do. This isn't the time for flabby white or wheat sandwich bread. Go to your grocery's bakery department and look for something crusty. Slice the bread thick and lay it out on a baking sheet. Drizzle with olive oil and toast under the broiler on both sides. Then spread one half with grainy mustard and the other half with bacon jam.
**Note: I found bacon jam in my grocery store. It's salty and sweet with just a slight kick of spice. If you can't find it in your grocery store, a spicy red pepper jelly or tomato jam will work too!**

To assemble the sandwiches lay down a piece of green leaf lettuce then a few slices of brie cheese. Don't worry about the cheese being cold because the warmth from the steak and bread will slightly begin to soften it. Then pile on thin slices of the steak.
**Tip: The best way to slice steak is against the grain. Look at your steak and notice which direction the lines are going and then slice with a sharp knife in the other direction. This will make sense when you have the steak in front of you.**
These sandwiches are great for a quick and easy dinner because the only thing we're cooking here is the steak and that will take no time at all. They're also great for a weekend lunch if you want something fast to make so that you can still enjoy your weekend.
I really like making this sandwich because it's fully customizable, as most sandwiches are I guess. But what I'm trying to say is that you can use whatever mustard you have on hand (maybe not yellow prepared though, let's take it a step up) and whatever jam or jelly you have. Don't let a sweet jam scare you off in a savory sandwich. The spice from the mustard and heartiness from the steak and cheese will compliment the jam perfectly.
I don't mind eating cold steak so really you can eat this sandwich cold, but if you have an affinity to this or really like melted gooey cheese (who can blame you) you can place the toast the sandwiches in a preheated 350 degree oven for 3 to 5 minutes to warm up that brie.

Don't feel like you have to break the bank to make this sandwich by buying a super expensive steak. See whatever is on sale at the grocery store that week and use that, or swap it out for sliced pork tenderloin or even grilled chicken. Basically what I'm saying is that the world is your oyster.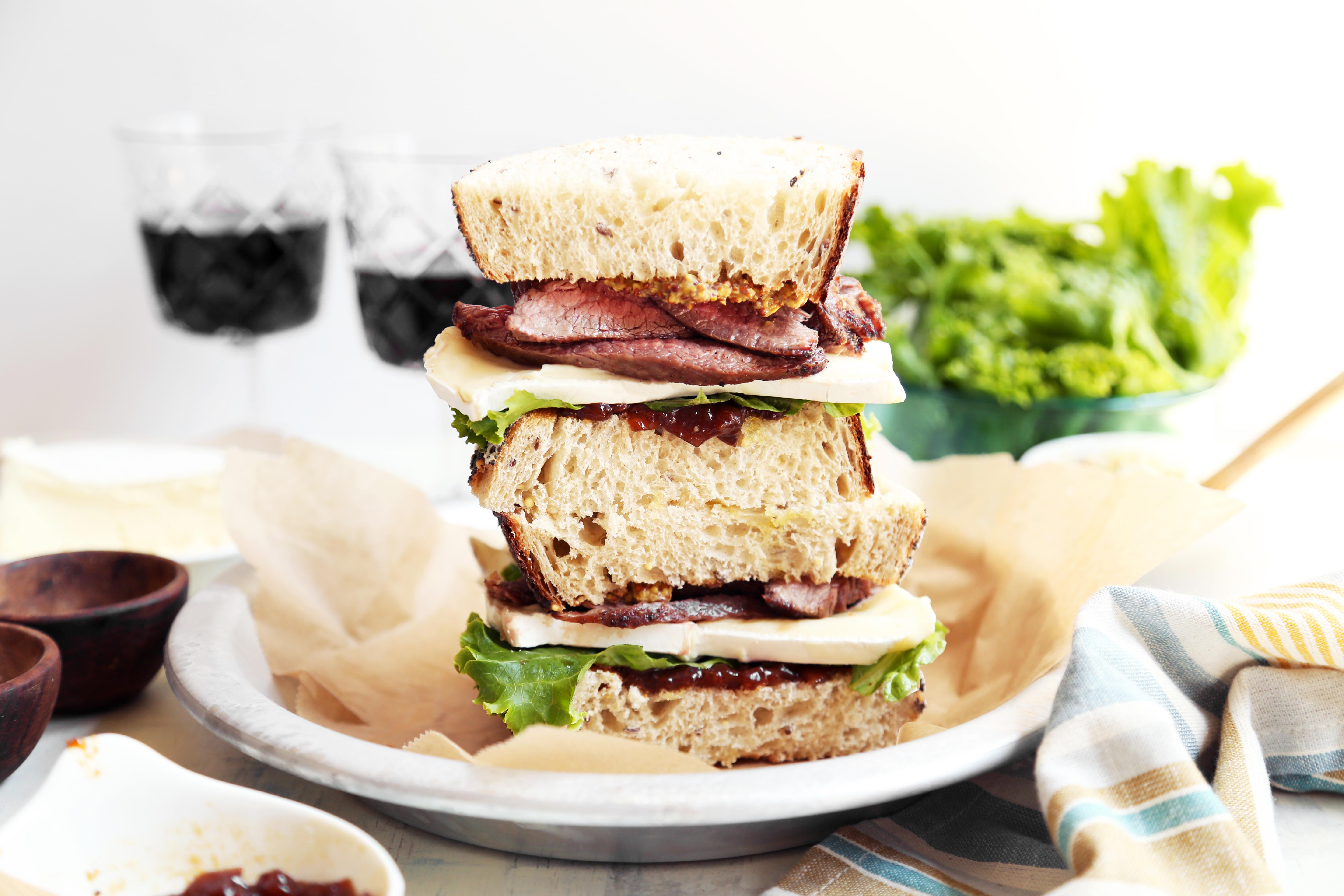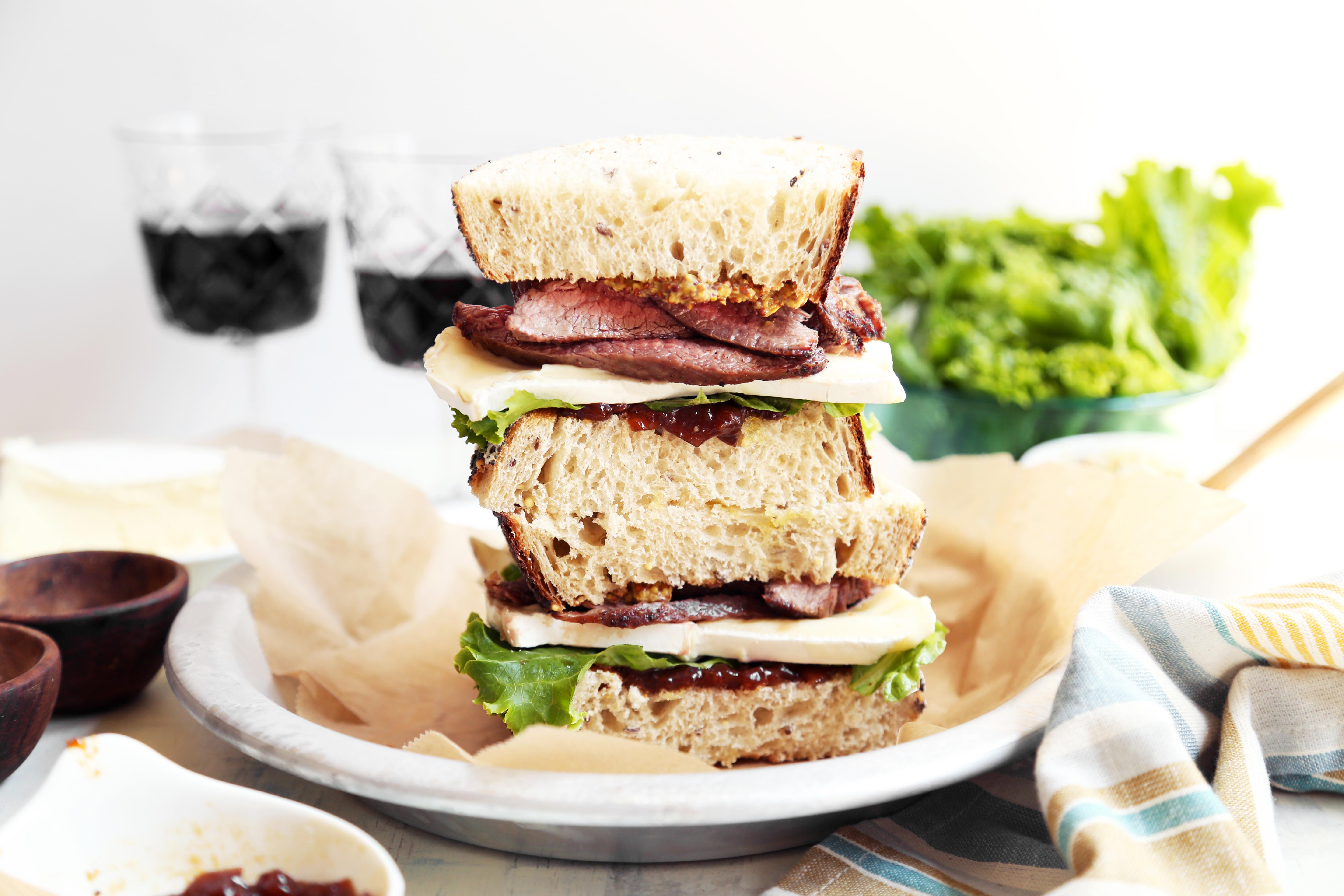 Streak and Brie Sandwiches
Make these Streak and Brie Sandwiches during the week for a quick and delicious dinner that will satisfy any steak lover out there!
Ingredients
1

pound

flank steak

2

teaspoons

salt

2

teaspoon

black pepper

4

tablespoons

olive oil

divided

1

tablespoon

unsalted butter

1

crusty French or Italian loaf

sliced thick (8 slices)

1/4

cup

grainy mustard

1/4

cup

spicy bacon jam or tomato jam

4

green leaf lettuce leaves

8

slices

Brie cheese
Instructions
Season both sides of the flank steak liberally with salt and black pepper.

Set a large cast iron (or stovetop grill pan) over medium-high heat with 2 tablespoons olive oil and butter. Once hot, sear the steak, untouched, for 4 to 5 minutes on the first side. Flip over and cook for another 2 to 3 minutes on the second side for about medium rare. Transfer to a plate and let rest for about 5 to 8 minutes before slicing.

Lay the bread slices on a baking sheet in a single layer and drizzle with remaining 2 tablespoons olive oil. Toast under the broiler on both sides.

To assemble the sandwiches, spread half of the bread slices with grainy mustard and the other half with bacon jam (or tomato jam if using). Lay a piece of lettuce on top of the jam halves of bread and top each with 2 slices of Brie. Divide the sliced steak amongst each sandwich and then sandwich together with the mustard halves. Skewer with a long toothpick to hold in place and serve. Enjoy!