I'm going to be completely and totally honest with you and confess, right here right now, that I'm not really much of a breakfast eater. Don't get me wrong, I happen to love breakfast…for dinner or lunch or even brunch. I love a good brunch. It's one of my favorite weekend meals—that is when I'm not having a love affair with lunch or dinner. I especially love the brunches that involve mimosas or Bloody Marys. What can I say? I'm a sucker for a good morning cocktail, but we're not talking about that right now. There's always something that comes up and prevents me from eating in the morning. I know a lot of people who wake up super hungry, and the first thing they think about as soon as they open their eyes is what they're going to eat for breakfast. I wish I could be like that, unfortunately most of the time I'm running around with so much to do that eating doesn't even cross my mind, which is totally weird since my job is centered around food. You'd think I'd be eating all of the time!
My mom doesn't believe me when I tell her that sometimes I completely forget to eat breakfast. It just slips my mind, cross my heart and kiss my elbow. One minute I've just woken up, crossing off tasks from my to-do list left and right like a boss, and all of a sudden the next minute, it's dinner time which also happens to be my first meal of the day. That's awful kids, don't do that. Although, as long as I'm being honest, I feel like even if I did remember to eat in the morning, I wouldn't be able to have a heavy meal before work. I would get so sleepy if I did, and then I'd somehow find myself back in bed for a quick catnap and I wouldn't get anywhere and my entire day would be shot. So really, when you think about it, it's a good thing I don't eat breakfast most weekdays. On the rare occasion that I do, I'll have a granola bar or a handful of almonds or a bowl of cereal or a pb&J and call it good. I know that's not much of a breakfast but I'm sure it's better than nothing at all, right? Just lie to me and make me feel better about my life choices.
Hey! It's a new year so we should definitely be taking better care of ourselves. I'm saying this more for me than I am for you, but if you're the same as I am and don't make time for the most important meal of the day, then this goes for you as well. We're all about making resolutions this time of year and in 2015 I've decided to make more of a conscious effort to slow down in the mornings and make a better attempt to eat more breakfasts. To eat all of the breakfasts. I'll still enjoy my pancakes and hash browns for dinner every now and then, because that's when they taste the best for some reason, but I'll also start to incorporate them more in the morning, when they're supposed to be eaten. One way to ensure I start eating before work is with a breakfast burrito. Nothing screams "GOOOOOOOD MORNING!!!!" more than a flour tortilla filled with potatoes, eggs, steak, avocado and cheese. Am I right ladies and gentlemen? I'm totally right.
Before we can even get into the deliciousness that is this breakfast burrito, we need to get some very important things out of the way, first. For instance, we really need to make the salsa verde sauce that's going to get all drenched up on these burritos. The longer it sits, the better flavor it develops.
In a medium pot, combine the tomatillos, onion, serrano peppers, garlic, cilantro, oregano, salt, pepper, cumin, and water.
Place the pot over high heat and bring to a boil. Lower the flame to medium and simmer for about 10 to 15 minutes. Transfer the tomatoes and onions and everything else to a blender with a slotted spoon, reserving some of the the liquid for later. Add half a cup of the cooking liquid to the blender and squeeze in a lime.
Blend until desired consistency is reached. I prefer this salsa smooth so I blended it until a bit longer than usual.
**Note: If you find that your salsa is too thick, add a bit more of the cooking liquid to the blender and pulse it until incorporated. Start with a little at a time, and remember that a little bit goes a long way.**
Give the salsa a taste and adjust seasonings according to your preference. You might need to add a bit more salt and pepper. Transfer to a bowl, set aside and allow to cool down to room temperature.
** Note: This sauce is really good when made the day before, or even a few days before. I recommend making a batch of this and storing it in the fridge. Then you don't have to worry about it later on.**
Okay, now we're ready to start working on the burritos. These aren't just any regular breakfast burritos. These are top notch breakfast burritos. They're fancy and they're meaty. We're going to cook up a steak and chop it up and mix it in with some potatoes and eggs. That sounds awesome right?! The answer is yes, just in case you didn't know. Season the steak liberally with salt and freshly cracked black pepper.
**Note: I used a thin New York strip steak for this recipe. If you can't find this steak or if you want to try a different cut of meat, you totally can. This isn't set in stone. Although, this isn't the recipe to grab a filet mignon, we're not that fancy.**
Heat a cast iron skillet over medium-high heat and add a pat of butter and a little bit of oil, that's so the butter doesn't burn. Allow to melt and then carefully drop in the steak. Sear for about 4 to 5 minutes on the first side (until browned). Flip over and cook for about 1 to 2 minutes on the second side.
Transfer the steak to a plate and allow to rest before cutting.
**Tip: Allowing the steak to sit for a few minutes, before cutting it gives the juices a chance to redistribute. You'll end up with a juicy steak instead of a dry rubbery piece of meat.**
In a medium bowl, whisk the eggs with a splash of milk and a pinch of salt and pepper.
Cook the potatoes, allow to cool and then peel and thinly slice them.
**Tip: I nuked the taters in the microwave for about 10 minutes. Don't cook them all the way, though, because they'll end up mushy, which won't be work out for this recipe. You can also boil the potatoes if you don't have a microwave, btw.**
Heat a griddle on high and add a bit of vegetable oil to prevent the potatoes from sticking. Cook for about 10 minutes or until somewhat browned. Season with a bit of salt, pepper, granulated garlic, granulated onion, and paprika and stir to evenly combine. While the griddle is hot, stir in the whisked eggs. Cook until the eggs are done. Add in the chopped steak and allow to heat through.
Heat a large flour tortilla in a dry skillet or over the open flame of a gas burner, until soft and pliable. Add a few slices of avocado and thin fill with the egg, potato and steak mixture and top with lots of shredded cheddar cheese.
To roll properly, tuck in both sides over the filling and then roll into a tight log. Continue filling and rolling until all of the egg and potato and steak mixture is used up.
If you want to keep things simple and vegetarian, you can omit the steak and add sautéed veggies instead. Or you can go the traditional route and use bacon or breakfast sausage instead! My family is divided when it comes to breakfast burritos. We take it very seriously. My mom only likes hers with bacon. One of my sisters, likes it with sausage, while the other one can only eat it plain, without any meat. (Weirdo alert).
A great thing about these breakfast burritos is that you can make a bunch in advance (like a million of them) and keep them in the freezer. Just store in a large plastic bag or airtight container and keep them in there until you're ready to eat them. They can be rewarmed in the microwave or in the oven throughout the week whenever you're craving a breakfast burrito, which for me is always.
I know I might be a little weird for eating my breakfast burritos with orange juice, but I've always loved OJ in the morning with my breakfast. Don't judge me. I've been that way ever since I was a little kid, so you can't really blame me. Really, you should blame my mamma. Go ahead. Blame her. All kidding aside though, I feel like a tall glass of vitamin C is a great way to start the day.
Don't forget to serve the burritos with the homemade salsa verde we whipped up earlier. I mean we slaved away making it, so why not enjoy it?! Okay, maybe we didn't slave away and yes, perhaps it was super easy to make, but that's not the point. The point is, is that we took the time to cook and blend it, so let's put it on everything.
**Tip: Make this salsa verde and keep it in the fridge for all of your salsa needs. I love eating it with chips for an afternoon or pre-dinner snack. And it's also great in the mornings over eggs!**
There's a place in Burbank, Ca called Corner Cottage that makes the best breakfast burritos I've ever eaten. I've waited in a 2 hour line before just to get a fix. I'm not even ashamed to admit it. They're totally worth it though. I think I love them because their potato to rest of the ingredients ratio is insane. I love potatoes, so you know I'm not complaining about that. If you're in California and are ever in the Burbank area, you need to check them out. If you're not, or if you don't feel like waiting in a long line for a burrito, then give these a try. They're just as good, if I do say so myself.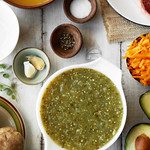 Salsa Verde
A spicy green salsa made with fresh tomatillos, chili peppers and various spices. Makes for a perfect dip for chips or as a hot sauce condiments for tacos, burritos and eggs!
Ingredients
1

pound

tomatillos

husked and cleaned

3

serrano peppers

or 1 jalapeño

3

garlic cloves

half a yellow onion

diced

¼

cup

fresh cilantro leaves

1

tablespoons

fresh oregano

1

teaspoons

salt

1

teaspoon

black pepper

¾

teaspoon

cumin

2

cups

water

1

lime

juiced
Instructions
Place all of the ingredients (except the lime juice) in a medium pot over high heat. Bring to boil and reduce heat to medium. Allow to simmer for about 10 to 15 minutes. Remove from heat and transfer the tomatoes and other ingredients with a slotted spoon to a blender. Add about half a cup of the cooking liquid and the lime juice and blend until smooth (or as chunky as you like).

Taste for seasoning and adjust accordingly. If you find your salsa to be too thick, add a splash more of the cooking liquid to the blender and blend once more. Allow to cool to room temperature. Can be stored in the fridge in an airtight container for up to 2 weeks. Enjoy!