Have you ever fallen in love with a dish from a restaurant, to the point where you continue to go to the same restaurant everyday for a week ordering said dish each and every time? Yeah, that hasn't happened to me either, so I don't know what you're talking about. If it did happen to me, I'd probably have to come clean about the fact that I've been ordering the same steak and white cheddar panini everyday for lunch over the last week. Okay, last couple of weeks. That's totally normal. I've been getting smarter though, I've started ordering the sandwich online now and picking it up in different disguises so that the workers don't recognize me and think I have a problem. But the truth is I do have a problem. My problem is golden brown toasted ciabatta filled with sliced steak, caramelized red onions, melted white cheddar and a creamy horseradish sauce that makes this sandwich so irresistible.
Just in case you're wondering what restaurant serves this amazing sandwich, it's Panera. Sure, it's not the fanciest of places and yeah okay, they are everywhere, but you'd be surprised just how great their paninis are. It's far more than a guilty pleasure. It's awesome and super convenient for me because it's right down the street, making it easy for me whenever I want a quick lunch. I get the half and half lunch special. Half a panini and half a cup of soup (baked potato soup or broccoli cheddar) with a tiny bag of kettle chips. It doesn't get much better than that. So recently I've been telling anyone who'll listen just how great this sandwich is. I've told my mom, my sisters, Julian, my cat Napoleon, the mailman, the guy next to me at the gas station. Literally everyone. I'm not ashamed to admit that I have a problem. So much so that I wanted to, no, needed to recreate this sandwich at home. I thought transforming it into sliders would be the best decision I'd ever make in my life because I could eat more than one and not feel guilty in the slightest.
I like this recipe a lot because it's easy to whip up. It's one of those that doesn't require a lot of thinking in the kitchen, which is nice and sometimes much needed. I'm around food all day long, cooking, baking, photographing and of course, writing about it. It's no surprise that sometimes I get to the end of the day and the last thing I want to do is cook. This is the type of recipe that you can turn off your brain and get it going without stressing too much about any complicated steps or ingredients. Those are the best kinds of recipes, if you ask me. Not to mention that sliders are my life and I'm always down for making any kind of slider. I'm Slider King of the World, remember?!
The good news for you is that this is actually a super easy recipe. It has very few steps that don't require a lot of work. The bad news is that once you try these sliders, you'll want to make them all the time. Which I guess isn't really bad news. Sliders are great. Why not eat them all the time?
Earlier I mentioned a heavenly creamy horseradish sauce…let's make that now and get it out of the way. In a small bowl, combine the mayo, sour cream and prepared horseradish.
**Note: Use as much or as little of the prepared horseradish as you'd like, depending on how spicy or not you like your food.**
Set it off to the side and turn your attention to the steak. I'm using flank steak for this, because I happen to think it's a great cut of meat that is filled with flavor which is perfect for these sliders. Season it liberally with salt and pepper on both sides.
**Tip: I like to season one side then place it in the hot skillet (season side down) and season the other side while it's in the skillet. Saves you an extra step of washing your hands.**
Heat a large cast iron skillet (or just regular pan) over medium-high heat with a drizzle of olive oil and a bit of butter.
**Note: Cooking a steak with butter gives it the best flavor possible. The olive oil prevents the butter from burning!**
Cook for about 5 to 7 minutes (depending on how thick your steak is and how cooked you liked it) and flip over. It should be crusty and golden brown on the first side. Continue cooking on the second side for about 3 to 4 minutes.
**Note: I cooked mine to medium so if you like it cooked longer, just as a few minutes to the cooking time and you'll be good to go!**
**Tip: Set the steak off to the side and allow it to rest before slicing. That's an important step because you want a juicy steak and allowing it to rest will give the juices a chance to redistribute.**
Throw in the sliced red onions into the skillet where you cooked the steak, over medium heat. Don't bother cleaning it out, there's so much flavor from the steak and the onions will pick it up as they cook.
Sauté for about 5 to 7 minutes or until soft and caramelized. Season with salt and pepper. Once done, remove from heat and allow to cool slightly.
To assemble the sliders, cut the ciabatta (or focaccia) into small squares and then split in half. Spread both halves with the creamy horseradish sauce and then layer with a few slices of white cheddar cheese, the sliced steak and the caramelized onions.
Sandwich together and drizzle the tops lightly with olive oil.
**Tip: The olive oil will not only ensure the sliders don't stick to the panini press, but it'll also give the bread a crusty golden brown finish.**
Press for about 4 to 6 minutes until the bread is crusty and the cheese has melted.
Since these are a party appetizer, I like to serve them on a tray or platter and skewer them with a long toothpick to make them easier for guests to pick them up and devour.
The awesome thing about these sliders is that they can be eaten hot off the press with the melted cheese and all, but they're also super tasty at room temperature. Making them the perfect cocktail or happy hour snack for dinner parties or family/friend gatherings. They're also delicious cold from the fridge but that was more out of laziness on my part the following day. Don't you dare judge.
I don't know why, but for some reason, white cheddar can be tricky for me to find sometimes at my local grocery store, so if that's the case for you as well, then go ahead and use whatever kind of cheese you like! There's no set rule. You can even swap out the steak for chicken or keep things vegetarian and omit it the meat altogether.
If you're not looking for an appetizer option or having an parties soon, have no fear, make them into normal dinner-sized sandwiches instead! They're perfect for lunch or dinner and you'll be so glad you gave them a try. Enjoy!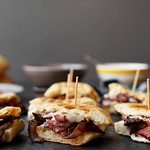 Steak and White Cheddar Panini Sliders
Sliced steak, white cheddar, caramelized red onions and horse radish sauce in a toasted panini! The perfect party appetizer for any occasion.
Ingredients
1

pound

flank steak

1

teaspoon

salt

½

teaspoon

black pepper

1

tablespoon

butter

1

tablespoon

olive oil

2

red onions

sliced

medium block white cheddar

sliced

1

large ciabatta loaf

creamy horseradish sauce

recipe follows
For creamy horseradish sauce
¼

cup

mayo

¼

cup

sour cream

1 to 2

tablespoons

prepared horseradish

or less
Instructions
To make the sauce, in a small bowl, combine the mayo, sour cream and horseradish until smooth and evenly combined. Set to the side.

Heat a cast iron skillet over medium high heat with the olive oil and butter. Season the steak with salt and pepper on both sides. Place the steak in and cook for about 5 to 7 minutes or until crispy and browned and then flip over and continue to cook for another 3 to 4 minutes on the second side. Transfer to a plate or platter and allow to rest before slicing.

Add the onions to the hot skillet, right where the meat was cooked. Season with a pinch of salt and pepper and sauté until soft and caramelized.

To assemble the sliders, cut the ciabatta loaf into 8 to 10 small squares. Split down the middle and spread each half with the creamy horseradish sauce. Layer with slices of cheese, the sliced steak and caramelized onions. Sandwich the panini halves together and drizzle the tops with olive oil.

Heat a panini press and then place the sliders on the press (a few at a time) and cook until the bread has toasted and become golden brown and crunchy and the cheese has melted. Continue with the rest. Serve warm or at room temperature. Enjoy!