Jump to Recipe
It is difficult sometimes to think of delicious and interesting dishes to make for dinner. You would think that it comes so easily and so naturally to me, constantly being around food and all. The truth of the matter is that even for me, a self-proclaimed foodie, it is rather tough at times to create new and exciting recipes for dinner. There are days when I am all out of ideas and absolutely nothing comes to mind. There are no creative juices left, and I am left to ponder the age old question. "What are we having for dinner tonight?" Sure it would be easier to eat out and not have to worry about cooking, but that even becomes stressful. Where do I go for dinner? What shall I eat? There are so many choices out there that it becomes overwhelming and suddenly staying in, cooking a simple dinner at home in my own kitchen, sounds very appetizing once again. And I am back to where I started. I will then force myself, as a last resort, to go to the grocery store and see what looks good. At times I will think of something to cook, there on the spot, as I surround myself with what the market has to offer on that particular day.
I am often asked how is it that I come up with my recipes? Where do I get inspiration? How do I even begin to formulate ideas, brainstorm, and test out my recipes? I think it is nearly impossible to say that a recipe is completely thought up or originally invented by one particular person, especially nowadays. After all, how many ways are there to make a soup? They pretty much all start the same way with mostly similar ingredients; veggies, stock, and some sort of protein. Cooking or baking is not necessarily about inventing a recipe from scratch all on your own—because I think although completely doable—it would prove to be difficult in some way, shape, or form because yours would inevitably be similar to someone else's out there in the world. It is only logical. It is okay to draw inspiration from someone else's recipe. It is when you begin to change ingredients, swap out amounts, add here and take away there, that it really becomes your recipe. It starts to take shape and become a piece of you. Then, and only then, when you have perfected your new dish and have made it several times can you call it your recipe with pride.
My ideas come from other food blogs, magazines, books, online research and friends and family. Sometimes I even formulate ideas based solely on images I find online. I will stumble upon a delicious looking photograph on the internet and begin to research recipes, combining ingredients and methods from all different sources to make the recipe my own. Then finally when I get around to testing out a recipe and actually making it, I will change things as I go along. Adding seasonings or ingredients that I know will go well together or enhance the overall flavors. That comes from experience of trial and error. In this day and age, we all take inspiration from someone or something. A dish we once tried at a restaurant. A recipe we stumbled upon online. A magazine article with a simple and easy dinner idea. A cookbook we have booked marked all throughout, vowing to trying out some of the dishes inside. It is rather simple to formulate ideas, if you think about it. After all food is all around us. Why not start creating your own kitchen masterpieces?
This is probably the easiest recipe on the planet. It seems silly to even photograph it and post it up on the site, BUT it is probably one of the most tastiest of soups I've ever had. So it is worth putting it up after all. A mere 40 something images, this is probably my shortest post to-date. Yay for firsts! And if it isn't, let's pretend it is. I'm too lazy to check my facts.
We start by heating up a large heavy duty pot. I like to use a dutch oven, any large pot will do.
Turn the heat up to medium-high.
We begin with spicy Italian sausage.
Two notes. First off, I'm using a spicy chicken sausage, but if you want to use the traditional pork variety, by all means use that instead.
Second note, if you're not much of a spicy food person, feel free to use the sweet Italian sausage or a mild sausage. The choice is up to you. No matter what you decide on, it'll taste just as wonderful.
Okay I lied, there are three notes, lastly if you find the sausage in a package, just remove the casing before you cook the sausage. I found mine at the butcher counter, by the pound. Saves me a step.
Drop the sausage into the hot pot, and begin to crumble it with a wooden spoon.
It doesn't have to be a wooden spoon, you can use whatever utensil you'd like to use really, I just find it easier to crumble the sausage with a wooden spoon. It's sturdier.
Continue to cook the sausage, breaking it up and stirring it constantly, until it has browned and crisped.
Once the sausage is done, using a slotted spoon, transfer the browned sausage to a bowl or plate. Set aside.
We have to cook some onions and garlic and the sausage will get in the way.
Resist the urge to grab a spoon, or in my case a slice of bread, and eat the sausage.
You can try a tiny bit, you know to make sure it's good, but that's it.
It needs to go into the soup, remember that.
Okay in the meantime move the pot from the heat, or just turn it off while you cut the veggies, you don't want the pot to burn.
You'll need a very large onion. I had two small ones, so I cut up two. But one large onion will do if you have that on hand.
If you have tiny onions, chop about three of them. This recipe isn't very precise so you can wing it. I'm making cooking dinner easier on you.
Cut off the ends of the onion, cut it in half and peel away the skin.
Give it a rough slice and dice. Again, this isn't supposed to be precise at all. This is a rough soup, let's be kitchen roughians. That's not a word at all. I'm making up words, folks.
It's a rustic soup so whenever you hear the word "rustic" I give you permission to hack away at the veggies. Relieve some stress. Take out your problems and frustration on the onion.
Do the same thing to a couple of garlic cloves. I'm putting three into the recipe when I write it up, but if you like garlic add more. If you don't like garlic, get some help, I kid I kid, just add less.
Okay, place the pot back over the heat, or turn on the flame if you turned it off. Allow the pot to heat up over medium heat.
Don't worry about all the crusty stuff at the bottom of the pot. And don't you dare clean the pot before adding the onions or even think about getting a new one out. All that crispy goodness at the bottom is nothing but pure unadulterated flavor! That flavor is going to give the soup such depth.
Just add a pat of butter. How much is a pat? As much as you'd like. Meh, I used about two tablespoons.
Allow the butter to melt, not burn or brown. Add the chopped onions and minced garlic.
Give it all a good stir to evenly coat in the butter. As you stir and the onions begin to cook and "sweat out," all the bits of sausage at the bottom will lift up. That's the flavor.
Sauté the onions and garlic for a bit, once they begin to soften add the seasoning.
Freshly cracked black pepper, salt, and crushed red pepper flakes (which is completely optional).
**Note: The sausage is spicy already, but I like spice so I'm adding a bit more to the soup. If you are using sweet Italian sausage and still want a little kick, add a tad of the crushed red pepper flakes. If you're just opposed to spicy all around, then you can omit it.**
Stir in the seasonings and continue to cook the onions and garlic until they are caramelized, about 5 more minutes.
Let's turn our attention to one of the other main ingredients; the kale.
**Tip: Kale is my life at the moment. I've been making kale chips which is the easiest snack to make. Cut up the kale. Wash it. Dry it. Place it on a baking sheet. Drizzle olive oil. Season with salt and pepper. Place in a 350º F oven and bake, turning occasionally, until the kale gets crispy. Remove from the oven and eat. Presto: kale chips.**
But we aren't making kale chips. The kale is going into our soup. So forget about that thought. Get it out of your mind.
Kale is sold in big bunches with large stems. Normally the stems are too thick and you can't really eat it, so just strip off the leafy greens from the stems. Give it a wash and completely dry.
I cheated and bought the sack of kale that is already cleaned, stemmed and cut. Let's be lazy together, get the bag too folks.
It'll save you a lot of time!
Anyhow, I digress, add the chopped kale to the cooking onions and garlic. It'll seem like too much kale for the soup or for the pot itself, add it in batches and allow it to wilt down. It's just like spinach when it cooks, it'll wilt down to practically nothing.
As the kale cooks, let's turn our attention to one of the other main ingredients, the potatoes.
Russet baking potatoes, the kind with the brown skin. That's what I had on hand so that's what I'm using.
Plus I think they hold better in the soup without overcooking quickly and becoming mush. You can peel the potatoes if you want to, but why would you want to? That's where all the nutrients are. And also I'm too lazy to peel potatoes, it's probably the worst job in the kitchen. Time consuming and tedious. Leave the skins on thank you very much.
Just give them a good scrub and slice them. I cut them in half, longwise first, and then do "half moon" shapes that are about half of an inch thick. Just make sure they are all the same size so they cook evenly.
Okay back to the kale.
Once it is completely cooked and wilted down, it will look bright green, just like this:
I like to throw in a pinch of freshly grated nutmeg at this point.
Why? Because nutmeg enhances the flavor of greens. Don't add a lot where people will be able to pin point it and say "Wow there is nutmeg in here!" Translation, "Woah! You over did it with the nutmeg. It's stuck in my throat. Can I have some water?"
You don't want that.
Just a pinch will do.
Add the sliced potatoes.
Also throw in the browned sausage from earlier, if there is any left from your snacking.
Stir everything together.
And now for the broth. I'm using chicken broth.
**Note: Feel free to use homemade chicken stock or even store bought stock if you'd prefer. I think that all the other ingredients already have tons of flavor so chicken broth does the job. It blends in nicely. Also I had broth on hand and not stock BUT my logic makes sense. Use whatever you'd like. I wish I could be like Ina Garten or Martha Stewart and say "Oh yea I always have homemade chicken stock on hand." Well I don't. I don't have that kind of time or patience. Who does? Store bought is just fine by me. Just make sure it's low-sodium that way you can control the salt that goes in.**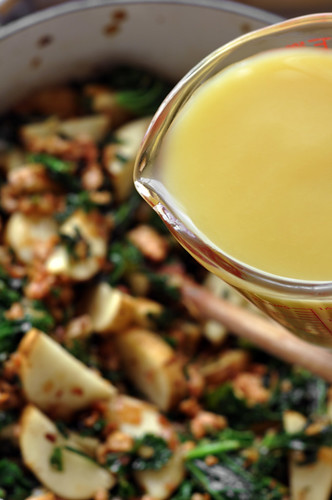 I added about two whole boxes of broth. Which is about 6-8 cups? Somewhere in between there. I'm guesstimating. Again, lazy to fact check.
Allow the broth or stock, let's just call it liquid, to come up to a boil.
You can place a lid on it to speed up the process. Once the liquid comes to a boil, reduce the heat and allow it to simmer away until the potatoes are cooked and soft.
Be careful not to over cook or over boil the soup as the potatoes can easily become mushy, since they are sliced thin.
You see how rich and dark brown the broth has gotten? That's all the flavor from the bottom of the pot. At this point you can taste the soup and see if the seasoning is right. It might need a bit more salt, pepper, or crushed red pepper, you decide. Add to your liking.
Once the potatoes are cooked perfectly, and your stomach is growling so much out of hunger and you're about to punch someone if you don't get a bowl of soup pronto, the soup is done.
There is just one more step which is completely optional.
All this low sodium chicken broth, chicken sausage and veggies is just too healthy for my book. It's January, the perfect month for comfort food and not giving a damn about eating right. So I added some heavy cream. And by some I mean more than a splash.
You can use whole milk if you'd prefer, or just omit it all together. I like the rich texture the cream gives the soup, taking it over the edge.
Give the soup one final stir and you are officially done. Easiest dinner ever, right?
Serve it up in bowls and if you're cool like me, you'll have awesome bowls marked "soup" on them. If not, your soup won't taste the same and you shouldn't even bother making it. I'm kidding of course. It doesn't matter what bowls you serve it in, it will still taste exactly the same.
I originally had this soup at an ok-restaurant with a friend of mine. As we sat there, drinking our wine and eating our soup, we started discussing how good the soup was and how simple it seemed. We vowed we'd try to make it at home ourselves. This is what I came up with. I didn't have amounts exactly listed as I began experimenting. I just eyeballed the whole thing the first time around. Then as I continued to make it, I revised it here and added there. It eventually came together as you see it here. I still have to reiterate that this is probably the easiest recipe on here.
In the last post, Rosemary Parmesan Focaccia, I promised you a soup recipe if you recall, and here it is. This soup would be even better with homemade focaccia to dip. I don't want to make you work harder, but come on, doesn't that sound delicious? I think so. Warm, fresh out-of-the-oven bread with a hearty comforting soup like this, it doesn't get any better than soup and bread for dinner. Enjoy!
Spicy Sausage, Potato & Kale Soup
This Spicy Sausage, Potato & Kale soup is a simple and delicious dinner perfect for a cold winter's night. Make it ahead and keep it in the freezer for when you're really busy, but super hungry!
Author:
The Candid Appetite
Ingredients
1 pound spicy italian sausage (I used chicken but pork is good too)
2 tablespoons butter or olive oil
1 large onion, chopped
3 garlic cloves, minced
1 teaspoon salt, plus more to taste
1 teaspoon freshly cracked black pepper, plus more to taste
½ teaspoon crushed red pepper flakes, optional
2 large bunches of kale, stemmed and chopped, about 4 overflowing handfuls
¼ teaspoon freshly grated nutmeg
4 medium or 2 large russet baking potatoes, sliced
8 cups chicken broth or stock, 2 boxes
½ cup heavy cream
Instructions
Heat a large heavy-duty pot over medium-high heat. Once the pot has heated through, add the sausage, which you removed from the casing. Using a wooden spoon, begin to break up the sausage and allow it to cook, stirring occasionally, until it has fully browned. Remove the crisped sausage from the pot and transfer it to a plate or bowl. Set aside.
Lower the heat to medium, add the butter or oil and throw in the onions and garlic. Stir, scraping down the bottom of the pot picking up the browned bits of sausage with the back of a wooden spoon, and cook until soft and translucent about 3 to 5 minutes. Season with salt, pepper, and crushed red pepper flakes, if using. Continue to sauté until the onions have caramelized. Add the chopped kale in batches, allowing it to wilt down as it cooks. It might seem like a lot of kale but it will cook down, just like spinach! Add the nutmeg and stir. Cook the kale for another 3 minutes until it has turned bright green and completely wilted down. Throw in the sliced potatoes and cooked sausage.
Pour in the chicken stock or broth and bring it up to a boil. Lower the heat and allow the soup to simmer until the potatoes are cooked tender and soft. Taste the soup for seasoning, at this point you may add more salt, pepper or red pepper flakes, if desired. Once the potatoes are fully cooked, stir in the heavy cream. Serve right away with some bread on the side. Enjoy!