It's Friday and all we should be thinking about right now is the weekend. But before we can kick off those two glorious days of relaxation, that we spent all week looking forward to, we need to answer a very important question. What is our weekend cocktail going to be? What will we be drinking while we sit by the pool, or in the backyard, or even just on the couch (I'm not judging)? Weekends are so special that they deserve their very own cocktail. It's true! A Friday-Saturday-Sunday drink is so much different than a Monday-Tuesday-Wednesday-Thursday drink. During the week, it's all about a glass (or two of wine) as I wind down from the long work day. Anything more than that, and I won't be getting out of bed the next morning. I'm not as young as I used to be. And since I always have way too much work during the week, I tend not to overdo it. But come Friday, give me a perfectly mixed cocktail and I'll be good to go.
I am a big fan of margaritas in general. Any flavor margarita, I'm not picky. I'll take them any way I can get them. On the rocks or blended. It doesn't matter. If I had to make a choice though, I'd much rather prefer a frozen margarita. It's a lot more refreshing, especially on a hot summer day. There's something so exciting about margaritas. I think it's the idea of drinking them at a bar of a restaurant, snacking on chips and salsa and guacamole and chatting with a few people about nothing in particular. It's chill without any of life's stresses or worries. Am I painting you a good picture here? I hope so. Go out this weekend, gather some friends and family, and have some margaritas and chips with salsa just for me. You'll be thankful you did, and I'll be glad you took my advice. (Plus I'll get to live vicariously through you, so there's that).
If you're still on the lookout for what you're weekend cocktail is going to be, look no further because I've got you covered. It's summer so that means we should all spend less time indoors in a kitchen and more time outside as much as possible with a drink in hand. Where ever allowed of course. Let's not do anything illegal here. These Spicy Honeydew Cucumber Margaritas are summer at its best. The fresh honeydew and cucumber juice really make a difference and the fact that it's blended makes me very happy. I think it'll make you happy too. Go out and celebrate the weekend. You deserve it.
Before we can jump right into the drinking part of this post, we need to take care of a few things. The first one being, the juicing of our fruit. Let's start by preparing the honeydew. Cut in half, scoop out the seeds, remove the skin and cut into large chunks.
Place the chunks into a blender and process until completely smooth. Much like other fruit when you blend it, you'll see that there's a lot of pulp mixed in. We don't want the pulp in our cocktails, so we have to strain it. Run the juice through a fine mesh strainer, into a tall pitcher.
**Tip: you can also do this in a food processor if you prefer or if that's all you have on hand. Further more, you can skip this step all together if you happen to find fresh honeydew juice at the grocery store. I've never seen it before, but it might be at your local store. You never know.**
**Tip: If your strainer isn't a fine mesh, but rather has large gaping holes like mine (I exaggerate) then line the strainer with a few paper towel or a coffee filter to really strain out the juice!**
Do the same thing with the cucumber. Peel a few cucumbers, cut in half lengthwise and then scoop out the seeds with a spoon. Cut into large chunks and blend until smooth.
Run the cucumber juice through the strainer as well. Once done, set both juices to the side and proceed to making the simple syrup.
To make the spicy jalapeño simple syrup, combine the water, sugar and jalapeño in a medium saucepan. Place over medium-high heat and bring to a rapid boil. Lower the heat and simmer until the sugar has completely dissolved, about 10 to 15 minutes. Remove from the stovetop, transfer to a jar or measuring cup and allow to cool completely.
**Tip: to extract as much flavor as possible from the jalapeño, without chopping it, make two slits on either side of the pepper with a knife. It'll release it's flavor but without overpowering the simple syrup.**
Let's prepare the glasses for our cocktail first. That way we can go ahead and blend us a batch of margaritas and then just pour and drink. In a shallow dish or plate, combine the coarse salt and cayenne pepper.
**Tip: If you don't want to add another level of heat, you can just do salt or even just sugar if you want to balance the heat from the cocktail itself.**
Run a lime wedge along the edge of your glasses and then dip into the cayenne salt mixture to coat the edges. You can't have a margarita without a salt rim, in my opinion. It's the best part, other than the alcohol of course.
To make the cocktails, fill a blender with lots of ice, the fresh honeydew juice and the cucumber juice that we took time to juice and strain ourselves. That's what makes this cocktail extra special.
Throw in a splash of the jalapeño simple syrup, fresh lime juice, triple sec, sweet and sour and lots of tequila.
Blend on high until everything is well combined and the margaritas look like slushies. Adult slushies. Pour into the prepared glasses and garnish with a lime and cucumber wheel.
If this isn't the ultimate summer cocktail, then I don't know what is. Sure, we took some time to make our own honeydew and cucumber juice, but it's worth it. Nothing will cool you down more than this blended margarita, I can guarantee that.
Of course, if you don't want to blend these, it'll be so much easier if you just pour everything into a tall pitcher, add ice and stir. Then just pour into prepared glasses filled with ice.
You can make the juices one or two days in advance. Blend and strain them and then transfer into separate pitchers or containers. Cover tightly with plastic wrap and keep in the fridge until you're ready to make the margaritas.
**Note: If you do decide to make the juices in advance, keep in mind the the juices will separate naturally. Don't panic. That's supposed to happen. Just stir really well before using.**
Kick off the weekend with a couple pitchers of these Spicy Honeydew Cucumber Margaritas and promise me that you'll do absolutely nothing this weekend, other than relax. And if you do have to do something because life just gets in the way, believe me I know, well then promise you'll do it really fast, get it out of the way and then you'll sit back, drink a few margaritas and relax. A little play mixed in with work is the best way to do it. Cheers to the weekend!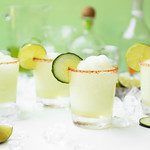 Spicy Honeydew Cucumber Margaritas
These margaritas are the perfect weekend/happy hour cocktail. Jalapeño infused simple syrup and fresh honeydew juice take it over the edge!
Ingredients
1

medium ripe honeydew

2

medium cucumbers

3/4

cup

tequila

1/3

cup

fresh lime juice

1/4

cup

sweet and sour

1/4

cup

triple sec

1

ounce

jalapeño simple syrup

recipe follows

ice

1/4

cup

coarse salt

1/4 to 1/2

teaspoon

cayenne pepper
For the syrup
1/2

cup

granulated sugar

1/2

cup

water

1

small jalapeño
Instructions
Remove the rind from the honey dew and scoop out the seeds from the center. Cut into large chunks and transfer to a blender. Process until completely smooth. Run through a fine mesh sieve, into a tall pitcher, to remove the pulp. Set aside.

Peel and remove the seeds from the cucumbers and cut into large chunks. Throw into a blender and process until smooth. Run through a fine mesh sieve, into small pitcher or cup, to remove the pulp. Set aside.

Fill blender about halfway with ice. Pour in 2 cups honeydew juice, 1 cup cucumber juice, tequila, fresh lime juice, sweet and sour, triple sec and simple syrup. Blend until well combined.

In a shallow dish, combine the coarse salt with as much of the cayenne pepper as you'd like. Run a lime wedge along the edges of the glasses and dip into the salt.

Divide the margaritas into the prepared glasses and serve immediately. Enjoy!

For the jalapeño simple syrup: Combine the sugar and water in a small saucepan. Make two slits on opposite sides of the pepper and throw into the saucepan. Bring to a rapid boil over medium-high heat. Lower heat and simmer until the sugar has completely dissolved, about 10 minutes. Remove from stove top and allow to cool down completely. Can be stored in fridge, in an airtight container or jar, for up to 1 week.