Snickers Marshmallow Treats. What can I say about these treats to end all treats? They don't have actual pieces of Snickers in them or anything because that's not the point of these, although that would've taken them to the next level if we're being honest. Instead, they're meant to taste just like a Snickers bar because we both know that sometimes plain marshmallow treats just aren't enough. So a brown butter marshmallow treat base gets a thick caramel layer studded with peanuts and then topped off with melted chocolate. Go ahead and try to tell me that dreams don't come true. I'll call you a liar because these prove otherwise. These are what dreams are made of. The best of both worlds. Candy bar meets rice cereal treats.
I'd like to thank everyone who participated in last week's giveaway, along with all of the past weeks this month! Last week brought us the best response from all of the giveaways so far! I got so many great ideas for cake flavors; I'm adding them to my must-make list. A huge congratulations to last week's winner (you know who you are). I hope you get good use out of that grill pan. If I were you, I'd start grilling EVERYTHING in sight. Now it's with sad news that I tell you, we've come to the end of the giveaways. You only have this one more chance to win (but honestly there will be more giveaways coming soon, the next one will be on Instagram to be precise). This week's giveaway is another signed copy of my cookbook The Slider Effect, as I'm sure you've guessed by now, AND I'm happy to announce that you'll also win a swanky Hamilton Beach Stand Mixer! It comes in a fancy red color, along with the whisk, paddle and dough hook attachment. If you've always wanted a stand mixer to make your life easier, now is your chance to win one! Start planning out all of the cookies and breads you'll be making very soon. Have I mentioned how amazing a stand mixer is?! You'll definitely want to win this one!
To enter, leave a comment below letting me know what your favorite meal has been at a restaurant. Tell me all of the details like what restaurant, what city and why you loved it so much. Really, I'm just wanting to create a good guide of restaurants around the country so I can write them down and visit them in my travels. Thanks for your help. I can't wait to read all about them! As always, my mamma will be picking the winner at random. It's one of her greatest pleasures in life, what can I say? I love reading all of your comments so feel free to elaborate as much or as little as you'd like. Remember, let's keep things fair with only one entry per person, and if you win this prize (or won last prize), you can't enter the following weeks or this week. Sorry but I want everyone to have a fair chance. You have until Friday night to enter! Good luck, I'm rooting for you!
Let's begin by melting and browning the butter. Place 4 tablespoons (half a stick) of butter in a large nonstick pot or dutch oven over medium-low heat. Cook slowly, stirring often, until the butter has melted and brown bits have formed at the bottom of the pot and the splattering has subsided. Stir in the marshmallows and cook until they've melted through.
**Note: Make sure to continue to stir constantly while melting the marshmallows as you don't want them to stick to the bottom of the pot.**
Remove the pot from the stove and add in the rice cereal. Stir with a rubber spatula until well combined. Add 1 1/2 cups mini marshmallows and fold in gently.
Transfer the mixture to a 9 by 13-inch rectangular baking pan, lined with parchment paper, and sprayed with a little bit of cooking spray. Press down with wet hands into an even layer.
**Tip: Make sure that the parchment paper hangs off both sides of the baking pan so that it makes it easier to remove the bars later on once they've cooled. That'll make slicing and serving a lot easier!**
Meanwhile, in a medium saucepan combine the condensed milk, butter, brown sugar, and milk. Melt over medium heat, stirring often, and then bring to a boil. Cook for about 5 minutes, stirring nonstop. This will prevent the caramel to stick to the bottom of the pot. Remove from the heat and add in the salt, vanilla, and peanuts. Stir until well combined.
Pour the caramel over the marshmallow treat layer and then spread out evenly onto an evenly layer. It's important to chill this in the fridge for about 20 to 30 minutes. The caramel needs to set for a while before proceeding to the next step.
**Tip: If you want to speed things up you can chill the bars in the freezer for half the time.**
Melt the chocolate over a double boiler and then remove the bowl of chocolate from the simmer pot. Stir in the oil until glossy and well incorporated.
**Note: Adding the oil in the chocolate keeps the chocolate from getting too hard when you go to cut and eat the bars. You can also use coconut oil instead if you prefer.**
Pour the melted chocolate over the caramel peanut layer and spread out evenly with an offset spatula. Place in the fridge and let set for about 15 to 20 minutes. The chocolate should be firm when you gently touch it. If you want to speed up the process, you can place it in the freezer as well.
Lift the marshmallow treats from the pan using the parchment paper overhang on either side, and then cut into 24 or 36 squares depending on how small you'd like them. Make sure to use a very sharp knife to make it easier to cut. They should be cut cold as it'll make cleaner cuts and even pieces. A serrated bread knife will work great as well!

You can serve them immediately or keep them in the fridge until ready to eat. I like eating them cold, straight from the fridge, but if you'd like, you can let them come to room temperature about 10 to 15 minutes before serving.
**Note: I don't like to keep these out at room temperature for too long as the chocolate and caramel will get too soft. They'll keep in the fridge for up to 4 days. But good luck keeping them in there for that long. They won't last.**
If you're allergic to peanuts, try it with cashews, walnuts or almonds instead! Or if you're allergic to all nuts, or just don't like them in your desserts, then you can totally leave them out. Make sure to use Rice Krispies cereal for these as they really do make a difference. This isn't an ad for them or a sponsorship or anything, I just know from experience that the real stuff works much better. Sometimes they're a bit more expensive, but it's worth it.
Don't forget to enter below for a chance to win a signed copy of my cookbook, The Slider Effect, and the Hamilton Beach Stand Mixer! This thing will come in handy for all of your baking and cooking needs! It makes life easier, especially when making doughs and batters! Remember that it's one entry per person, anyone is allowed to leave a comment, and you have until Friday night to enter. One winner will be picked at random and will be notified via email. If you don't win this prize, come back next week as there will be two more chances to win! Good luck, I'm rooting for you!
Update: Congratulations to Julie Lish for winning the cookbook and stand mixer!! And thank you to everyone that participated in all the giveaways in July! There will be tons more coming soon, so stay tuned!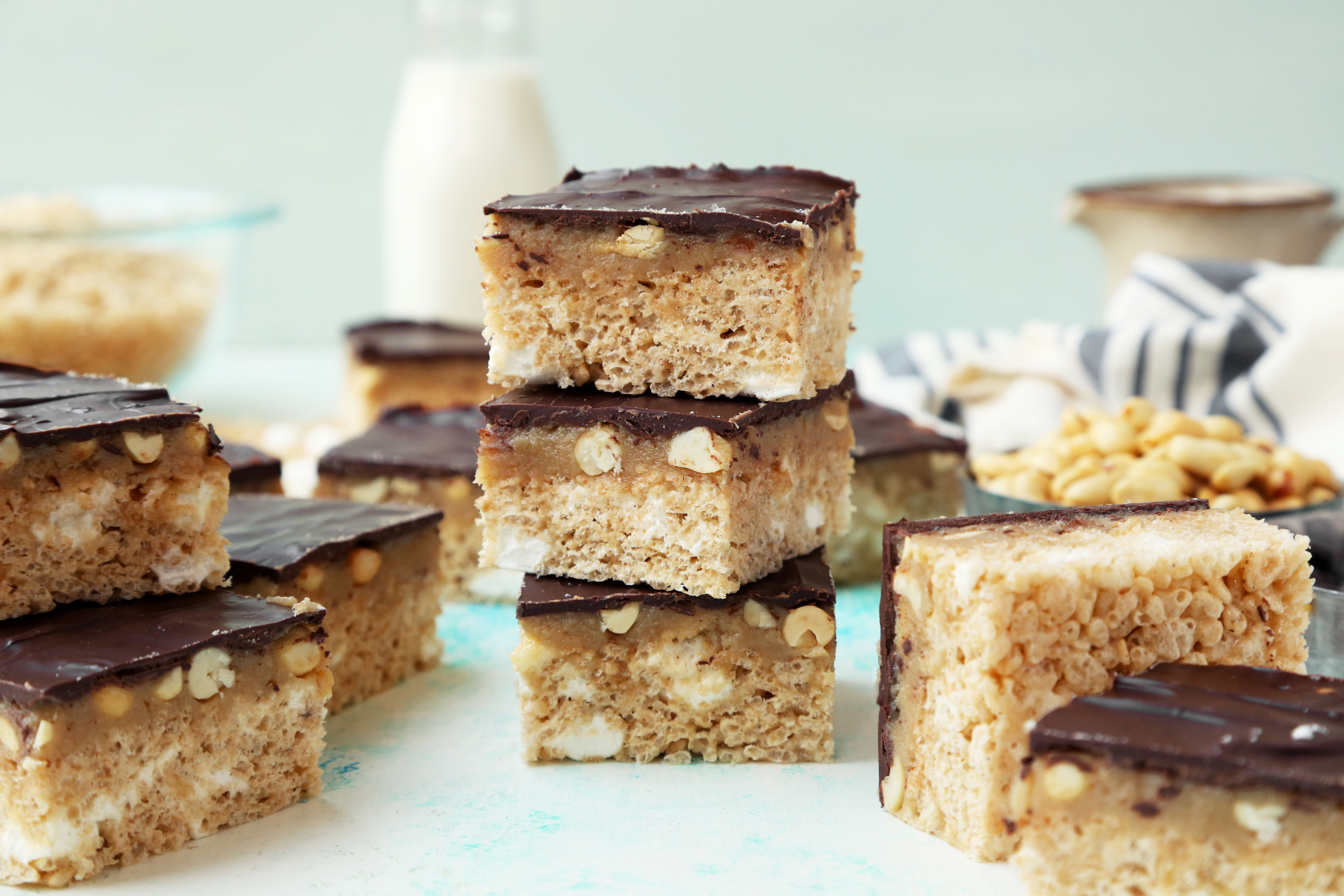 Snickers Marshmallow Treats
Brown butter marshmallow treats with a layer of caramel and peanuts and a layer of chocolate. They're made to taste just like a snickers bar!
Ingredients
Rice Cereal Treats
4

tablespoons

unsalted butter

1

10-ounce bag mini marshmallows, plus 11/2 cups

6

cups

rice cereal
Caramel Layer
1

14-ounce can sweetened condensed milk

1

cup

packed light brown sugar

1/2

cup

1 stick unsalted butter

1/4

cup

whole milk

pinch

of salt

1

teaspoon

vanilla extract

2

cups

salted peanuts
Chocolate layer
2

cups

semi-sweet or dark chocolate chips

1

tablespoon

vegetable or canola oil
Instructions
Line a 9 by 13-inch rectangular baking pan with parchment paper, allowing some to hang off the sides to make it easier to grab, and grease with cooking spray.

In large pot or dutch oven, set over medium heat, melt the butter and cook until brown bits form at the bottom. Keep an eye on it and make sure that it doesn't burn. Once the splattering subsides and the butter has browned evenly, add the mini marshmallows (reserving the 1 1/2 cups for later). Stir until melted through, about 3 to 4 minutes. Remove from heat and add the rice cereal. Stir until well combined. Add the reserved mini marshmallows and fold in. Transfer the marshmallow cereal mixture to the prepared baking pan and spread out into an even layer. Using wet hands, press down on the mixture to compact it. Set aside.

In a medium saucepan, combine the condensed milk, brown sugar, butter and milk. Set over medium-high heat and cook until melted through. Bring to a boil, and continue to stir nonstop and cook for about 5 minutes. Remove from heat and stir in the vanilla extract and peanuts. Pour the mixture over the rice cereal layer and spread out evenly with a spatula. Place in the fridge or freezer to let set, about 30 minutes.

Meanwhile, fill a medium saucepan halfway with water and bring to simmer. Place a bowl over the top, making sure the water doesn't touch the bottom of the bowl. Add the chocolate and stir until melted through. Remove from the double boiler and stir in the oil. Pour the melted chocolate over the caramel peanut layer and spread out evenly with an offset spatula. Return to the fridge or freezer to allow the chocolate to set.

Remove the bars from the pan and cut into 24 pieces. Leftovers can be kept in the fridge for up to 4 days. Enjoy!