In case you didn't already know, I happen to be a big fan of shepherd's pie and I'm always looking out for new and exciting ways to reinvent this classic dish. Between you and me, I've toyed around with the idea of a handheld portable version, that of which I'm still working on. The concept of eating shepherd's pie on the go just sounds so appealing to me. One day I'll get it right. If you're looking for a more traditional shepherd's pie however—and I use the term "traditional" loosely as I'm not an expert on this dish at all—then you might want to take a look at this Shepherd's Pie, it was on the site a year or two ago, when I first started out. I guess, it's more of a cottage pie since it's made with ground beef and not lamb. For this one though, I decided to be more classic with the filling, so I did make it with lamb. I have to confess that I've always had a fear of cooking and eating lamb for some reason. Even now, I actually don't eat it often. In fact, the only time I do is when I go to my all time favorite Indian restaurant. They make a spicy lamb curry that is to die for. Served over basmati rice and garlic naan for dipping, I could die happy then and there. But anyhow, like I was saying, that's as far as my experience with lamb goes, so this is a nice step out of my comfort zone.
I love how in cooking or baking—it's the same with most things in life actually—we get into these comfort zones which become difficult for us to step out of. We end up making the same dishes over and over again, utilizing the same recipes again and again, because we're used to them. Because we know they won't turn out bad (for the most part). They're reliable and safe. I'm all about feeling safe and reliable in the kitchen, which is why Taco Tuesdays and Pizza Fridays is a thing at my house. I sometimes have to remind myself that it's okay to shake things up a bit and explore new ingredients and dishes from around the world. It's perfectly acceptable to be adventurous when it comes to food. In fact, it's necessary. I sincerely believe that it makes you a better cook and/or baker and it expands your horizons. And that's always nice.
So what does this all have to do with a potato pie, you might ask? Well, it's a freaking shepherd's potato pie for crying out loud! I don't think I need to say anything more, but I will. A flaky, buttery pie crust filled with lamb and veggies in a light gravy and topped with thinly sliced potatoes and sprinkled with cheese and fresh thyme. It's a new take on one of my favorite dishes and it's out there, right in front of your face looking to tempt you. Looking to make you a shepherd's pie believer. So won't you just bite the bullet and make this pie along with me? I promise you won't regret it.
The first thing we have to do is make the pie crust. It's one of the easiest pie crusts to make, so don't stress about it too much. Just make sure your butter and your water are extremely cold. That'll make for a flakier pie crust. Isn't that what we're all looking for in the end? Just love and flaky pie crust.
**Note: I'm making this by hand because it's a lot faster and easier this way, but you can definitely use a food processor or stand mixer if you want. That seems like a lot of extra trouble aka extra work to me, so I just use my two paws.**
In a large bowl, combine the flour, salt and sugar. It's only a tad bit of sugar to balance everything out. Don't start thinking that this crust is going to be super sweet and clash with the savory filling. I promise, it won't. Cut in the cold unsalted butter until it resembles coarse crumbs.
Then throw in the vegetable shortening and crumble with your hands as well into the flour, until the mixture is about the size of peas. Add in the ice water (a tablespoon at a time) and stir with a rubber spatula (or your hands, working quickly) until the dough comes together. It will be slightly (just a tad bit) sticky. Try not to over-mix the dough as it'll become tough.
Wrap the pie dough tightly in plastic wrap, forming a disc. Place in the fridge and allow to chill for at least 1 hour, or up to overnight.
**Tip: This pie dough freezes really well, by the way! You can make a few batches, wrap them individually in plastic wrap, really well, and store in the freezer. Transfer to the fridge the night before you're going to use it and you'll have pie dough on hand whenever you need it! Pies for everyone, yay!**
While the dough chills, let's turn our attention to the filling. I'm always one to *try my best to* multitask in the kitchen, as much as possible. I'm ignoring the fact that I don't have much of an attention span and I'm also ignoring the fact that sometimes I'm the laziest person when it comes to cooking. Having said that though, I will say that at times I'm a great multitasker in the kitchen. And that's definitely worth mentioning.
As far as shepherd's pie goes, this is as close to a traditional filling as I could muster—so don't hold me accountable if something isn't completely traditional or if I'm missing an ingredient or two (I am human). Heat a large skillet over medium-high heat and add a bit of oil. Add the ground lamb, crumbling with a wooden spoon, cooking until brown and crispy.
**Tip: If you're not a fan of lamb or if it's just too "out there" for you, then you can definitely make this with ground beef, chicken or turkey. If you do use lamb then you can call it a shepherd's pie, whereas if you use beef or turkey or chicken, it's referred to as cottage pie. I learned that the hard way. Avoid someone yelling at you lecturing you which is which, and just call it by the proper name.**
Once the lamb is cooked, transfer to a plate or bowl and throw in the onions and garlic into the skillet with a bit more oil. Sauté until soft and translucent, about 5 minutes. Add in the carrots and celery and season with a pinch of salt and black pepper. Continue to cook for a few minutes longer.
Once the veggies have softened, add in the sliced crimini mushrooms.
**Note: You can use white button mushrooms for this recipe, but I find that mini portobellos have more flavor than their white counterpart.**
Cook for about 5 minutes longer and then add back in the lamb we cooked earlier (or beef or chicken or turkey, whatever you're using). Sprinkle in the chopped fresh rosemary and thyme and stir.
**Tip: Using fresh herbs like rosemary and thyme give this dish so much more flavor than the dried herbs, so keep that in mind. You also get more of a woodsy cooking-all-day taste to the shepherd's potato pie.**
Stir everything together and then allow to heat up once again. Add the tomato paste, Worcestershire sauce, beef stock and season with a bit more salt and pepper to taste.
Reduce the heat to medium-low and allow the stock to simmer away and somewhat thicken. The tomato paste will help it along. Once the liquid has reduced, stir in the frozen peas and corn kernels. Cook for a minute or two to take their chill off.
The last thing you're going to do is add a bit of chopped fresh parsley. This is more of a garnish thing rather than a taste thing, but that's okay because we want this to look great, not only taste great. You know what I mean?
You can give the filling a taste at this point and decide if you're satisfied. Ask yourself, "Am I a genius? Did I season this perfectly? Can I just stand here and devour the whole dish because it tastes so darn good?" If the answer to any of those questions id no, then go ahead and season with a bit more salt and pepper or Worcestershire sauce. I give you permission.
Remove the skillet from the heat and allow it to cool down substantially. It doesn't have to be completely cold or anything, just not scorching hot.
**Note: If you added the filling to the pie crust hot, straight from the flame, the crust won't bake properly because you've unchilled the butter and shortening. Yes, unchilled. You're basically a pie ruiner if you do.**
On a lightly floured work surface, roll out the chilled pie dough into a large circle—or semi circle. It should be bigger than the pie dish itself. Carefully transfer the rolled dough into a 9-inch pie dish.
You can cut off the excess pie that hangs over the dish, or do what I do, and just fold it under and make it look somewhat smooth. Then just crimp the edges with your fingers or with a fork to make it look professional.
**Tip: You can place it in the fridge or freezer at this point if you're still waiting for the filling to cool down. You want the pie crust to be super chilled before it bakes so that it gets flaky and buttery, the way pie crusts should be.**
The last thing we have to prep is the potato part of our delicious pie. Wash a large russet potato and dry the outside. You can peel it if you don't like the potato skin, or if you're lazy like me, then just keep it on. Say it's rustic and call it a day.
Using a sharp knife cut thin rounds, like if you're making homemade potato chips or something. Or if you have a fancy kitchen gadget called a mandoline you can cut them all the same size without all of the work. Just be super duper careful when using that contraption because it can be quite dangerous. Make sure you're paying close attention to the slicing. If you have no idea what I'm talking about, this is a mandoline and it makes slicing easier!
Rinse the potatoes under cold running water, or by soaking them in cold water for a bit. Then give them a good pat, drying them with a clean kitchen towel or paper napkins.
To assemble this shepherd's potato pie, fill the chilled pie dough with all of the cooled lamb and veggie filling.
Then layer the top with the sliced potatoes making a fanned pattern, as best you can. It doesn't have to be perfect, but just make sure it looks sort of nice and make sure the top is completely covered with potatoes. So basically, make it perfect.
Sprinkle the top liberally with cheese and a few thyme leaves (for color but also for taste).
**Note: I used a goat's milk cheddar cheese, because I felt like it was shepherdy and rustic, but you can totally use whatever kind of cheese you like! An Irish cheddar would be amazing on this!**
The next picture is completely gratuitous and there's no point to it other than the fact that I like it very much. But look! Another angle!
Cover the pie loosely with foil and place it on a baking sheet, to catch any drips. Bake in a preheat 350ºF oven for about 45 minutes.
**Tip: The foil will prevent the pie from browning too much at the top before the potatoes have a chance to cook.**
Uncover the pie and continue to bake for another 15 to 20 minutes to brown the edges and the top! You want to make sure the potatoes have enough time to cook, although since they're thinly sliced, they should be cooked perfectly at the end.
Remove from the oven and allow to cool down for about 5 to 10 minutes before cutting and serving.
**Note: This rest period is crucial and will allow the pie to firm up a bit, making it easier on you when you go to slice and serve!**
I like to serve this with a salad on the side, A) because I feel a little bit healthier eating a salad on the side of a pie loaded with meat and topped with potato and cheese, but also B) because it's super easy to whip up. We've already spent all this time making a pie crust, making a filling and slicing potatoes. Let's not forget about assembling and baking the darn thing for about an hour! A simple salad is a nice welcome to the meal. Let's also not forget about the beer to wash it all down. The beer is the most important part.
So this pie is pretty fantastic but I do have to say that the pie crust itself is what made the entire dish for me! I mean, flaky buttery pie crust is my weakness and I can't picture my life without it. So go ahead and make this dish if for the sole reason to be blown away by the crust. Let's all rejoice at the fact that we're reinventing shepherd's pie and creating an amazing pie that not only looks great, but tastes divine as well. Plus it's almost the weekend and beers are involved. Enough said. Enjoy!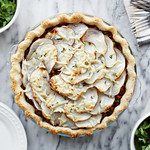 Shepherd's Potato Pie
We're reinventing an old classic by taking it to a literally meaning. A flaky buttery pie crust filled with a traditional lamb and vegetable filling, topped with thinly sliced potatoes, cheese and thyme. It's baked until golden brown and makes the perfect supper with a side salad and a cold beer. Enjoy!
Ingredients
For the crust
1¾

cups

all-purpose flour

2

teaspoons

granulated sugar

pinch

of kosher salt

6

tablespoons

unsalted butter

cold and diced

4

tablespoons

vegetable shortening

5 to 6

tablespoons

ice water
For the filling
2

tablespoons

olive oil

1

pound

ground lamb

or ground sirloin or ground turkey

1

medium yellow onion

diced

3

garlic cloves

minced

2

small carrots

diced

2

celery stalks

diced

1

pound

crimini mushrooms

sliced

salt and black pepper

1

teaspoon

fresh thyme leaves

plus more for topping

2

teaspoons

fresh rosemary leaves

chopped

1

tablespoon

tomato paste

1

cup

beef stock

2

tablespoons

Worcestershire sauce

1

cup

frozen peas

1

cup

frozen corn kernels

2

tablespoons

fresh parsley

chopped

1

large russet potato

thinly sliced into rounds

¼

cup

cheddar cheese

shredded
Instructions
To make the pie crust, In a large bowl combine the flour, sugar and salt. Add the cold diced butter and rub with your fingers (or a pastry blender) until coarse crumbs form. Add the vegetable shortening and rub with your fingers (or pastry blender) as well, until the mixture resembles coarse crumbs the size of peas. Add the ice water, 1 tablespoon at a time, mixing until the dough comes together. It should be slightly sticky. Form it into a ball and wrap tightly with plastic wrap, shaping it into a disc. Chill in the fridge for at least 1 hour or overnight. (Can be frozen and saved for later!)

Preheat oven to 350°F.

Heat a large skillet over medium-high heat. Add 1 tablespoon olive oil and allow to heat. Cook the lamb, breaking it with a wooden spoon, until crispy and cooked through. Transfer with a slotted spoon to a plate or bowl and set aside.

Add the remaining 1 tablespoon olive oil to the skillet and stir in the onions and garlic. Cook for about 5 minutes, until soft and translucent. Add the carrots and celery and cook for another few minutes. Season with a pinch of salt and pepper. Then add the sliced mushrooms and cook until they've softened as well, about 3 minutes. Return the cooked lamb to the skillet and add 1 teaspoon of chopped thyme and the chopped rosemary. Stir to combine. Next add the tomato paste, Worcestershire sauce, beef stock and season with a bit more salt and pepper, to taste. Stir in the frozen peas and corn and cook for 1 to 2 minutes more. Remove from heat and stir in the chopped parsley. Allow to cool down before filling pie crust.

On a lightly floured work surface, roll out the pie dough into a large circle about ¼ inch thick. Carefully transfer to a 9-inch pie dish and cut or fold the excess, tucking it under itself. Crimp with your fingers or a fork.

Fill the pie crust with the cooled lamb and veggie filling. Layer the top of the pie with the thinly sliced potatoes, making a fanned pattern, covering the top completely. Sprinkle with cheese and thyme leaves. Cover loosely with foil and place on a baking sheet to catch any drips while it bakes. Bake for about 45 minutes and then uncover and continue to bake for another 15 to 20 minutes or until the edges and top are golden brown. Remove from oven and allow to cool down for about 5 to 10 minutes before slicing and serving. Enjoy!
Notes
yield: 1 9-inch pie, about 8 servings