I know that 99.9% of the time I'm posting decadent recipes on here, packed with butter, sugar, chocolate, caramel, cheese and cream. And that was all just a couple days ago with that Chocolate Butterscotch Hazelnut Cake! I don't get tired of posting these tempting recipes because A) they make us all happy and B) it's not like I'm telling people to eat them every single day of their lives. Every other day…sure. I think it's totally fine to have some fun once in a while and when you want to have said fun, you can stop by this site and let loose. I'll still be here tempting you. Let's live a little. There are so many people out there already that take themselves too seriously when it comes to food, so we definitely don't need one more person posting diet recipes and telling you what you should or shouldn't be eating. Sure, I don't always post a healthy recipe on the site, but hey when I do, it makes them that much more special. That 00.1% of the time a healthy recipe does make an appearance, it's refreshing because it occurs so infrequently.
Although I've turned to the dark side and sold my soul to a healthy recipe this time around—it has peas and salmon in it, which is packed with good-for-you omega-3 fatty acids by the way and it's as healthy as I'm going to get so enjoy it—I didn't forget my sinful roots completely. I tossed in some pasta because I couldn't help myself. I don't think I could ever just go cold turkey on the entire comfort food situation. And let's be honest, I wouldn't be much fun if I did. With the New Year though, I figured it was time to explore some healthier options and do some good in the world by sharing a delicious healthy recipe. Can you blame me? It's my good deed for the year.
I've partnered up with Nikon USA to bring you this healthy recipe and also to talk about the New Year and all of the possibilities that come with it! I feel like 2015 is going to be a MEGA great year for all of us. Let's look forward and do the very best we can, even if the very best means failing a couple times along the way until we succeed. No one is keeping tabs on how many times we slip, but they are taking note of all the good we're doing. In the end, that's all that really matters. 2015 is your year. Shine bright like a diamond (sorry Rihanna). It's okay to make healthier choices and to want to change certain aspects of your life through resolutions and what not, but don't let it dictate your life. There's still plenty of doughnuts, cake, cookies, and potatoes to devour, but first, we have to eat all of this healthy Salmon, Mint and Pea Pasta (it's actually ridiculously delicious).
I'm often asked about two things on my blog…what do I shoot with and what does my shooting space look like? You can read more about the Nikon equipment I use over at Nikon's blog, Image Chaser!
And to answer the other question about my shooting space, well, I can promise you that it's not at all fancy or professional. I have awful lighting in my tiny kitchen (with no window), so I don't shoot in there at all. I actually shoot on a moveable island cart thing that I got from Ikea. I station it right by my living room window. It's a big window that leads to my balcony, so the light is great. See? Not that fancy at all. I'm sometimes too lazy to move the cart so I end up shooting on the floor. Let's be real.
Okay, enough about that though, let's talk more about this delicious recipe! We start by roasting the salmon in the oven. Place it skin side down onto a baking sheet and season it liberally with olive oil, salt and pepper.
Roast for about 15 to 20 minutes in a preheat 350º F oven, or until firm when touched. Remove and allow to cool down slightly.
In the meantime, cook the pasta according to the box's directions, until tender. Before draining, reserve about 1 cup of the cooking liquid. This is an important step as it'll help make the sauce later on.
**Note: You can use whatever cut of pasta you like or have on hand. Any short cut pasta will work great here. If you want to take the healthy approach even further, use whole wheat pasta instead! This recipe is healthy enough for me without the whole wheat noodles. Judge me not.**
Heat a large pot over medium high heat, with the olive oil. Add in the shallots and garlic and sauté for about 3 minutes to soften. Season with a bit of salt, pepper, and red pepper flakes.
Add in the reserved pasta liquid, lemon juice, lemon zest, and peas. Lower the heat and simmer for about 5 minutes to reduce the sauce slightly.
Add the cooked pasta to the pot, along with the salmon and mint.
**Note: When the salmon has cooled, remove the skin and gently flake with your fingers or a fork. You want large uneven chunks.**
Toss to evenly combine and heat until completely warmed through. Give it a taste and adjust seasonings accordingly. Add salt and pepper to taste.
This dish can be eaten warm or at room temperature, or if you're like Julian, you can eat it cold as well. He swears that it's just as great cold, but I do have to warn you that he thinks everything is great cold. So maybe not the best of judgement.
If you're not a big fan of salmon, you can swap it out for most other types of fish out there. If you happen to have a favorite like halibut or sword fish or even ahi tuna, go ahead and use that instead. You can even go a little crazy and use shrimp! Just sauté the shrimp in the pot before starting the sauce. Transfer to a plate and make the sauce in that pot. Then stir in the shrimp at the end before serving!
I don't always eat super healthy, I like to enjoy my life as best I can (plus I love food way too much). That's not to say that I'm always eating junk, because that's not the case either. I just have a love affair with potatoes and cheese and pizza…that's all. Anyhow, whenever I do want to make healthier choices, this pasta is a good compromise for me. I'm eating salmon and peas which are very good for you (my mamma will be proud) and I still get to live a little because I'm allowing myself pasta. All things in moderation is the lesson of the day folks. Let's tackle the new year with salmon, mint, peas and lots of pasta!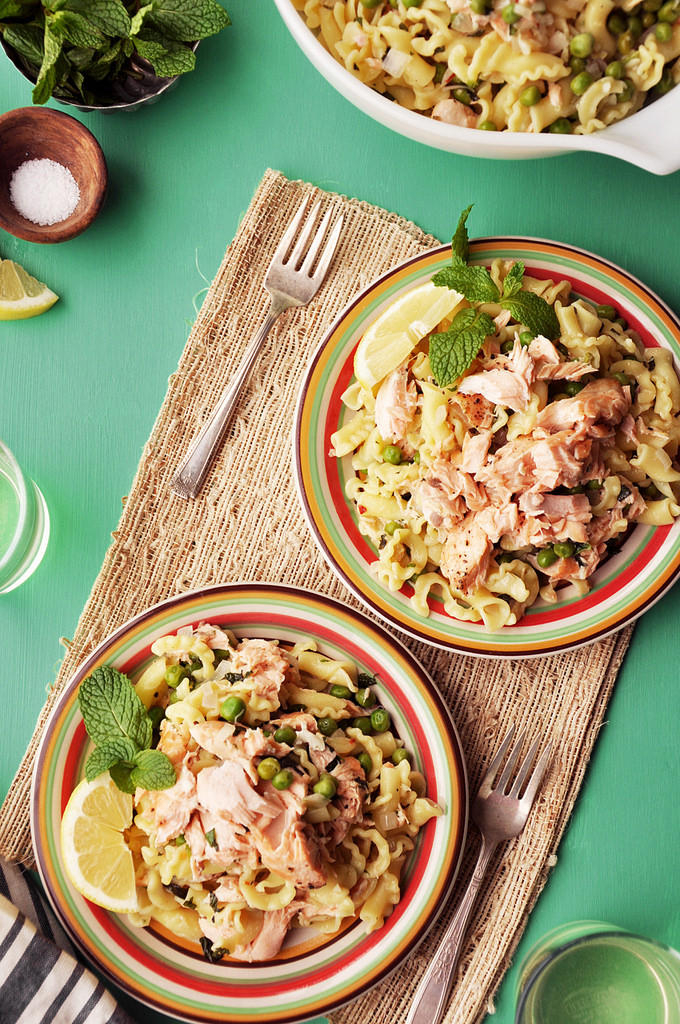 Salmon, Mint and Pea Pasta
Salmon, Mint and Pea Pasta is a healthy dish that is not only simple to make, but packed with tons of flavor! Salmon is toasted with pasta, mint and peas!
Ingredients
1½

pounds

fresh salmon

2

tablespoons

olive oil

1½

teaspoons

salt

1½

teaspoons

black pepper

1

pound

short cut pasta noodles

1

shallot

diced

3

garlic cloves

minced

½

teaspoon

crushed red pepper flakes

2

lemons

zested and juiced

1

10oz bag frozen peas, thawed

¼

cup

fresh mint

chopped
Instructions
Preheat oven to 350° F.

Place the salmon, skin-side down, on a baking sheet. Drizzle with 1 tablespoon olive oil and season liberally with 1 teaspoon salt and 1 teaspoon black pepper. Roast for 15 to 20 minutes, until just cooked and somewhat firm when lightly pressed. Remove from oven and allow to cool down.

Bring a large pot of cold water to a boil. Season liberally with salt and drop in the pasta. Cook until tender, look at the package for time directions. Before draining, reserve 1 cup of the pasta cooking liquid and set aside.

Heat a large pot over medium-high heat with the remaining tablespoon of oil. Add in the shallots, garlic, pinch of salt, pinch of pepper, and the crushed red pepper flakes. Cook for about 3 minutes to soften. Add the reserved pasta cooking liquid, lemon juice, lemon zest and peas. Reduce heat to low and cook for about 5 minutes until slightly reduced.

Once the salmon has cooled, remove it from the skin and gently flake it into large chunks with your fingers or a fork.

Stir pasta into the sauce, along with the salmon, and mint. Stir to evenly combine. Season with remaining ½ teaspoons salt and ½ teaspoon black pepper. Cook until the pasta has heated through. Serve warm or at room temperature. Enjoy!