I'm really into snacks and appetizers. Sometimes I honestly feel like I can make a whole meal out of them. It's like when you go to a restaurant for happy hour and order a bunch of different starters to "share," along with a few drinks. Then you're too full to eat a regular meal so you go home satisfied because you basically just had finger food for dinner. It's a dream come true, really. This post is exactly like that but better because you're home and you don't have to deal with the noise, the people or the traffic and driving and parking situation. Happy hour at your own house sounds 100 times better than going out. Especially since your house can have these Reuben Sandwich Egg Rolls if you want, and trust me…you do want.
I've made a few crazy mash-up egg rolls and spring rolls on the blog already, so I figured adding these to the repertoire wouldn't be the worst idea ever. In case you were wondering, these Cuban Sandwich Egg Rolls also do exist, along with these Beef Nacho Spring Rolls and let's not forget Loaded Baked Potato Spring Rolls. They all scream party to me. Speaking of parties, how amazing would a egg roll/spring roll party be? Think about it, you already have the wrappers and the oil is all situated, why not make it a party by making different types of egg rolls and sauces for dipping. Invite some friends over, make some cocktails and eat egg rolls all night long. The caveat is that I have to be invited since I just gave you the best idea ever. Deal? Deal.
I'm going to preface this by saying that all of the ingredients in the egg rolls are store-bought. So this recipe is super easy and a total convenience food. I mean who really has the time to make pastrami from scratch? It's totally fine to take some help from the store. Because of this, I did want to include a homemade factor to this recipe because after all it is a cooking blog. This is where the thousand island dipping sauce comes into the picture. We're making that from scratch.
All Reuben sandwiches are slathered with thousand island sauce, and instead of getting a bottle from the store, it's actually really easy to make it yourself, and you'll feel better about it because you'll know exactly what is going in it. Chances are you probably already have most of the ingredients on hand. In a large bowl, stir together mayo, chili sauce, ketchup, sweet pickle relish, salt and pepper until smooth. Cover with plastic wrap and chill until ready to use.
Just in case you don't know, because I sometimes get asked this when I talk about it on the blog, chili sauce is like a spicy ketchup. It comes in a glass bottle and you can find it in the same aisle as you would ketchup. Just look out for "chili sauce" on a bottle and you're good to go. It's the same stuff that shrimp cocktail is made of.
**Tip: You can make the sauce up to 4 days in advance and keep it in the fridge wrapped in plastic or in an airtight container. The good news is, you now know how to make homemade thousand island dressing. The even better news is that you can use it on a number of things. Try it on salads or even burgers.**
Okay, let's now turn our attention to the egg rolls themselves. They're the actual star of the show. I'm using store-bought sandwich sliced pastrami, sliced Swiss cheese and store-bought sauerkraut. Slice the pastrami into ribbons and the cheese into thin slices. The key to egg rolls is to not over-fill them and to make sure the filling isn't "wet." So make sure the sauerkraut is drained well. To roll the egg rolls, place a few slices of cheese in the center and then top with pastrami and sauerkraut. Make sure a corner of the wrapper is facing you. Then bring that corner over the filling and begin to roll tightly, but not too tightly. Then bring in the two side corners toward the center and continue rolling. Dab the last corner with a bit of water to seal the edges.
**Note: Rolling egg rolls isn't that hard, it's just a bit tedious and can be daunting. If you keep practicing, you'll get better. If I couldn't explain it well, you can probably find a video online on how to properly roll them. It'll help to have a video visual.**
Place the egg rolls onto a baking pan and continue rolling the rest. It's best if the rolled egg rolls rest for about 5 to 10 minutes to dry out a bit before frying. That'll ensure that any of the water used to seal the wrappers dries out and doesn't cause splattering when you go to fry them.
**Tip: You can also freeze the egg rolls at this point. Place them on a baking sheet in a single layer and then pop them into the freezer until frozen. Then transfer them to a zip top freezer bag and keep them frozen until ready to fry.**
To fry the egg rolls, fill a pot with about 3-inches of vegetable, peanut or canola oil. Bring the oil to 325 degrees F, using a deep-fry or candy thermometer to check. Once hot, fry the egg rolls in batches, until golden brown and crispy, about 5 minutes. Drain well and then transfer to a wire rack set over a baking sheet, to keep them from getting soggy.
**Note: To keep them warm while you fry the remaining egg rolls, place the baking sheet in a preheated 250 degree F oven.**
Serve the egg rolls warm with the homemade thousand island sauce on the side for dipping. When you go to dip the egg rolls into the sauce and eat it together, you'll have the best experience of your life. It tastes just like a Reuben sandwich. If you want to make these even easier, without any hassle at all, you can go ahead and use store-bought dressing as well for dipping. You don't have to tell anyone because I definitely won't say a word. It'll be our little secret.
A tip to keep in mind when frying the egg rolls is to not crowd the pot, because if you do the temperature of the oil will drop and then they won't fry properly. I recommend trying about 3 to 4 at a time depending on the size of the pot you're using. Feel free to use a skillet with high sides as well. You don't need that much oil, you just want to make sure that the egg rolls are completely submerged in the oil.

**Tip: While you're rolling the egg rolls, make sure to keep the wrappers covered with a damp kitchen towel or damp paper towels. You don't want them to dry out because it will make them harder to roll. So the damp kitchen towel will ensure that doesn't happen.**
Egg rolls are best when eaten right away because they're warm and crispy. If you have any leftovers, you're living life wrong, but you can keep them in the fridge and rewarm them in a 350 degrees F for about 5 to 10 minutes. Just keep in mind that they won't be as crispy or crunchy as they first were when fried. If worse comes to worse, you can totally eat them cold. I'm not embarrassed to say that I ate them cold from the fridge. They weren't crunchy at all, but still amazing.
If you love Rueben sandwiches or even just pastrami, then you have to give these egg rolls a try. They're a great snack or appetizer, perfect for parties. Keep this recipe up your sleeve or better yet, keep a bag of them in the freezer and fry them as you need them! You'll be everyone's best friend. Enjoy!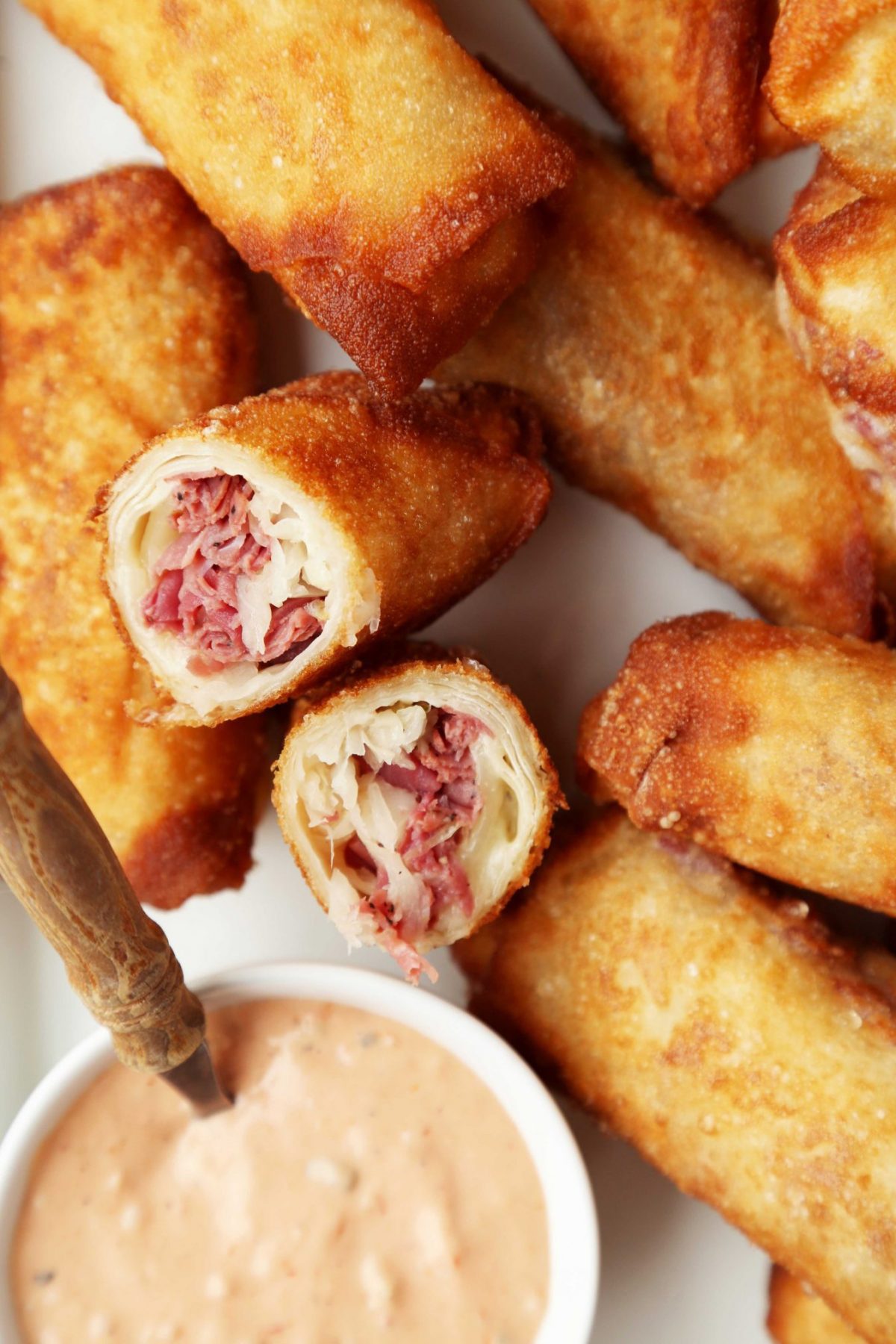 Reuben Sandwich Egg Rolls
Reuben Sandwich Egg Rolls is sandwich meets snack and it's the most delicious appetizer you'll ever make. Complete with homemade thousand island dressing!
Ingredients
Sauce
3/4

cup

mayonnaise

1/4

cup

chili sauce

2

tablespoons

ketchup

1 1/2

tablespoons

minced onion

1

garlic clove

finely minced

2

teaspoons

sweet pickle relish

1/2

teaspoon

salt

1/4

teaspoon

black pepper
Egg rolls
12

store-bought egg roll wrappers

2

7-ounce containers store-bought sliced sandwich pastrami, sliced

1

7-ounce package sliced Swiss cheese, sliced

1

cup

store-bought sauerkraut

drained well

vegetable or canola oil

for frying
Instructions
To make the thousand island dipping sauce, in a medium bowl, whisk together the mayo, chili sauce, ketchup, onion, garlic, relish, salt and pepper until well combined. Cover with plastic wrap and chill until ready to serve. This can be made up to 4 days in advance, and kept in the fridge in a container.

To make the egg rolls, place one egg roll wrapper on a cutting board so that it's a diamond shape, meaning have one corner facing you. Lay a few slices of Swiss cheese, pastrami and sauerkraut in the center. Remember not to overfill the egg rolls or else they'll tear when you go to wrap them. To wrap, bring the corner closest to you over the filling, as tight as possible without tearing, and begin to roll. Stop halfway and bring in the two corner sides in towards the center and continue to roll tightly into a log. Dab the last corner with a bit of water to seal the edge. Place the rolled egg roll onto a baking sheet and continue filling and rolling the rest.

Fill a large pot with about 3 inches of oil and set over medium-high heat. Using a deep-fry or candy thermometer, heat the oil to about 325 degrees. Once hot, fry the egg rolls in batches, making sure not to over-crowd the pot, until golden brown and crispy, about 5 minutes. Drain well and transfer to a wire rack set over a baking sheet. This will prevent them from getting soggy. Continue frying the remaining egg rolls in the same way. Serve hot with the thousand island dipping sauce on the side. Enjoy!