I'm a sucker for popcorn chicken. I could have a bucket filled with it and never get tired. Popcorn shrimp, let's not even go there because I could go on and on about that snack for days and weeks and months and years. I could have two buckets of popcorn shrimp and still want more. The dilemma I face when it comes to either of those is that I just don't know when to stop, and maybe I don't want to stop. Is that a crime? There's just something so addicting about bite-sized pieces of meat breaded and fried until crispy with lots of dipping sauce on the side for dunking that I find irresistible. Well, if I'm being realistic there's something about all things breaded and fried, no matter the size. The thing about popcorn anything is that the size allows you to not feel guilty while you continue to eat and eat because you feel like, oh they're so tiny so that means I could have more. Some people might see this as a problem but I see it as a miracle.
The other day, Julian and I were brainstorming recipe ideas over dinner—because even when we're eating we're still thinking about food—and we were spitballing different thoughts when all of a sudden chicken fried steak was thrown into the conversation. I can't remember if it was him or I who got super excited and out of nowhere shouted,"POPCORN CHICKEN FRIED STEAK!" Of course if you asked Julian he would say that it was he who said it, and maybe it was, but I can't say one hundred percent for certain that he did and I didn't. I can't remember, that's all I'm saying. It isn't important who thought of it (me), the important thing is that the idea was thrown out there and I was able to bring it to life and share it with you all.
The good news is that this dish tastes amazing, and the bad news is that this dish tastes amazing. So the way I look at it is you can do yourself a favor now by agreeing right from the start that the best idea you'll have all year is to go to the grocery store, grab all the ingredients you'll need and whip up a batch for yourself. Or you can live in constant regret and resentment for not trying this one out. If you're a long time listener but first time caller and you've never tried any of my recipes before (shame on you) but I'll forgive you if you let this one be the first you try. Do you really want to be that person? The person who shunned popcorn chicken fried steak and sausage gravy? No, you want to be the person who actually tried and loved it. The person who requests this as their last meal. If you plan on sharing, I recommend making two batches because you'll want one all to yourself. I'm not saying that's what I did, but I'm also not saying I didn't do it. We'll just leave it at that.
We're going to start by seasoning the meat. I'm using a cubed steak, which is just steak that has been poked with a bunch of holes, to get it a wee bit tender. Fancy, huh?
**Note: If you can't find cubed steak, just ask your butcher to tenderize some a few pieces of top sirloin or top round for you. Tell them you're looking to make chicken or country fried steak and they'll get you situated. They'll know what to do.**
Cut the meat into small bite-sized pieces and season liberally with salt, pepper, garlic powder, onion powder, cayenne pepper and Old Bay Seasoning.
Get your dredging station set up by whisking together a few eggs with some milk in one dish, and mixing together some flour, cornstarch (and those seasonings above) in a separate bowl.
**Tip: Adding cornstarch to your flour makes the coating extra crunchy when you go to fry the steak!**
Start by dredging the meat in flour first, then into the egg and once again into the flour mixture. Placing them on a wire rack set over a baking sheet.
**Tip: Double dipping your meat makes for the perfect crunchy coating! Allowing the dredged pieces to rest before frying allows the coating to stick to the meat while frying!**
Heat a cast iron skillet with some vegetable oil, you can use peanut oil or canola also if you'd prefer.
Once hot, carefully drop in a few of the breaded steak nuggets and allow to fry until golden brown and crispy.
**Note: Depending on how big your skillet is or how much oil is in it, you might have to flip the pieces over to ensure both sides get golden brown and crispy.**
**Tip: Don't over-crowd the skillet! Make sure to fry the pieces of meat a few at a time to ensure that the temperature of the oil stays consistent.**
Transfer the cooked pieces onto a wire rack, set over a baking sheet, lined with paper towels. Those were very precise instructions, but believe you me, they're necessary.
**Tip: Placing them on a wire rack will ensure that the popcorn chicken fried steak nuggets remain crispy and crunchy. If you were to just pile them on top of each other on a plate or platter, the heat would steam them and cause the coating to get soggy.**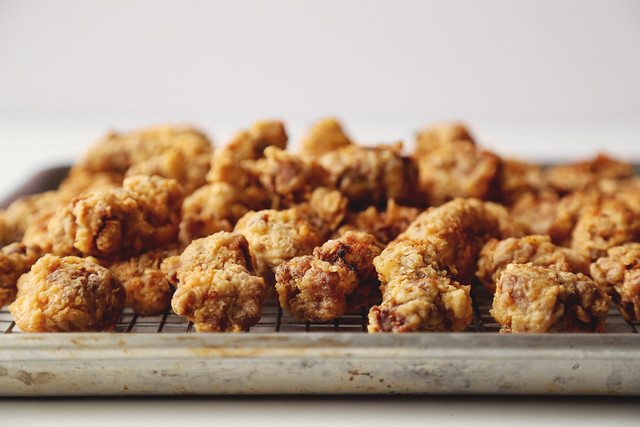 As soon as they come out of the oil and are still hot, sprinkle them lightly with salt and a bit more of Old Bay seasoning. Both are optional, but they give it that little bit of extra flavor.
Continue frying the rest. Then get ready to make the sausage gravy for dipping. We can't have popcorn steak without a dipping sauce of some kind, and this wouldn't be chicken fried steak without gravy!
Brown the sausage in a large cast iron skillet, along with the chopped onions.
**Tip: Since I like things a bit more spicy, I used spicy Italian sausage for this, but feel free to use sweet or mild or even ground breakfast sausage. Either of those will work!**
Once brown and crispy, stir in the flour and allow to cook for a few seconds.
Slowly whisk (or just stir with a spoon) in the whole milk. Lower the heat to low and bring the gravy to a simmer, allowing it to thicken as it cooks. Season with a bit of salt and lots of freshly cracked black pepper.
**Note: You can use white pepper, if you'd prefer. I love the way a white gravy looks with a bunch of black pepper flecks going through it, but also I prefer the taste of black pepper.**
Reheat the popcorn steak bites in a 350°F oven for about 5 minutes or keep them warm right after frying in a 250℉ oven.
Serve them warm with the sausage gravy on the side for dipping and dunking. I do have to admit that they're also super tasty cold or even room temperature, so they're great for parties. The gravy though, you'll probably want to keep that warm.
I kept meaning to add a sprinkling of thyme to these before serving and of course I forgot. I think they need that little pop of green from fresh thyme. I was too busy thinking about eating all of them instead of remembering the thyme. Anyhow, if you want and you have some thyme on hand, sprinkle a few leaves here and there on them.
You can omit the sausage in the gravy. Just make a roux out of butter and flour in a skillet and whisk in the milk. Season with salt and lots of black pepper. You'll still have a delicious gravy for dunking, sans sausage. I know there are some people out there that don't like sausage, so I'm not mad at this idea.
Unfortunately, this recipe doesn't allow for making ahead, as the popcorn steak is best when eaten the day of, as well as the gravy. But the good news is that it's a simple recipe that doesn't take that much time at all. If anything, the dredging is a bit time consuming, but nothing you can't handle. I promise.
I know I say this all of the time, but this time I really mean it. I'm currently obsessed with this recipe and it might just be the best thing I've made in a very long time. Full discloser is that they're totally addicting and you won't be able to just have a few. If you want to feel better about eating this for dinner, serve it alongside a healthy salad. That's what I did and I regret nothing. Enjoy!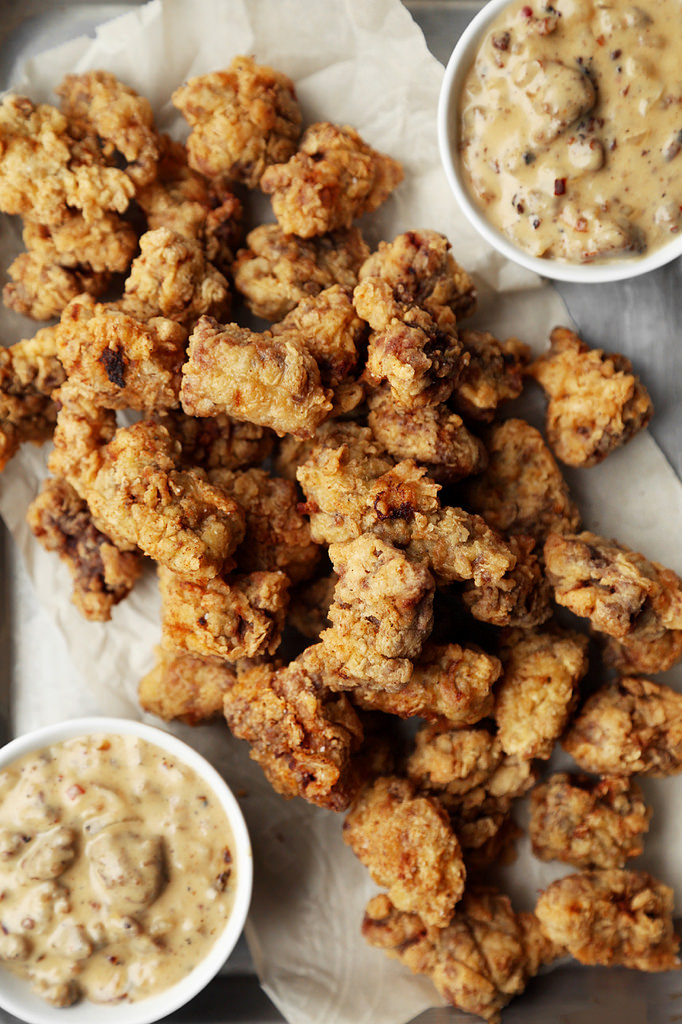 Popcorn Chicken Fried Steak
Just like popcorn chicken or shrimp, this Popcorn Chicken Fried Steak is the perfect snack or appetizer. Crunchy nuggets of breaded steak served with gravy!
Ingredients
4

cubed steaks

top sirloin or top round

½

teaspoon

salt

½

teaspoon

black pepper

½

teaspoon

paprika

¼

teaspoon

granulated garlic

¼

teaspoon

granulated onion

¾

teaspoon

Old Bay seasoning

3

large eggs

2

tablespoons

milk

or half and half

1½

cups

all-purpose flour

½

cup

cornstarch

vegetable oil for frying
For sausage gravy
½

pound

hot Italian sausage

or 2 links casings removed

½

a yellow onion

finely chopped

¼

cup

all-purpose flour

1½

cups

whole milk

½

teaspoon

salt

¾

teaspoon

black pepper
Instructions
Cut the cubed steaks into small pieces (bite-sized cubes) and place in a bowl or on platter. Season with salt, black pepper, paprika, granulated garlic and onion, and Old Bay seasoning. Toss to evenly coat.

In a small bowl, whisk together the eggs and milk. In a separate small bowl, combine the flour, cornstarch and ½ a teaspoon of each of the seasonings from the steak. To dredge the steak pieces, run a few pieces through the flour first, then into the eggs and once again in the flour. Shake excess and place on a wire rack set over a baking sheet. Continue dredging until all are fully coated.

Heat a large cast iron skillet over medium-high heat with enough vegetable oil to fill half of the skillet. Once hot, carefully drop in a few pieces of the dredged steak pieces at a time. Fry until golden brown and crispy, about 4 to 6 minutes. Transfer the cooked pieces to a separate wire rack set over a baking sheet. Continue frying until all the pieces are done. While the popcorn steak is hot, season with a bit of salt and Old Bay. To keep warm, place the baking sheet in a 250℉ until ready to serve.

To make the gravy, heat a skillet over medium-high heat. Brown the sausage, breaking it down with a wooden spoon. Add the onions and cook until crispy, about 4 minutes. Stir in the flour and allow to cook for a few seconds. Slowly stir in the milk, stirring until evenly incorporated. Lower the heat and bring to a simmer, allowing the gravy to thicken. Season with salt and pepper. Taste and adjust seasonings accordingly. Serve the popcorn chicken fried steak warm with the gravy on the side for dipping. Enjoy!
Notes
yields: lots of popcorn chicken fried steak (4 dinner servings or about 8 appetizer servings)