A little over a month ago it was Valentine's Day, and on this specific day I had dinner with the love of my life. We ordered a pasta dish—along with a lot of other dishes to share because I was super mega hungry that day. I can't really remember those dishes right now. I guess they're unimportant since they didn't stay in my head. This pasta, however, was the best dish I've had in a restaurant in a really long time. Probably in forever, but don't quote me on that because I don't want to make that kind of commitment to one dish so early on in my life. The pasta in question was something out of this world. Perhaps it was all just a dream. I'm convinced it was voodoo magic brought to me on a white plate, and that if I return to that restaurant now it wouldn't be the same. That's how it always is. I'm okay with that though, because I decided to recreate it at home. I decided to challenge myself, to see if I could actually make it without having much to go on except for the memory of a delicious night. As it turns out, I must have some of that voodoo magic myself, because not only was my pasta better than the one from the restaurant, it also happens to be ridiculously easy to make. Not to mention the fact that for the same price of the restaurant dish, you get an entire potful instead of just one small plate's worth. It's a win win situation. The ol' ball and chain even said it was the best thing I've ever made. I don't know if I should be flattered or offended. I'll go with flattered.
It's made with orecchiette noodles, in case you didn't already guess that part, hence the name. Orecchiette actually comes from two Italian words that mean "ear" and "small," which gives you the word for "small ears" because the pasta looks like little ears. Aaah. There's a little trivia for you to throw out at your next cocktail party. You can thank me later. Both versions of the dish, the fancy restaurant and my own, have crispy ground sausage and are loaded with peas. Lots of peas. (Have I told you that I'm a sucker for peas?) The one at the restaurant had broccoli rabe and I'm a total fan of broccoli rabe but when I first tried to recreate it, I couldn't find any at the grocery store. I almost cried right there in the produce section by the bagged salad mixes. It was a sad sight to see. There was, however, an abundance of asparagus staring at me because it happens to be spring here, and I'm all for seasonal fresh produce. So I stopped crying and decided to give it a go with asparagus and as it turns out, I preferred it much better. Life is funny sometimes the way it points you in the right direction without you really knowing what in the world is going on. Now, I'm only making it with asparagus and I'm topping it off with a heaping amount of lemon infused ricotta cheese because, um hello RICOTTA CHEESE, people!
Have you ever fallen in love with a dish you've tried at a restaurant or in someone else's house? So much so that you go home and try to recreate it for yourself, determined to make it just as good, if not better? If you have, share some of your experiences down in the comments section below, I'd love to hear about them. Mostly because I want to know I'm not the only crazy one out there, but also because I'm curious to hear what dishes make you happy. In the meantime, let's make this pasta dish and become addicted together because that's what friends do. They become addicted to food with you.
By now you all know about my love affair with bread. I think it's one of those things in life I'll never be able to live without. I mean, it's bread for crying out loud! Everyone should be addicted to it. But I'm sorry folks, bread is mine. We have a thing going on. I don't like to share. This pasta dish has breadcrumbs all up in it, so instead of using store bought bread crumbs (which you can totally do if you want to, especially if you don't have that much time) I decided to make my own breadcrumbs. Now you're probably thinking, "Jonathan, why on earth would you go through all the hassle of making your own breadcrumbs when the store has perfectly acceptable plain bread crumbs?!" If you're thinking that, you're completely right. However, making breadcrumbs at home is super easy and it's especially great if you have some day old bread laying around. Might as well use it up, instead of throwing it out.
**Tip: Grinding your own breadcrumbs just ensures that they are as fresh as possible. The thing about store bought breadcrumbs is that we don't know how long they've been sitting in that container on those shelves all ground up. They could be stale for all we know, or at the very least, not as flavorful. Making your own is the way to go. Plus, you can make the crumbs slightly bigger, which is great for this dish. I'm all for big bread crumbs.**
I'm not making my own bread, that would be ridiculous. "Ain't nobody got time for that!" Who am I, Martha Stewart? Just lay out a few slices of day old bread. Any bread will do, I'm using sourdough but you can totally use sandwich bread if that's all you have on hand.
Drizzle the slices with a bit of olive oil.
Place in a 375° F oven for about 5 to 7 minutes or until crusty and golden brown. We need to toast the bread and dry it out slightly so that it grinds up easily later on. It's probably better if you camp out in front of the oven so that the bread doesn't burn. I'm not saying that I had to redo this part of the recipe three times, but I'm not saying that I didn't have to either. If you think you can multi-task, then proceed to the next steps in the meantime. Just keep an eye on the bread. I always feel like it burns the second you forget about it. Then it's too late. Life is cruel sometimes.
Place a heavy skillet over medium heat and add a drizzle of oil. Throw in the spicy sausage (removed from the casings) and cook until browned and crispy.
It should take about 6 to 8 minutes to crisp up the sausage. Use a wooden spoon to help break it down into small chunks.
**Note: I like to leave some pieces slightly larger so that you can actually see the sausage, nothing is worse than sausage that has been pulverized to death. There's no texture in that. You know what I mean?**
Add a chopped shallot and a few minced garlic cloves to the sausage.
By now the bread should be good to go (or burnt to a crisp if you're a slow chopper and/or stirrer). Remove the baking sheet from the oven and allow it to cool for a few minutes. Then break it up with your hands and throw it into a food processor. Pulse until they're coarse crumbs. Transfer the crumbs back onto the baking sheet, and bake them for about 5 minute to dry them out. Keep an eye on them at this step because they'll burn faster than the bread slices.
**Tip: If you don't have a food processor, try breaking up the bread in a large food storage bag, by giving the bag a few smacks with the bottom of a pan, until coarse crumbs are formed. Hello, anger and stress reliever.**
Let's turn our attention back to the sausage and shallots and garlic. Continue to sauté until it has all completely browned and crisped up. Cut the asparagus into small pieces and add them to pan.
Stir the asparagus into the sausage and season with salt, freshly cracked black pepper, and crushed red pepper flake (if you like heat). Keep in mind that we're using spicy sausage in the recipe and that alone can be pretty hot for people. If you want to burn off your lips though, add a bunch more heat with the red pepper flakes.
Cook for a bit longer until the asparagus gets bright green and a little tender, about 2 to 4 minutes. Remove from the heat and set off to the side. Forget about it, but don't really forget about it because you know you'll probably grab a few forkfuls before it even meets the pasta. Not that I did that, or anything.
We're now going to make a topping for the pasta (for when it's done). It's super easy. Mix together ricotta cheese, lemon zest, fresh lemon juice, salt and pepper. That's it. I like that added touch of bright freshness. I think it goes perfectly with the heat from the sausage and the spring flavors of the asparagus and peas.
You can set the lemony ricotta off to the side, or store it in the fridge if you're going to eat it later on.
It's time to cook the noodles. I think we all know how to cook pasta so I didn't think I needed to show it. But just in case, boil some cold water. Add a bunch of salt. Throw in the noodles. Cook until tender, but still with a little bite to it.
**Note: Sometimes orecchiette can be difficult to find at the store. My grocery store doesn't always carry it. If that's the case for you, you can totally use another pasta cut. Shells. Or large elbow. Or bow ties. Or wheels. Anything small like that will work for this recipe.**
Once the pasta is cooked, reserve some of the pasta cooking water. This pasta doesn't really have a sauce, per say, but the pasta cooking liquid helps us make a simple sauce, so remember to save some of it. About 2 cups, just to be safe. Drain the pasta.
We're going to combine everything now. Throw the pasta back into the pot you cooked it in, and then place the pot over low to medium heat.
Add the cooked sausage and asparagus mixture to the pasta and a bit of that reserved cooking liquid, and give it a good stir. Try adding half of the water you saved and if you need more later on, you can add more. Remember that you can always add something but you can never take some out, once it's in. That's a good cooking tip to keep in mind.
And now for some of the good stuff. Add a few handfuls of those homemade toasted bread crumbs from earlier. Pat yourself on the back as you're adding them, for being so awesome by making your own. Dump in the peas and of course don't forget about the parmesan cheese. You can also add a few grinds of black pepper, if you wish. This pasta is super easy and great to just eyeball the ingredients. Add as much or as little as you'd like. No one is going to say anything if you add too much bread crumbs or cheese.
Stir everything together and cook over low heat until it's warmed through. Like I said earlier, there really isn't a sauce. The pasta water sort of just thickens a bit because of the starch in it. It's great.
**Note: If you find that the pasta is sticking to the bottom of the pot, lower the heat and add a bit more of that pasta water we reserved.**
I like to serve the orecchiette with a dollop of that lemony ricotta cheese we made earlier, and then because there isn't enough ka-pow in this dish already (kidding, there is) I like to sprinkle some bread crumbs and of course some more cheese because I think all pasta should have tons of cheese. Don't you? They were meant to be together. Pasta and cheese until the end of time. Pasta and Cheese for President!
I actually like to eat this dish cold right out of the fridge (or at room temperature). Sometimes I'm really lazy to heat up leftovers, mostly because I just want to eat as soon as possible and I don't do well in situations that prevent me from eating my food right away. So I like to see just how much stuff I can tolerate cold. This pasta is one of those dishes I can totally eat out of the fridge. I make a big batch of it at the beginning of the week and then just have leftovers throughout the week. It's a wonderful treat to have waiting for me after a long day of work….or a long day of sleeping. Pasta for breakfast is completely acceptable, if you ask me.
If you're not a big fan of asparagus or can't find any at your local grocery store (or Farmer's Market, if you're into that sort of thing) then you can definitely switch it out for some other delicious vegetable. Broccoli would be great. Or kale because everyone is in love with kale at the moment. You can even do spinach if you're more of a spinach kind of person. Also try it with a medley of zucchini and/or summer squash. It's a really versatile dish, so the best part about it is that you can easily customize it to your tastebuds. No matter what you decide to throw into it, it'll still taste great! (Within reason of course. Some things just won't work).
I put this meal together in about 30 minutes. I think that qualifies this as a simple and delicious recipe you can make on those days when you're too tired to cook. You can whip this up in no time at all. Definitely a lot faster than it would take you to order take out and wait for it to be ready. Then you feel guilty about eating greasy food. At least with this dish, you put in a minimal amount of effort with a satisfying outcome. It's a great way to get your loved ones to eat more veggies too, because we all know everything is better with cheese and pasta of some sort. Don't give in to easy fast food when you can make something fast and delicious right in your own home. You'll love yourself more for it. Enjoy!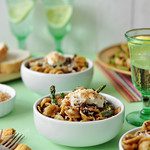 Orecchiette with Asparagus and Sausage
This simple yet delicious pasta dish is perfect for those nights when you don't want a really heavy dish. It's like springtime in a bowl with tons of asparagus, peas, and a dollop of lemony ricotta cheese. If you're not a fan of sausage you can omit it and easily turn this dish into a weeknight vegetarian meal.
Ingredients
4

slices

day old bread

sourdough or french bread

3

tablespoons

olive oil

1

pound

spicy sausage

casings removed

1

shallot

minced

3

garlic cloves

minced

1

pound

asparagus

cut into 1-inch pieces

1

teaspoon

salt

1

teaspoon

black pepper

½

teaspoon

crushed red pepper flakes

1

cup

ricotta cheese

1

tablespoon

lemon zest

1

tablespoon

fresh lemon juice

1

pound

orecchiette

2

cups

pasta cooking water

reserved

1½

cups

frozen peas

thawed

½

cup

parmesan cheese

freshly grated
Instructions
Preheat oven to 375°F. Place the slices of bread on a baking sheet and drizzle with a tablespoon of olive oil. Bake for about 7 to 10 minutes until golden brown and crispy. Remove from the oven and allow to slightly cool and dry out for a bit. Break up the bread with your hands and place it into a food processor. Pulse until the bread resembles coarse crumbs. Return the crumbs to the baking sheet and toast in the oven for a few minutes until golden brown. Remove from the oven and allow to cool completely.

Heat a large skillet over medium high heat. Add the remaining two tablespoons of olive oil. Brown the sausage using a wooden spoon to break it up, about 5 to 8 minutes. Add the shallot and garlic and cook for a few more minutes. Stir in the chopped asparagus and season with salt, pepper, and red pepper flakes. Sauté until the asparagus is tender and bright green. Remove from the heat and set it off to the side. In a small bowl combine the ricotta cheese, lemon zest, and lemon juice. Season with a bit of salt and black pepper to taste, stir to combine. Set off to the side for later.

Bring a large pot of cold water to a boil. Season with tons of salt and bring back to a boil. Add the orecchiette noodles and cook as directed on the box, until tender. Reserve some of the pasta cooking liquid (about 2 cups). Drain the pasta and return it to the pot, set over low to medium heat. Add the cooked sausage and asparagus mixture to the orecchiette, and stir together with about 1 cup of the reserved pasta water. Add about half of the bread crumbs, all of the peas and the parmesan cheese. Stir everything together and cook until it's heated through. Season with a bit more black pepper if desired. If the pasta begins to stick to the bottom of the pot, add more of that reserved pasta water.

Serve the pasta with a dollop of the lemon ricotta mixture, some of the remaining bread crumbs, and freshly grated parmesan cheese. Eat hot or at room temperature. Enjoy!