I've decided to start sharing a few Nicaraguan recipes on the blog over the next couple of weeks. They'll be dishes I've grown up eating, and you'll probably never have heard of them, but I think it's important to share them with you because they're a piece of me, and because Nicaraguan food is delicious. I might be slightly biased, but hopefully you'll think so too. I'm a third generation American and so it'll be a great way for both of us to get to know this great culture of mine. It will be a learning process for you and I, and I'm excited to share it with you. The first recipe is this Nicaraguan Vigoron, there really isn't an english translation for it, but basically it's boiled yuca (cassava) with crispy pork skin and a refreshing cabbage salad. In Nicaragua it's served as an appetizer or as an all in one main dish. You'll find street vendors all over the country selling this dish which is traditionally served on top of a banana leaf. It's a great dish to start with because Nicaraguans eat a lot of yuca on a daily basis.
This is one of my mom's favorite dishes, and I have to admit that I really didn't care for it when I was younger. That's because up until recently I didn't like yuca. When I was a kid I found it to have a weird texture, but as an adult, I have a new found appreciation for it. I'm obsessed with it now, more so because Julian is obsessed with it, so I cook it more often. It's also great fried, which is how I'm sure you're familiar with it. A lot of Cuban restaurants serve fried yuca and so maybe you've had it there? If you've never eaten it before and are like, what in the world is that? Then now is the moment to branch out and try something new!
Begin by preparing the yuca root (cassava), which if you don't know what it is or looks like, it looks like dark tree bark vegetable thing. It looks weird, I know but it's delicious. It's a starchy vegetable that's almost like a potato, sorta. After you've peeled it, make sure to rinse it well. Place it in a large pot and fill it with enough water to completely cover the yuca. Bring to a simmer and cook until it's fork tender, about 30 minutes.
**Note: If you want a better tutorial about how to prepare the yuca, Saveur has a good example that you should check out!**
Meanwhile, let's make the cabbage salad. This salad is used in a lot of Nicaraguan dishes. Shred the cabbage with a sharp knife or a mandolin that has the shredding blade on. You want it to be like if you were making coleslaw. Transfer it to a large bowl and fill with cold water. Let sit for about 10 minutes, and then drain and rinse with cold water once more. Return to the bowl.
**Tip: You can use a bag of pre-shredded coleslaw mix, if you'd like. It'll have carrots and purple cabbage in it, but that's okay. Some people make this salad with them anyhow.**
Add the diced tomatoes on top and then stir in the apple cider vinegar, a little water to cut the sharpness of the vinegar, salt and lime juice. Mix until evenly combined. Give it a taste and adjust seasoning accordingly, adding bit more salt if needed. Some people add shredded carrots to this salad as well, but we never added them so I'm keeping it true to how we eat it.
**Note: You can use white vinegar instead if you'd like, but my mom always makes this with apple cider vinegar because that's how her mom always made it.**
Once the yuca is done, remove it from the cooking water and transfer it to a cutting board. Cut it into large chunks, removing and discarding any long fibrous pieces.
To assemble the vigoron, place pieces of yuca on individual plates or bowls and then top with crispy pork skin (chicharron). If you can find long sheets of pork skin (at any hispanic foods market) that is best because they're thin and you can break it off into pieces. If you can't however, but it mind be hard to find, you can use pork rinds that are found in the chip aisle.

Top it all with the cabbage slaw, making sure to spoon a bit of the vinegar juice from the slaw over the top as well. Serve with a lime wedge on the side.
To eat it, you're supposed to grab a piece of pork rind and top it with a piece of yuca and salad. Then you have that perfect bite each time. My mom makes this same salad sometimes with diced avocado and ham in and that's also really good.
The cabbage salad is best when made a few hours in advance because the vinegar and lime juice will begin to wilt the cabbage a bit. You don't want to make it too early or else it'll get really soft and let out a lot of the moisture. Then you'll end up with a lot of water in the bowl.
**Note: If you do have any leftover salad, you can store it in the fridge and then just drain off a bit of the liquid that develops.**

This dish is sometimes served with pieces of fried pork as well, if you want to add meat into the dish. Because Julian is such a carnivore, when I make this at home, I add in the pork for him. It's just boneless pork that I fry in a bit of oil until crispy and cooked through.
If you can find the yuca and the pork rinds, then you highly recommend you give this recipe a try. I know that it might seem little out there for most of you, but I promise it's really good. If you can't find yuca, or don't like it, this might be blasphemous for me to say, but you can try it out with potatoes instead. Boil whole potatoes until fork tender then drain and peel with a pairing knife and cut into pieces. Try it out either way, promise?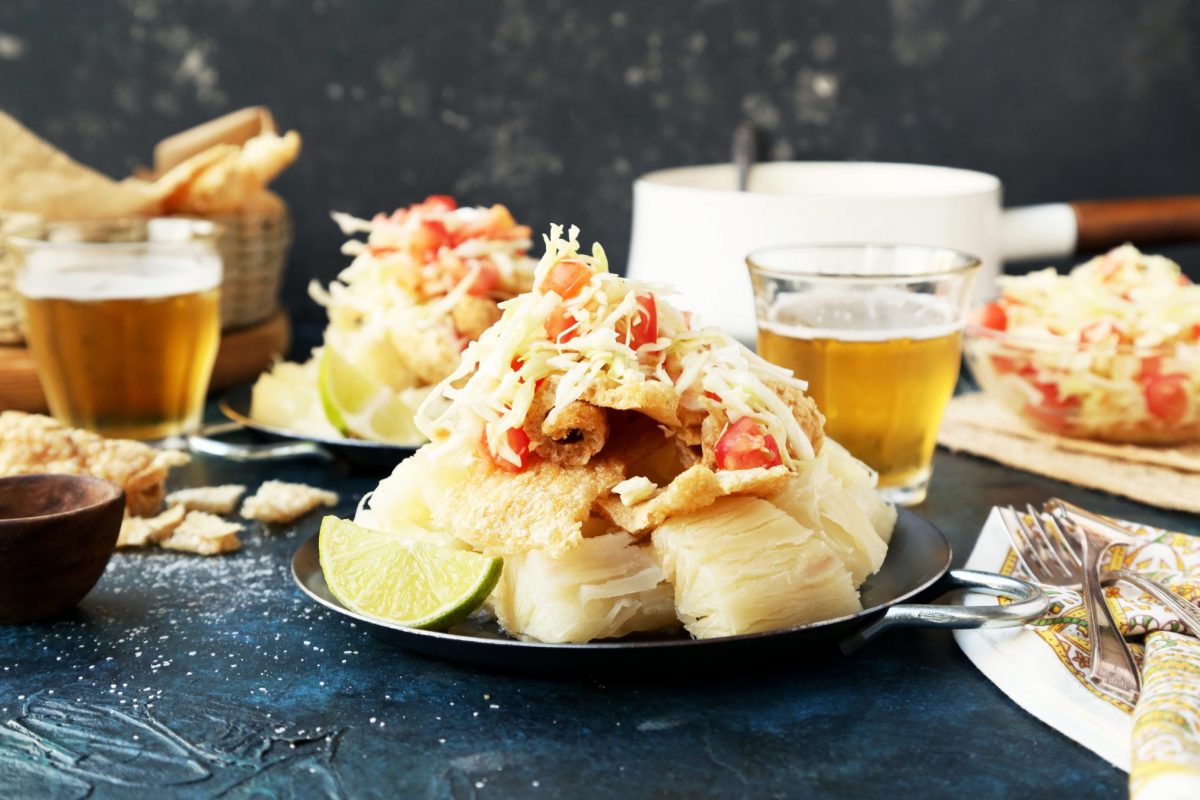 Nicaraguan Vigoron
Nicaraguan Vigoron is boiled yuca (cassava root), topped with crispy pork rinds and a cabbage and tomato slaw. It's great as an appetizer or light dinner!
Ingredients
2

pounds

fresh yuca root

cassava

1

small head of cabbage or half of a large head

4

roma tomatoes

diced

1/4

cup

apple cider vinegar

1

large lime

juiced

2

teaspoons

salt

1

pound

fried pork skin

or pork rinds
Instructions
Using a sharp knife, cut the ends of the yuca root and then cut it into 4-inch chunks. Cut the skin off, in the same manner as you would if you were cutting the skin off an orange for segments. Rinse the peeled yuca and then place it in a large pot. Fill with water, making sure to cover the yuca completely. Set over medium-high heat and bring to a simmer. Cook until fork tender, about 30 minutes. Make sure to not over-cook the yucca or else it'll become mushy.

To make the cabbage salad, finely shred the cabbage, as if making coleslaw. You can use a mandolin with the cross blade or you can finely shred it with a sharp knife. Place the cabbage in a large bowl and fill with cold water. Let it sit for about 10 minutes. Drain and rinse the cabbage once more, and return to the bowl. Add the diced tomatoes, apple cider vinegar, 1/4 cup water, lime juice, and salt. Mix until evenly combined. Wrap in plastic and let sit at room temperature or in the fridge until ready to serve.

Once the yuca is cooked through, remove from the water and place on a cutting board. Cut into bite sized pieces, discarding any fibrous pieces.

To assemble the vigoron, place the yuca pieces on individual plates or bowls, and top with pieces of pork rinds and the cabbage salad. Serve immediately and enjoy!