If queso fundido is on the menu (any menu), you better believe I'll be ordering it and I'll devour the entire dish all by myself. I'll pretend it's the most awful piece of garbage I've ever tasted, too, just so that I'll be the only one eating it. "Ugh, you DO NOT want to taste this! Oh it's awful! Yuck! You're better off not trying it! I'm doing everyone a favor by eating it all, trust me." Just the mention of queso fundido and all my self control goes right out the window. With this dish right in front of me, I forget about such things as portion control and moderation. Huh? Come again? Portion what? All bets are off. Can you blame me? I mean, who can resist a piping hot skillet filled with melted bubbly cheese? I count my blessings every morning, as soon as I open my eyes, thankful that I'm not allergic to cheese or dairy because if that were the case, I'd be suffering every single day of my life. I'd probably cry myself to sleep each night from the sadness. The thought of not being able to eat melted cheese dip frightens me. I'm terrified right now just talking/thinking about it. Let's move on, I'm getting chills.
Julian and I order this appetizer so often that I wanted to start making it at home for us. The worst decision I've ever made in my life, or the best? I haven't decided yet, ask me again later. After a long and tiring work week, the greatest thing you can ever possibly treat yourself to is a few cold cocktails (obviously), queso fundido and a giant bowl of tortilla chips for dipping into said cheese. Picture it, you out in the backyard on a lounge chair right by a pool. The warm sun hitting your face. Drink in hand garnished with one of those tiny cocktail umbrellas (I love those umbrellas), someone fanning you as you lay back and worry about nothing, and just when you feel a bit hungry, there's queso fundido right to the side of you for all of your snacking needs. Sounds amazing, right?
Give it a try soon, but don't say I didn't warn you when you wake up in a daze not knowing where you are or why there's cheese on your face and crumbs on your shirt (how embarrassing for you, pull yourself together) or why all of a sudden you're wishing you had more mushroom and chorizo queso fundido on hand. It's that addicting. No, scratch that. It's magical. It's an outer body experience and if food had the power to cure ailments, I swear this dip would be a miracle worker. Maybe I'm hyping it too much or maybe I'm exaggerating (I'm not) either way, if you have no idea what I'm talking about or have never tried fundido, you need to stop everything you're doing right now and get in the kitchen. Okay, now that I think about it, it's probably a bad idea that I'm making this at home now. It's all I'm going to be eating for the next couple of weeks. Help! (But don't help).
This queso fundido is layered with Mexican chorizo, so we want to start by cooking that first. Heat a large skillet over medium-high heat and cook the chorizo until just beginning to brown, about 10 minutes.
**Tip: If you don't like pork chorizo (which is what I used), you can brown up beef chorizo instead, or if you want to keep things completely vegetarian, you can use soyrizo or just omit it altogether. I won't judge.**
Remove the cooked chorizo from the skillet and add a tablespoon of oil. Toss in the onions, garlic and sliced mushrooms.
Sauté for about 5 to 8 minutes or until caramelized. Season with a bit of salt and pepper. Stir the chorizo back in and cook for another minute or two. Just to get it all fully combined, you know.
Remove from heat and allow to cool, off to the side. Let's turn our attention to the dipping vessels. You can just warm up a few flour tortillas and serve the fundido with that. Or you can serve it alongside a big basket of tortilla chips. Both of those work well, but I like mine with tostones. If you don't know what tostones are, you're missing out. They're plantain pieces that are fried, smashed and then fried again. They're super delicious and very addicting. You can't be angry at anything that is double fried.
**Note: Plantains are those bigger looking bananas that are hard and fully green. They are eaten two ways, green which is when they are starchy like potatoes or yucca. Or you can allow them to ripen and they'll turn black and yellowish and they're super sweet. You want these plantains to be starchy and green. I'm not a fan of the sweet plantains.**
Cut them into one inch rounds and fry them in a skillet with a bit of vegetable or corn oil until lightly brown on both sides, about 1 to 2 minutes. Transfer to a cutting board and continue frying the remaining pieces. While they are still warm, give them a smash to flatten them.
**Tip: They sell fancy tostone smashers but that's way too fancy for me, so I just use the bottom of a jar. Any jar will work, whatever you have in your fridge. Try a pickle jar or the relish jar you've had in the way back forever. Put it to good use.**
We're going to fry the smashed pieces once more to get them super crispy. Place them back into the hot oil (a few at a time) and fry for another minute or two on both sides, until golden brown. Transfer them to a plate or platter and season lightly with salt.
**Tip: You want to season the tostones as soon as they come out of the fryer because it'll ensure that the salt sticks to them.**
They're good at room temperature so you can set them aside (good luck resisting them though) and turn your attention to finishing up the queso fundido. You can also rewarm the tostones in the oven right before serving.
To finish off the dip, grab a shallow baking dish or small skillet and fill the bottom with half of the cheese. Top with half of the chorizo and mushroom mixture and a few pickled jalapeños (optional).
**Note: Instead of one big dish, I divided my queso into two small dishes. But you can just do one big skillet if you like.**
Top with the remaining cheese and with the remaining chorizo and mushroom mixture. Add a few more pickled jalapeños if you wish.
**Tip: I'm using a combination of both mozzarella and pepper jack for this fundido. I like the creaminess you get from the mozzarella and the spicy kick from the pepper jack!**
Bake in a preheated 350ºF oven for about 25 to 30 minutes or until the cheese has melted and started to bubble. Remove from oven and serve immediately with the tostones or chips. I like to wash it all down with a cocktail or two. It makes it more festive, trust me. Stay tuned later this week for a watermelon cocktail that will knock your socks off. Just knock them right off.
You can make this fundido ahead of time, just don't bake it until ready to serve. Layer the shredded cheese with the chorizo and mushrooms, then wrap in foil or plastic and store in the fridge. Right before serving, you can pop it into the oven to bake until melted and bubbly.
The great thing about queso fundido (aside from the taste and it's pure awesomeness) is that you can flavor it a thousand different ways. You can switch out the cheeses and do something a bit more robust or swap out the toppings for some of your favorites. Try a spinach and artichoke fundido with parmesan and mozzarella! This whole melted cheesy world is basically your oyster. Enjoy!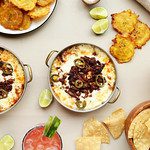 Mushroom and Chorizo Queso Fundido
Melted cheese topped with mushrooms, chorizo and pickled jalapeños. Perfect snack for dipping chips or flour tortillas!
Ingredients
2

tablespoons

corn oil

or any other cooking oil

6

oz

Mexican chorizo

½

cup

yellow onion

chopped

2

garlic cloves

minced

1

pound

crimini mushrooms

sliced

½

teaspoon

salt

½

teaspoon

black pepper

¼

teaspoon

crushed chili flakes

optional

3

cups

mozzarella cheese

shredded

3

cups

pepper jack cheese

shredded

¼

cup

pickled jalapeños

3

green plantains

vegetable oil for frying

salt
Instructions
Preheat oven to 350℉.

Heat a large skillet over medium-high heat with 1 tablespoon corn oil. Add in the chorizo and cook, breaking down with a spoon, for about 10 minutes or until browned. Transfer to a plate or bowl and set aside. Add remaining 1 tablespoon of oil and stir in the onion, garlic and mushrooms. Sauté for about 5 minutes until softened and just beginning to brown. Season with salt, pepper and crushed chili flakes (if using). Stir the chorizo back in and cook for another minute or two. Remove from heat.

Combine both shredded cheeses in a medium bowl. In a shallow skillet or baking dish pour half of the cheese into an even layer. Top with half of the chorizo and mushroom mixture and sprinkle with half of the jalapeños. Then top with the remaining cheese, creating another layer. And finish it off with the remaining chorizo mushroom mixture and jalapeños. Bake for about 25 to 30 minutes or until bubbly and the cheese has melted thoroughly. Serve immediately with chips, flour tortillas or tostones.

To make the tostones, place a large skillet over medium-high heat, filled just about halfway with vegetable oil. Allow to get hot. Peel the plantains with a pairing knife and then cut into 1 inch rounds. Fry the rounds on both sides until light golden brown, about 1 to 2 minutes per side. Remove from the oil and continue frying the rest. While the plantains are still warm, mash them with the bottom of a jar (pickle or relish jar will work just fine) until they're round and thin. Once all mashed, return to hot oil (in batches) and fry a minute or two on each side to get them golden brown and crispy. Transfer to a plate or platter and season with a bit of salt. Enjoy!