I recently partnered up with Wisconsin Cheese to celebrate National Cheese Lover's Day. This might come as a shock to many of you, but I Jonathan Melendez, am a cheese lover. There I said it. I'm a cheese lover from way back, and I'm not afraid to admit it. I have to be honest though, I actually had no idea a day celebrating people like me existed. Cheese lovers. Finally there's a holiday where my non-stop eating of cheese all day long is perfectly acceptable. That's cheese for breakfast, cheese for lunch, cheese for a snack and cheese for dinner. All the cheese you could ever possibly dream of. I can't think of a better way to celebrate such a momentous occasion than with a big heaping serving of macaroni and cheese. Maybe even two servings. What? It's my holiday, I'll party if I want to. It's the mother of all cheese recipes, but this isn't just any ol' mac and cheese recipe. This one here is a fancy mac and cheese recipe. I couldn't do a simple everyday take on it. Where's the fun in that?
I'm going to warn you right off the bat, because I believe in full disclosure…sometimes, this is actually going to be somewhat of a shortened post. I'll share a few photos and funny anecdotes (obviously) like always, but for the recipe itself you'll have to visit the site it'll live on All Things Mac and Cheese! Just like the name states, it's mac and cheese everything and anything. You'd be surprised what you'll find on there. Sure, I could go on and on and tell you all about it, but I figured it would be a lot easier for you to just go and check it out yourself. Plus, I'm too lazy to type anymore than I already have to. The most important thing though is that my Irish Colcannon Mac and Cheese recipe is on it, so there's definitely something to search for.
Listen to me going on and on about mac and cheese when we should all be out there celebrating National Cheese Lover's Day. What are you waiting for? There's so much cheese to eat and so much mac and cheese to make. If you start now, you might (just might) be able to catch up to me. I can't make any promises that I won't beat you. It is my holiday after all.
Colcannon is a traditional Irish dish that is most commonly made with mashed potatoes, cabbage or kale, scallions and of course bacon. We're going to start by making the colcannon base first. Dice the bacon and cook it in a pot until crispy. Transfer to a plate, lined with with paper towels to catch the excess grease.
Throw away all but 1 tablespoon of the bacon grease and sauté the onions, garlic cabbage and leeks in it.
**Note: You can throw all of the bacon grease away and use olive oil instead, BUT why would you want to do that when you can have all of that bacon flavor? Huh?! Keep that bacon grease.**
Season liberally with salt, pepper and chili flakes. Add the potatoes. It wouldn't be an Irish dish without any potatoes. It also wouldn't be a Jonathan Melendez dish without them either.
**Note: Cook the potatoes before hand, either in a microwave, in the oven or in a pot of boiling water until fork tender. Allow to cool completely. Then peel with a pairing knife and shred with a box grater.**
Let's talk about cheese for a second, which is hard for me to do when potatoes are involved, but cheese, cheese is just as important. I've partnered with Wisconsin Cheese and used three of their delicious cheeses.
The three I used are havarti, aged white cheddar, and monterey jack. All of which blended together so nicely and created an amazing cheese sauce for our mac and cheese. Trust me, it can't be beat.
We're making a traditional cheese sauce, starting with a béchamel.
**Note: We make a béchamel with a roux which is a mixture of butter and flour. Then we whisk in warm milk, season it and cook until thick. No big deal, right?**
Once thickened, remove from the heat and stir in the cheeses until melted. Fold in the noodles.
**Note: You can use whatever short cut pasta you have on hand or whichever you prefer. I used cavatappi because it's my favorite for mac and cheese and because it looks like tiny corkscrews.**
Fold in the cabbage and potato mixture.
We need to add two more ingredients to make this a traditional colcannon and I'm trying my best to keep things traditional. Stir in the crispy bacon and a whole lot of sliced scallions.
Stir until evenly combined.
Divide the mac and cheese among large ramekins or pour into one large baking dish. Top with shredded cheese and panko bread crumbs. Bake for 25 to 30 minutes until bubbly and golden brown on top.
**Tip: If you can't find panko bread crumbs or just don't have any on hand, feel free to use plain bread crumbs instead. They'll work just fine.**
You can make this dish in advance. Top it with the cheese and breadcrumbs and cover it with foil. Store it in the fridge, unbaked, and then just pop it in the oven. It'll take a bit longer to cook since it'll be cold coming straight from the fridge.
If you've never had colcannon before and are weary because of the cabbage, feel free to use kale instead. Although cabbage is awesomely delicious so there's nothing be be wary about. I ate a lot of cabbage growing up, especially stuffed cabbage that my mamma would make all of the time, so I'm no stranger to this green vegetable.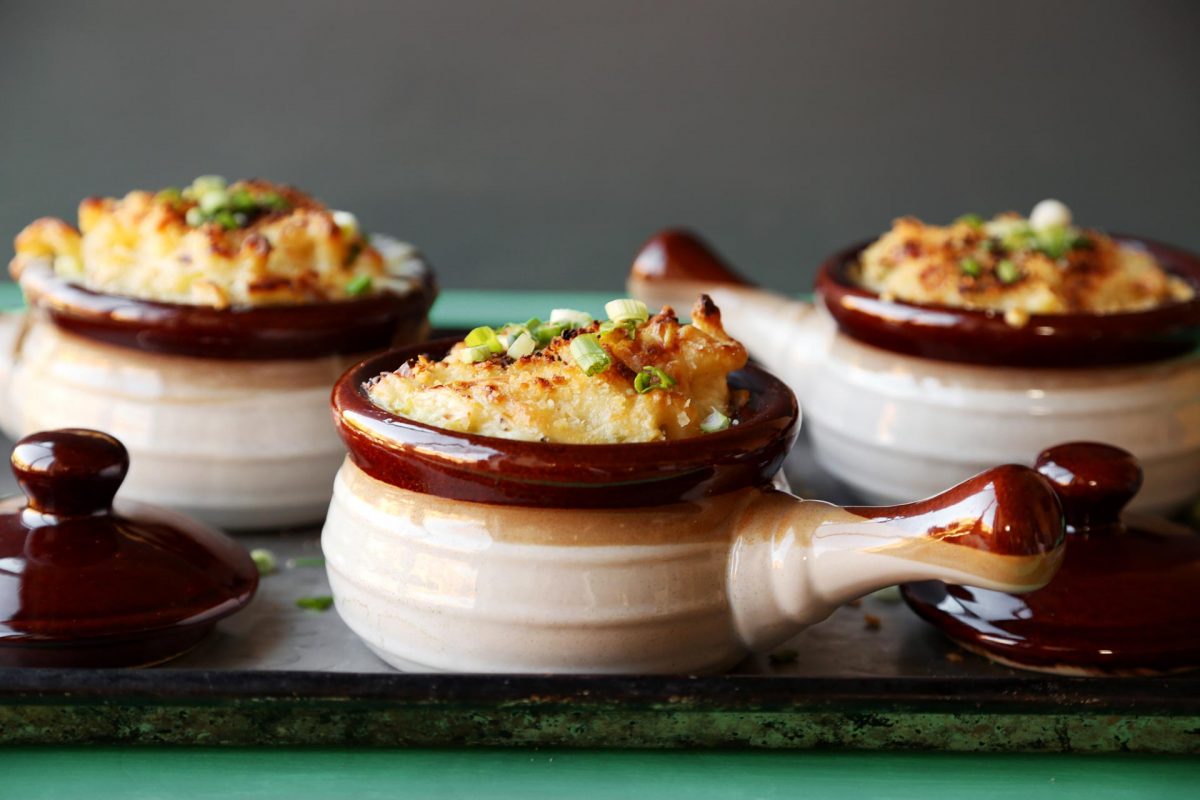 Irish Colcannon Mac and Cheese
The traditional Irish dish meets an American classic! Sautéed cabbage, leeks, onions, garlic and bacon are tossed with pasta and a delicious cheese sauce made with Wisconsin Havarti, Aged White Cheddar and Monterey Jack! It's baked until golden brown and crispy.
Ingredients
8

slices

thick-cut bacon

diced

1

large yellow onion

thinly sliced

3

garlic cloves

minced

4

cups

shredded cabbage

2

leeks

sliced and cleaned

2

large baking potatoes

cleaned and cooked until fork tender

1 1/2

teaspoons

salt

1 1/2

teaspoons

black pepper

1/4

teaspoon

red pepper flakes

1/2

teaspoon

paprika

3

cups

whole milk

3

tablespoons

butter

3

tablespoons

all-purpose flour

1

cup

Wisconsin Monterey Jack cheese

shredded

1

cup

Wisconsin Sharp White Cheddar cheese

shredded

1

cup

Wisconsin Havarti

shredded

1/2

cup

panko or plain bread crumbs

1/2

cup

scallions

sliced

1

pound

elbow macaroni

cooked until tender
Instructions
Preheat oven to 350 degrees F.

Cook the potatoes in the microwave, in the oven or in a pot of boiling water until fork tender. Allow to cool down completely. Peel with a pairing knife and shred with a box grater. Set aside.

Heat a large pot over medium-high heat. Add the bacon and cook until crispy and browned. Remove with a slotted spoon and transfer to a plate lined with paper towels, to catch the excess fat. Remove all but 1 tablespoon of the bacon grease from the pot. Stir in the onions and garlic and sauté for about 5 minutes, until soft and translucent. Add the cabbage and leeks. Season with 3/4 teaspoon salt, 3/4 teaspoon black pepper, and the red pepper flakes. Stir and cook for about 5 minutes more until soft. Fold in the shredded potatoes and remove from heat. Transfer to a large bowl and set aside.

Place the milk in a medium saucepot and bring to barely a simmer, over medium heat.*

Return the large pot to the stove and place over medium-high heat. Add the butter and allow to melt. Whisk in the flour and cook for about 10 seconds to cook the flour a bit. Carefully pour in the warm milk, while whisking continuously until all of the milk has been added and the butter/flour mixture has completely dissolved. Lower the flame to medium and cook until thickened. Season with 3/4 teaspoon salt, 3/4 teaspoon black pepper and the paprika. Once thick, remove from heat.

In a medium bowl, toss together the shredded Wisconsin cheeses. Add the cheeses to the hot thickened milk, reserving about 1/2 cup for topping later on. Stir with a wooden spoon, until the cheese has melted. Fold in the cooked noodles, the cooked cabbage mixture, the crispy bacon and the scallions, until evenly combined. Pour the mixture into a 9x13 baking dish or into individual baking dishes and top with the breadcrumbs and reserved cheese. Bake for about 25 to 30 minutes, until bubbly. Place under the broiler for a few seconds to crispy up the top. Serve warm and garnish with sliced scallions on top. Enjoy!
Notes
*Tip: Warm up the milk in a saucepot before whisking it into the roux. This will allow the béchamel to cook more evenly and it'll thicken faster!