It's starting to get really hot over here in Los Angeles. Well in all honesty it's been hot for a while now, but I'm just barely starting to notice it. The last thing anyone should be doing during this time of year is cooking in a hot kitchen for hours and hours. That sounds like torture. So to make things a little bit easier for us, I'm throwing this refreshing summer salad right at your face. Minus the standing over a hot grill/grill pan part, this is actually a quick and easy recipe that you can have ready in no time at all. The kind of recipe we need during the week. Sure, I have you grilling a few things along the way, so okay maybe we're not avoiding the heat like I mentioned earlier BUT in my defense, the grilling part is super quick and the flavor you get from it is incredible, so it's totally worth it. We can suffer for a few minutes all for the sake of food, right? Right.
Have you ever had watermelon, mint and feta together? The combination is out of this world delicious. The kind of thing that upon first hearing about, you're skeptical, because it sounds super suspicious so you eat it with caution, but three bites in and you're hooked. It'll be the best thing you'll taste all summer trust me. When you throw grilled shrimp into the mix, all bets are off. Go home because this salad has just won at life. It was inspired by a salad I just recently tried at a restaurant. I won't mention the name of it because it's the type of establishment you're embarrassed to admit you've eaten at. We don't need to dwell on that piece of information though, let's move on. Anyhow, the salad had mixed baby greens, watermelon, feta and a mint honey vinaigrette and it was everything I never knew I wanted. The watermelon was really refreshing because it was super cold and added a great texture to the salad, along with the salty bits of feta throughout. I know I'm going on and on about this salad (we get it Jonathan), but I was pleasantly surprised. So I decided to go home and give it a go and try to make it myself like the restaurant's version, but completely different and nothing like the original.
Let's start by prepping the bread. I'm using their organic wheat French loaf, but feel free to use whatever bread you like or whatever you have on hand or whatever you can find at the grocery store. You want something hearty and sturdy enough to hold up to the salad, since it is a behemoth of a salad after all. Cut the loaf into thick slices, arrange in a single layer and drizzle with a bit of olive oil.
**Note: The oil is just to ensure that the bread doesn't stick to our grill and it gives it a nice golden color so it works double time.**
Heat a stove top grill pan or an outdoor grill over medium-high. Once hot, carefully arrange the bread slices on the grill and cook for about 1 to 2 minutes on the first side. Flip over and continue to cook for another 1 minute.
**Note: Because the grill is so high and the bread is already cooked, you don't want to over "toast" it on the grill. Keep an eye on them because they'll burn rather fast if you step away!**
When both sides are down, and have those awesome looking grill marks, transfer them to a plate and while they're still hot, rub a garlic clove onto each one almost like you're grating it into the bread.
We've just essentially created jumbo garlic croutons and I'm definitely not complaining about it. Tear yourself away from the grilled bread for a second and place the watermelon on the hot grill next.
Cook the watermelon for about 2 to 3 minutes on the first side. Flip over and cook for another minute or two.
**Note: We're not really looking to cook it all the way or to develop deep grill marks. We're mostly just softening it a bit and trying to develop as much flavor as possible, without mushing it all the way. Mushy watermelon is not the business.**
In a large bowl, combine the shrimp with a bit of olive oil, red wine vinegar, salt, pepper, crushed red pepper flakes, and fresh oregano. Place on the grill, in a single layer, and cook for about 5 to 7 minutes in total, flipping them halfway. Transfer to a plate and allow to cool.
**Note: DO NOT over cook your shrimp. Nothing is worse than overcooked rubbery shrimp. It's a sad sad fate that I wouldn't even wish upon my worst enemy. Everyone deserves perfectly cooked shrimp.**
While the shrimp cools, let's assemble this salad shall we? (Rhetorical question). In a large mixing bowl, combine the cucumber, red onion, artichoke hearts, and olives.
Remove the rinds off the watermelon and chop into a medium dice and throw into the bowl along with the other veggies.
**Tip: If you're not into cooking watermelon, you can just skip the grilling of the watermelon step and just add it at this point fresh and cold. It'll add a nice chilled texture to the salad!**
Add the crumbled feta, garlic, chopped mint, oregano, lemon juice, olive oil, red wine vinegar, salt and pepper to the bowl and toss until well combined.
**Tip: I recommend folding everything together with a spatula so that you don't breakdown the watermelon and feta too much.**
You can serve the salad from the bowl you mixed it in (but what are we animals?). Transfer it to a nice plate or platter, or a nicer bowl and impress your friends and family. If you're making this for yourself, well do it for yourself. You deserve it more than anyone else.
I like topping it with a few slices of grilled watermelon on top as a garnish. That way people look at it and know exactly what it is. Plus you'll get extra cool points cause it looks freaking awesome.
When you're ready to serve the salad, you can top each portion with a few pieces of grilled shrimp and a slice or two of the grilled bread. I don't like mixing the shrimp into the salad because I find that it gets lost in there and then people go straight for all the shrimp and you'll look over to people's plates and they have all the shrimp and all that's left in the salad bowl are the veggies. Then some people don't get shrimp. That's not fair. So if you top the portions with the shrimp, you can ensure everyone gets some!
This is the perfect salad to take to a potluck, party or summer BBQ. It's great chilled but it's also mucho deliciouso at room temperature. I'm sort of biased because I'll eat anything either cold or at room temperature, and it's not that I don't like hot food because I do. I actually really like my food to be hot when it's supposed to be hot. But I've come to appreciate room temperature food because of shooting and because I'm lazy to reheat things.
You can keep things strictly vegetarian by omitting the shrimp and just having the veggies. Nothing wrong with that. You'll also save money in the process because have you seen the price of shrimp, especially the larger shrimp. It's a splurge for sure. And hey guess what, it also happens to be gluten-free (without the bread) if you're into that sort of thing.
I'll be the first to admit that I've never really been a fan of savory and sweet mixing together in one dish. I blame my mother for this. There's also something weird about fruit in my savory dishes, that's just something that I could never get behind when I was younger. It wasn't until recently that I started exploring more with fruit in salads. That's the awful truth, but I'm glad I've finally come to my senses because this salad is golden. GOLDEN I TELL YOU.
I don't know if I've ever mentioned on here (I'm sure I have because I repeat myself all of the time) but watermelon happens to be my all time favorite fruit. All recipes on here are special to me but this recipe here with watermelon is extra special. It's the special-ist to me. Doesn't make sense. I know it doesn't. You know it doesn't. Let's move on.
If the watermelon is weird to you and you're like "Eeew Jonathan. Ewww. I'm not mixing watermelon with all of those ingredients yuck." Well then I don't know what to tell you. But think about it. Watermelon on its own doesn't really taste like anything in particular. It's mostly water. It sort of takes the place of the tomatoes, if this were a regular Greek salad. Give it a try, I promise it'll be your new favorite summer salad. You can quote me on that. I'm willing to eat my words, if I'm wrong. Let me know what you think in the comment section below! Enjoy!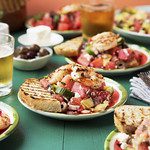 Grilled Shrimp and Watermelon Greek Salad
Celebrate summer with this delicious and easy to make Grilled Shrimp and Watermelon Greek Salad. Fresh fruits and vegetables take this salad over the edge!
Ingredients
1

French loaf or baguette

sliced

4

tablespoons

olive oil

divided

3

garlic cloves

peeled

1

small watermelon

cut into wedges

1

pound

large shrimp

peeled and deveined

3

tablespoons

red wine vinegar

divided

1

teaspoon

salt

1

teaspoon

pepper

1/2

teaspoon

crushed red pepper flakes

3

teaspoons

fresh oregano

chopped

1

small red onion

minced

2

small Persian cucumbers

chopped

1

14 oz can artichoke hearts, chopped

1/2

cup

kalamata olives

chopped

1/2

cup

feta cheese

crumbled

1/4

cup

fresh mint

chopped

1

tablespoon

lemon juice
Instructions
Heat a stove top grill pan or outdoor grill over medium-high heat.

Arrange the bread slices in a single layer on a baking sheet or plate. Drizzle with 1 tablespoon olive olive. Place the bread on the hot grill and cook for about 1 to 2 minutes on the first side, or until grill marks form. Flip over and continue to cook the second side for another minute. Return to baking sheet or plate and while hot, rub each bread slice with a garlic clove or two, as if you're grating the clove into the bread. Set aside.

Arrange the watermelon slices on the hot grill, and cook for about 2 to 3 minutes. Flip over and continue to cook for another minute or two. Transfer to a cutting board and allow to cool down completely.

In a large bowl, combine the shrimp with 1 tablespoon olive oil, 1 tablespoon red wine vinegar, 1/2 teaspoon salt, 1/2 teaspoon black pepper, crushed red pepper flakes, and 1 teaspoon oregano until evenly combined. Arrange the shrimp on the hot grill, in an even layer. Cook for about 5 to 7 minutes in total, turning the shrimp halfway. They should be pink and slightly charred around the edges. Transfer to a plate and allow to cool down.

Cut the rind off the cooled watermelon wedges and then cut into a medium dice. Transfer to a large mixing bowl. Add the red onion, cucumber, artichoke hearts, olives, feta, mint, chopped garlic and remaining 2 tablespoons oregano. Carefully toss everything together until just combined. You don't want to stir too much because the watermelon will breakdown. Add the remaining 2 tablespoons olive oil, 2 tablespoons red wine vinegar, lemon juice and season with a bit of salt and pepper to taste. Stir once more.

Serve chilled or at room temperature with a the grilled shrimp on top. Enjoy!