Down in New Orleans, there's a place called Elizabeth's and if you ever find yourself in the Bywater area and are looking for a great breakfast/brunch restaurant, then you have to pay Elizabeth's a visit and try it for yourself. Get one of everything on the menu. There's fried catfish with grits that are to die for. Although, fried catfish is always a yes in my book. Biscuits the size of your head that could also double as pillows, that's how fluffy and soft they are. Oh, did I mention they make praline bacon. Candied praline bacon. For real. You'll probably want to order that by the dozen. You would think that out of all the things Julian and I tried there, one of the food dishes would probably be what stands out the most to me. That isn't the case. In fact, my favorite thing was the cocktail I had. They offer a "Morning Margarita" that is incredible. I know this because I had about twenty, and I still dream about them. Always a good sign. So of course, that's where the inspiration for this breakfast margarita came from.
I know what you're thinking though, "A cocktail for breakfast?!?" Well, yes, I can't say anything other than yes. I'm not suggesting you have this drink and only this drink for breakfast though. I'm suggesting this cocktail to you to go alongside some potatoes and eggs, or some pancakes. You have to eat some solid foods first thing in the morning, I know that. Maybe you're like me though, and LOVE eating breakfast for dinner. (I do that all of the time, especially when I don't feel like cooking after a long day of cooking, which is often). So the next time you're having an omelette or a breakfast burrito in the evening for supper, remember this margarita. It's sure going to remember you. It'll tempt you and wave at you until you decide to include it on your brunch menu. You better listen to it.
It has all of the flavors I love in margaritas, especially that salt rim on the edge of the glass. You can serve it on the rocks, like I did, or go crazy and blend up a big batch of it to make frozen margaritas. Breakfast margarita party! There's no right or wrong, there's just give me and give me more.
The most crucial ingredient of this entire cocktail are the oranges. If you can possibly spare the time and the oranges are looking great at the grocery store (ie they're on sale and you can get a bunch for a few pennies) then by all means use fresh oranges. Okay, so maybe I didn't get all of these for just pennies. More like a few bucks.
**Tip: I know we don't always have the time to do everything from scratch, so if you're making this in a hurry before company comes over or whatever, then feel free to use orange juice from the store.**
This is a labor of love, especially if you don't own a juicer of some sort. I did it all by hand with one of those manual juicers and about 30 minutes into the juicing process I looked at my pitcher and then at the oranges I'd finished and realized I'd only juiced about three of them. I almost cried, but then I remembered that there's going to be alcohol involved and all of a sudden I was alright again.
Squeeze out all of the juice from the oranges and pour it into a tall pitcher. Place in the fridge and allow to chill, for at least 1 hour.
Before we get to making and drinking cocktails, let's prepare the salt rim that'll go on the edge of the cocktail glasses. You can't have a margarita without a rim of some sort, either sugar or salt.
In this case we're going to do a salt rim, because I'm more a fan of a salty margarita rather than a sweet one. So in a small dish, combine the coarse salt (kosher is good) with fresh orange zest.
**Tip: Probably a good idea to tell you that it's easier to zest the orange before you cut it in half to juice it! Keep that in mind.**
Let's talk about glasses for a second. You don't need any fancy cocktail glasses here, just any tall glass where you'd serve OJ in the morning. I found the glasses I used at the dollar store. They reminded me of the glasses diners serve orange juice in, so that's why I got them. Like I said, nothing fancy. Use whatever you have on hand.
Pour Grand Marnier into a shallow dish. And dip the glasses (upside down) into the liquid and then the salt/orange zest mixture to coat the edges.
**Tip: You can just use lemon or lime juice for this if you want!**
Once the OJ has chilled, you're ready to start shaking up a few cocktails. You can save these next couple of steps until right before serving the margaritas to your guests, or to yourself if you're drinking alone. There's nothing wrong with that.
Fill a cocktail shaker with ice.
Pour in some orange juice and tequila. You can add as much or as little tequila as you'd like, depending on how strong you like your drinks. I'm not one to tell you how to live your life….maybe sometimes.
Then pour in the Grand Marnier and fresh lime juice.
**Note: Grand Marnier is an orange flavored cognac liqueur, but if you can't find it, feel free to use whatever orange liqueur you can find!**
Close the shaker tight and give it a few good shakes to evenly incorporate but also to chill the cocktail. Fill the glasses with lots of ice.
Strain the cocktail into the prepared glasses, filling all the way to the top.
Garnish with a slice of lime and a wedge of orange, because even though these drinks aren't super fancy, we should still try to make them look like they are!
At this point you can give the margarita a taste and see what it needs adjusting. If you did everything right, then you'll have the best cocktail of all time and won't need to adjust anything. Not one thing! I'm totally kidding, you might have to add more juice (or more tequila) depending on your taste and what you like. I like cocktails on the stronger side and I have to remember not everyone feels the same.
Let's be honest, we're probably not going to be drinking this first thing in the morning, although if you are I'm not judging in the slightest. For the rest of the world, these Good Morning Margaritas are perfect for brunch! I know a few people who aren't the biggest fans of mimosas (total weirdos), so if you're like them (weirdos), then this is a good alternative for you!
My mom, sisters and I do a Sunday Brunch every week, alternating between each other's places, and switching up the menu each week. It's a great way to see one another and catch up on life, especially on those weeks when we're too busy to get together after work. I haven't made this cocktail for them yet, but I know for sure it'll be on the menu the next Sunday brunch lands on my turn.
You can switch this up a bit if you're not a fan of orange juice, or just want to try something new! There are so many juices available at the grocery store these days that the possibilities could be endless. Try it with grapefruit juice, or strawberry juice if you're feeling extra adventurous. Above all, remember that a morning cocktail sometimes is a must. Enjoy!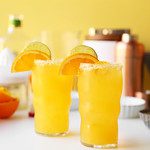 Good Morning Margaritas
Good Morning Margaritas are the perfect breakfast cocktail. Fresh squeezed oj, tequila, grand marnier and lime juice! Brunch has never tasted so good!
Ingredients
3

cups

fresh squeezed orange juice

about 10 to 12 medium oranges

12

ounces

tequila

8

ounces

fresh squeezed lime juice

1

tablespoon

orange liqueur

Grand Marnier

ice

lime wheels

for garnish

orange wedges

for garnish
For Orange Salt Rim
2

teaspoons

orange liqueur or lime juice

¼

cup

coarse salt

2

teaspoons

fresh orange zest
Instructions
In a shallow dish combine the salt and orange zest, smashing it with the back of a spoon to fully combine the two and to bring out the orange zest's flavor. In a separate dish pour in the orange liqueur or lime juice. Dip the edge of the glasses in to the liquid and then into the salt to coat. Fill the glasses with ice.

You'll most likely have to shake these in two batches (2 drinks per batch). Fill a large cocktail shaker with ice and pour in half of the ingredients. Cover tightly and shake vigorously until cold. Strain into two of the prepared glasses and repeat with the remaining ingredients, pouring into the remaining glasses. Garnish the cocktails with lime wheels and orange wedges. Enjoy!