Today's the big day! It's finally here! My cookbook, The Slider Effect, is out in the world officially today, and I couldn't be more excited than I am at this moment right here, right now. All the hard work with long days and even longer nights, has lead to this day. This is been such a dream come true and I can't even begin to tell you just how happy I am that you'll finally be able to pick up a copy of my book. Thank you again for going on this crazy adventure with me these past couple of months, and for your continued support. I really do hope you pick up a copy of the book, either for yourself or as a gift for family and friends (it's a great size for gift giving and would make a great hostess gift for all of your summer BBQ or potlucks you'll be attending this year). If you do buy a copy, be sure to let me know what you think either on social media or through email. I'll be looking out. I'm so excited for you to look through and cook from it! Also, stay tuned because I'll be hosting a giveaway on here every week in July. You'll have a chance to win a copy of the book each week along with a special gift. The gift will change from week to week (aka get better and better each week) so let's get excited because you deserve this as much as I do! #TheSliderEffect is FINALLY HERE!
As a treat and a way to celebrate today, I thought it would be most appropriate if I were to share with you yet another slider recipe. We can never have too many sliders, right? Right. These Fried Mozzarella Sliders aren't in the book, they didn't make the cut, which is sad because they're out of this world. A big hunk of fried breaded cheese stuffed in a bun with marinara, arugula, tomato and basil? What's not to like? The bun and sauce in this recipe was taken from my book, so if you do want to make these two components from scratch like I did, you'll have to get the book and get the recipes there. If not, store-bought rolls and jarred marinara sauce will be more than fine. The main star of this recipe is the fried mozzarella, anyhow. Let that shine bright.
In other cookbook news, if you're in Seattle, I'll be there on Thursday 6/30 at Book Larder, doing an author talk, demo and signing books. I'll be making my all time favorite slider from the book and there will also be ice cream as a big thank you for coming! I hope you can make it. Also, the official launch party for the book will be on Saturday 7/2 in LA at the Hedley and Bennett Apron HQ! There will be complimentary beer, wine, cheese, crackers and sliders from the book. Stop by, grab a book, eat some foods, drink some drinks, and help me celebrate the release!
Let's talk about fried mozzarella shall we? It's one of those things that we all know and love. Especially in a really good happy hour in a not-so-good restaurant. You're having a few drinks and for some reason fried pieces of breaded cheese served with marinara sauce just sounds so inviting. So exciting. That same feeling is what you get when you try these sliders.
You want these fried mozzarella pieces to cover the bun entirely, so it's important to get a big rectangular block of mozzarella cheese. Not the fresh kind. Cut the block into twelve even pieces, about a 2 by 2-inch square.

Dredge the pieces of cheese in flour, then into whisked eggs, then into bread crumbs, once more into eggs and finally back into the bread crumbs. Place the dredged pieces on a baking sheet lined with parchment paper.
**Note: The double dredge makes these extra crispy and extra crunchy. The bread crumb mixture is a combination of plain bread crumbs and panko bread crumbs for added texture.**
Freeze the the mozzarella until firm, about 1 hour. Or you can keep them in there overnight or until ready to fry. Keep a big batch of them in the freezer in an airtight container or airtight freezer bag, and just fry whenever you're in the mood.
**Note: The trick to frying homemade mozzarella sticks is to freeze them slightly. If you were to fry them right now, they'd be too soft and the cheese who melt and ooze out too rapidly. When slightly frozen, the cheese stays in and melts perfect while the outside gets crunchy and perfectly browned!**
Fry the cheese in batches until golden brown and transfer to a wire rack set over a baking sheet. Continue to fry the remaining cheese.
**Note: Since you're frying these cheeses in batches, you can keep the already fried pieces warm in a preheated 250 degree F oven.**
Let's assemble these bad boys. So I made my own buns for these, the recipe to which is in my cookbook. They're written out as "Everything Slider Buns" but I baked them off without the everything bagel topping. You can pick up a copy of my book and make the buns from scratch, because you're practically Martha Stewart, or you can always just buy buns or dinner rolls from the grocery store.
Split the buns in half and place a small pile of baby arugula on the bottom half of the buns. Place a slice of tomato on top, a piece of fried mozzarella, a spoonful of marinara sauce and a few slices of fresh basil.
**Note: The marinara I also made from scratch, and again, you can find the recipe in the book as "Red Wine Marinara Sauce." It's such a great recipe and you can use it in sliders or as a pasta sauce for dinner! If you don't have time to make it from scratch, just pick up some marinara from the grocery store!**
Replace the top half of the buns and skewer with a long toothpick to hold the sliders in place. Serve immediately while the cheese is still warm and melty.
If you want to make these sliders ahead of time, and prep in advance for a party, then you can dredge the mozzarella early on and keep them frozen until ready to fry. Same thing goes for the buns and sauce. Make them a day or two in advance and keep them in the fridge until ready to assemble the sliders. Just rewarm the buns in the oven and warm the sauce on the stove before putting together.
The whole point of fried mozzarella is to eat them while the cheese is still melty and stringy when you take a bite and pull away. So it's also important to make sure you serve these sliders while hot. If you fry them in advance, like an hour or so, you can rewarm them in the oven on a wire rack set over a baking sheet.
**Note: If you do rewarm the cheese in the oven, keep a close eye on them because the cheese can melt really quickly, especially if your oven is too high!**
I really do hope you love the book! Let me know what you think, and don't forget to keep an eye out for those great giveaways in July. Thank you so much for everything!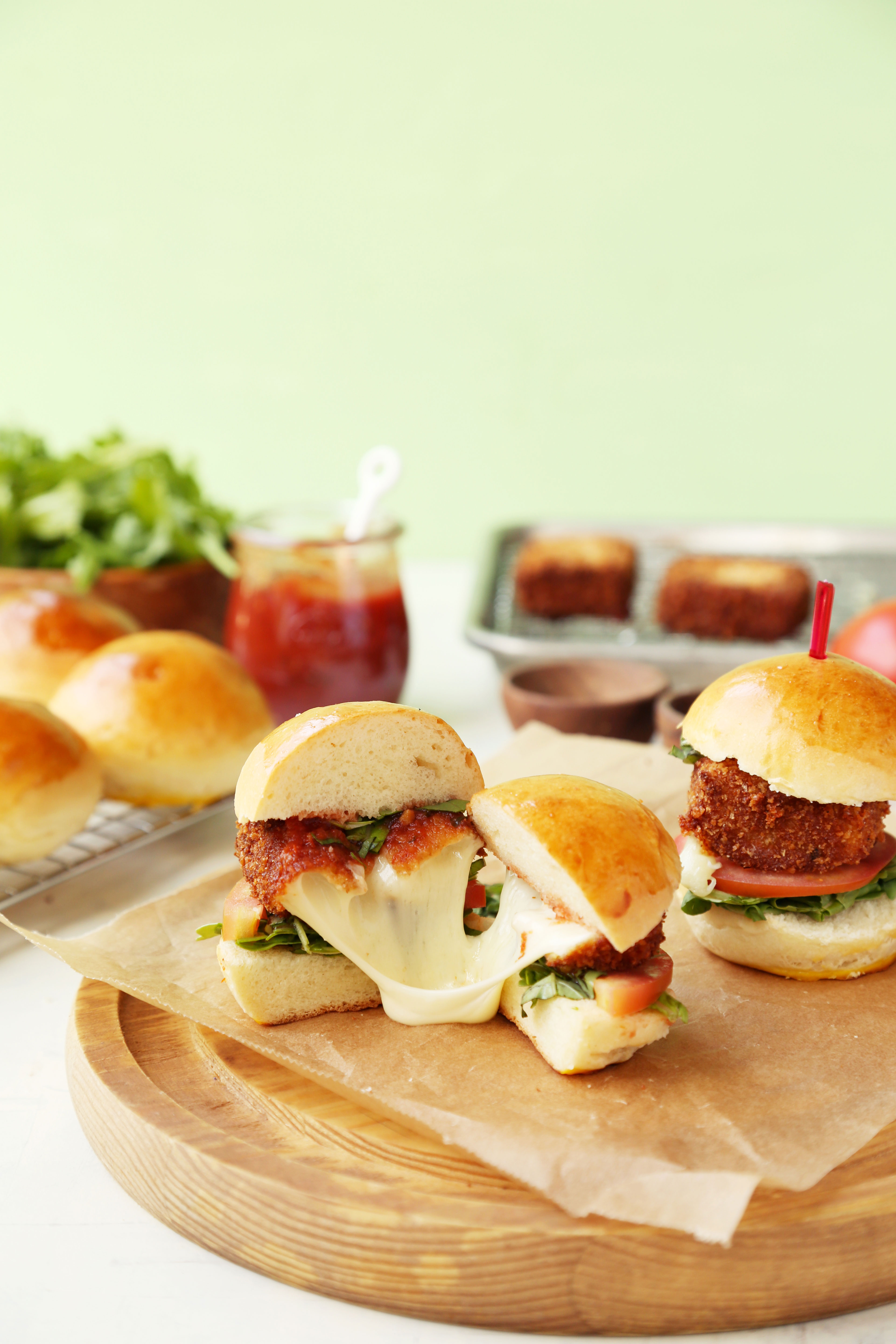 Fried Mozzarella Sliders
Fried Mozzarella Sliders and The Slider Effect! Celebrate the release of my cookbook with these delicious Fried Mozzarella Sliders not featured in the book!
Ingredients
Fried Mozzarella
1

cup

plain bread crumbs

1

cup

panko bread crumbs

1

cup

all-purpose flour

3

large eggs

1

teaspoon

salt

1

teaspoon

black pepper

12-

ounce

block Mozzarella cheese

vegetable or canola oil for frying
Sliders
12

slider buns or store-bought dinner rolls

2

cups

loosely packed baby arugula

3

vine-ripe tomatoes

sliced

1

cup

marinara sauce

homemade or store-bought

1/4

cup

fresh sliced basil
Instructions
In a shallow dish, combine the plain bread crumbs with the panko bread crumbs until well incorporated. Pour the flour in a separate shallow dish, and whisk the eggs with a splash of water in a third shallow dish. Season the flour and eggs with a bit of salt and pepper.

Cut the mozzarella into twelve even, 2 by 2 squares. To dredge the mozzarella coat the squares of cheese into the flour mixture, then into the egg mixture, then into the bread crumb mixture, then back into the egg and once more into the bread crumbs. Place the coated mozzarella pieces on a baking sheet lined with parchment paper. Chill the mozzarella pieces in the freezer for at least 1 hour. It's best to freeze them slightly before frying so that they don't melt too fast in the hot oil.

Fill a cast iron skillet with about 1/4-inch of oil and set over medium heat. Check the temperature with a deep-fry thermometer, once it reaches 360 degrees, carefully drop in a few pieces of the chilled mozzarella and fry until golden brown and crispy on the outside, about 1 to 2 minutes. Flip over and continue to cook for about minute. Drain with a slotted spoon and transfer to a wire rack set over a baking sheet. Continue to fry the remaining mozzarella pieces. You can keep them warm in a preheated 250 degree F oven until ready to assemble.

To assemble the sliders, split the rolls in half. Lay a handful of arugula on the bottom half of each bun, top with a slice of tomato, a fried mozzarella square, a spoonful of marinara, and a little bit of basil. Replace the top lid on and skewer with a long toothpick to hold in place. Serve immediately while the cheese is still warm. Enjoy!