I have to admit that I hated fish sticks growing up as a kid. I wasn't a fan, sorry mom. We had a lot of frozen fish sticks when I was a child. I think this was because my sisters really loved them and also because it was easy on my mamma who had to work a lot. I'd have to drown them in lots of lemon juice and ketchup just to make them vanish from my plate quickly. Yes, I ate my fish sticks with ketchup, don't judge me. I was a weird kid what can I say? My mamma usually served the fish sticks with a side of white rice. I loved the rice part of the meal. Always. I could eat rice every single day of my life. I'd more often than not eat the rice first and leave the fish sticks for last. That's how much I despised them. The funny thing is that when I got older, in my late teens and early twenties, something inside me just switched automatically. I've since grown to love them actually. I still get a craving for frozen fish sticks every now and then and every time I eat them, they remind me very much of my childhood. My mamma likes to rub it in my face now, never letting me forget just how much I hated them as a child and how vocal I was about it. That's what moms are for, right? Laying that guilt trip on us. Thanks mamma.
I thought these crunchy fish sticks were the perfect start for my Seafood Week on the site because of my history with them as a child, but also because they are easy to make and don't require too many complicated steps. I also wanted to listen to my mamma's suggestion of adding more seafood dishes to the site because she's right, it is time, and yes a lot of people are searching for seafood recipes on Fridays, especially now because of lent. I realized that if my mamma is searching for seafood recipes then other people must be searching for them as well. I needed to fix it and spice things up on the site.
So of course, as luck would have it. I'm now obsessed with fish sticks. Both the homemade version and the frozen variety I had and hated as a kid. Every now and then I'll get a craving for frozen fish sticks though, and so I'll buy a box from the freezer section of the grocery store and I'll instantly think about the tantrums I'd throw as a child whenever I'd hear that fish sticks were on the menu. Of course now, I'm able to make them at home on my own so things are a bit different these days, but it's still sort of the same thing. I've been whipping up batches of fish sticks and keeping them in the freezer at home for an easy dinner during the week. That way whenever I get a craving I just make a pot of rice and pour some ketchup into a small bowl for dipping—sure, I'll make tartar sauce for dipping also, but somehow I can't shake off the ketchup—and I'll reheat my homemade frozen fish sticks and call it dinner. No regrets. So just in case you have the same love/hate relationship with these as I did, I thought I'd share my favorite recipe for Seafood Week. Stay tuned for the other recipes, they're a bit healthier I promise. I just couldn't resist a good fish stick fried until golden brown. Let's eat more fish y'all!
Let's begin by seasoning the fish liberally with salt, pepper, and Old Bay seasoning which is just a New England season spice blend or you can use Cajun seasoning if you have that on hand. Finally, some simple paprika will do!
**Note: I used fresh cod for this recipe because I like that it isn't too heavy of a fish or too fishy. If you can't find cod you can totally use tilapia or catfish. Just cut the filets into 1 inch strips.**
Dredge the fish into the flour, then into the egg wash and finally into the panko and coarse cornmeal crumb mixture. The panko and coarse cornmeal ensures for an extra crunchy coating on the fish. That's what we're looking for.
Place the coated fish sticks onto a wire rack set over a baking sheet. Allow the sticks to rest for a minute or two before frying. In the meantime you can start to heat the vegetable oil.
**Tip: Allowing the fish to set before frying ensures the coating to stick properly and get extra crunchy. Super crunchy fish sticks that's life. That's substance. That's everything we need.**
Heat a large cast iron skillet filled halfway with vegetable oil, over medium-high heat. Carefully drop in the fish sticks, a few at a time, into the hot oil.
Fry until golden brown and crispy, about 3 to 5 minutes. Flip the fish halfway through frying, if the oil isn't completely covering it. Transfer the golden fish sticks to a wire rack.
**Note: Placing the fried fish sticks on a wire rack while you continue to fry the rest of the pieces ensure that the coating doesn't get soggy.**
You can keep the fish warm in a preheated 250ºF oven until ready to serve. In the meantime, you can make the tartar sauce for dipping. We can't very well have dry fish sticks. How awful.
Add capers, chopped small pickles, lemon, parsley, dill, vinegar, salt and pepper.
Mix everything together until completely combined. Give it a taste and if you're happy with the taste then great. If not, you can adjust it with a bit more salt or pepper depending on your tastes.
What was the greatest thing about those frozen fish sticks I grew up eating? Well the fact that they were frozen and that you could just reheat them in the oven for a quick and easy dinner. So guess what, these can be frozen as well! You can bread them, place them on the wire rack and freeze. Once fully frozen transfer them to a plastic freezer bag and keep them in there until ready to cook and eat.
**Note: You can fry the fish sticks straight from the freezer, they'll just take a little bit longer to fry and get golden brown.**
The second way you can handle the freezing of these sticks is that you can fry them. Place them on a wire rack and allow to cool down completely. Then freeze them and transfer them to a freezer bag. Reheat them on baking sheet in a 350ºF oven for about 10 to 15 minutes until crispy.
During this time of year, because of lent, my mother is always looking for more seafood recipes, especially on Fridays. So she gave me a suggestion recently to bump up my seafood recipes so that she had some different options on Fridays during lent. Although I don't observe, I wanted to listen to my mother because she's my mother and she knows best. So that's why I wanted to get a Seafood Week going for the blog. We all have my mother to thank for this idea. You can direct your messages to mother@candidappetite.com and send her direct thanks. (I'm totally kidding that email doesn't work). Just leave a comment below, but most importantly try these fish sticks, they're amazing!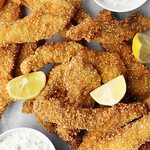 Crunchy Fish Sticks
Homemade crunchy fish sticks are dredged and coated in panko bread crumbs and coarse cornmeal for an extra crunchy coating. Served with homemade tarter sauce for dipping!
Ingredients
2

pound

fresh cod

or catfish

1

teaspoon

salt

½

teaspoon

black pepper

½

teaspoon

Old Bay seasoning

3

large eggs

beaten with a splash of milk

1½

cups

all-purpose flour

1

cup

panko bread crumbs

½

cup

coarse cornmeal
For the tartar sauce
¾

cup

mayo

3

tablespoons

cornichons

chopped

2

tablespoons

capers

chopped

1

tablespoon

white wine vinegar

1

teaspoon

grainy mustard

¼

teaspoon

salt

¼

teaspoon

black pepper

1

tablespoon

fresh parsley

chopped

1

teaspoon

fresh dill

chopped

1

tablespoon

lemon juice
Instructions
Cut the cod into 1-inch thick strips. Think fish stick size. Place them in a large bowl or platter. Season with salt, pepper, and Old Bay. Toss to evenly combine.

Pour the flour into a medium dish and season with a bit of salt, pepper and Old Bay. In a separate bowl, whisk together the eggs with a splash of milk. In a third bowl, combine the panko bread crumbs and coarse cornmeal.

Dredge the fish by dipping into the flour first, then the egg wash and finally into the panko bread crumb cornmeal mixture. Place the dredged pieces on a wire rack set over a baking sheet. Allow to rest for a few minutes.

Heat a large cast iron skillet over medium-high heat, filled halfway with vegetable until hot. Carefully drop in a few pieces of fish at a time. Do not overcrowd. Fry until golden brown and crispy, flipping over halfway through frying. Transfer to a wire rack set over a baking sheet and continue frying the rest. Keep warm in a preheated 250℉ oven.

To make the sauce, combine all of the ingredients in a medium bowl until fully incorporated. Serve the fish warm with the tartar sauce and lemon wedges on the side. Fish sticks can be dredged and frozen for later frying. Enjoy!