I went to Italy for the first time last year, visiting Venice, Florence and Rome, and it was probably one of the best trips I've ever taken. I talked about it a bit when I shared this Pizza Bianca and Cacio e Pepe recipe. One of the best dishes I ate on the trip—which is really hard for me to say because we had some amazing food—was in Rome in a small hole in the wall place out in a courtyard with music playing late one evening. I'm pretty sure that's another reason why I loved the dish so much. Anyhow, it was this Coda alla Vaccinara (Italian Braised Oxtails). I'm no stranger to oxtails because I grew up eating them all the time in soup. My mom would make, and actually still makes to this day, the most delicious oxtail soup in the world. That's a loaded statement but I stand behind every word of it. If you've never tried oxtails yourself, you're missing out, but braising them is the perfect way to get your toes wet. These are braised in red wine with tomatoes and celery. The celery is what really makes the dish. The flavor of the oxtails and celery with the wine and tomatoes is the perfect combination.
I've teamed up with Winc (formerly Club W) to bring you this recreation of the dish I had earlier in the year in Italy. I think whenever you're cooking with wine, it's really important to pick something you enjoy to drink yourself, because you're flavoring the dish with that wine. It doesn't have to break the bank either. Pick something moderate and full bodied, depending on your recipe. I was fortunate enough to have them help me pick out the perfect wine to cook and pair the Coda alla Vaccinara with. I'll dive a bit more into their pick a little later. In case you don't know Winc is a monthly wine subscription service. All you have to do is answer a few questions that'll help them assess your unique tastes, and then they'll send you wines that match your palate. Lucky for you, if you use the code "CANDIDAPPETITE" at checkout, you'll receive a $20 credit toward your first monthly shipment! I've said it before, I never partner with companies that I don't truly enjoy myself, or that don't fit this site's brand, and I can tell you first hand that all of the wine I've tried from Winc has been exceptional.
Season both sides of the oxtails, liberally, with lots of salt and pepper. Whenever you're braising anything, it's important to sear the meat first. It locks in the flavor and ensures that the protein you're using gets not only color but also, another layer of flavor. And so whenever you're searing something, especially beef, it's important to season it properly. Don't be afraid.
Brown the oxtails on both sides, in a bit of olive oil, in a hot dutch oven. You want a heavy duty pot with a tight fitting lid. Large enough so that the oxtails lay in a single layer.
**Note: Also make sure that you're pot is oven safe, since we'll be starting this dish on the stove top but then transferring it to the oven later on to braise. I like using this Lodge cast iron dutch oven, that my sister got me a few Christmases ago!**
We're just looking to brown the oxtails, don't worry about cooking them all the way at this point. They'll continue to cook later on. You might also have to brown them in batches so that you don't overcrowd the pot and that way you ensure they all brown evenly. Transfer them to a plate or platter, and then add a bit more olive oil to the pot. Stir in the pancetta, onion, carrot and celery. Cook until browned and just beginning to soften, about 5 minutes.
Stir in the tomato paste and cook for a minute longer. Deglaze the pan with red wine, scraping up the bottom of the pot with a wooden spoon to pick up all those browned bits. That all equals flavor. Bring to a boil and cook until the wine has reduced slightly, about 5 minutes.
**Tip: Try using a full-bodied red wine for this. Nothing to break the bank, just something that you really enjoy drinking, that way you can enjoy the rest of the bottle at dinner. Winc helped me pick out this Kin and Country Primitivo which I'll tell you more about a little later in the post. Feel free to use whatever you prefer though!**
Stir in the fresh marjoram, cloves, cinnamon, a bit more salt, and pepper. Add the canned tomatoes, breaking up the whole tomatoes with your hands as you throw them into the pot. You can continue breaking them up with the wooden spoon. Nestle in the oxtails into the sauce, making sure they're in an even layer.
**Note: If you can't find fresh marjoram in the herbs at your grocery store, feel free to use 1 1/2 teaspoons of dried instead! It's a unique herb that really compliments all of the flavors in this dish.**
Cover and place in a preheated 325 degree F oven for about 1 hour and 30 minutes. Flip the oxtails every now and then throughout the cooking process. This will ensure that they cook evenly. Once they cook for that initial hour and a half, uncover and sprinkle on top long pieces of celery. This dish is known for it's celery, so you want to add these long pieces at this point. Cover and continue cooking until the meat is tender and falling off the bone, about 30 to 60 minutes longer.
**Note: I know that seems like a big window, but some ovens are different, and it's also dependent on how big or small your oxtails are in size. Just check them after 30 minutes and then keep an eye on them after that.**
Once done, remove the pot from the oven and let cool about 10 to 15 minutes, uncovered. This will allow the meat to rest for a bit and the flavors to merry. Give the sauce a taste and sprinkle with a bit more salt or pepper if needed.
Serve the oxtails with a bit of sauce, a few pieces of that celery on top, some more red wine, and of course lots of crusty bread for sopping up that delicious braising liquid. If you want to make a complete meal, serve it with a salad on the side or over mashed potatoes or even polenta to keep it in the Italian theme.
You know how they say some soups, chilis, or stews just get even better the next day or the next, Coda alla Vaccinara is no exception to that statement. So even if you're just making it for yourself or one other person, I recommend making the full batch because the leftovers will be even better! I left for New Orleans the day before I made this and Julian ending up eating it for dinner two nights afterwards. I like to leave him some food already made when I'm gone on work trips, because If I don't, he just eat store bought hummus and call it a day.
This is a great dish to make during this time of year because I feel like braising anything is perfect when it's cold and gloomy outside. Nothing like a hearty, stick to your bones, recipe right before summer. Before the warmth and heat start creeping in.

Winc helped me pick out the wine to cook and pair with this dish. I'm always a firm believer that you should really enjoy to drink the wine you intend to cook with, because if you don't then chances are you probably won't like the taste of it in the dish. Kin & Country Primitivo, the wine they chose for me, is hearty but juicy, making it an ideal partner to this braised oxtail stew. It features dark fruit layered with subtle spice, and its bright acidity will complement the rich meal.
Don't forget to use the code "CANDIDAPPETITE" if you do sign up for a subscription! As my mom always says, every little bit helps and $20 bucks off the first monthly shipment is pretty sweet!
**Thank you for your continued support of the occasional sponsored post on this site. They help keep the blog going, allowing me to continue to share my recipes with you on a weekly basis. I never want my sponsorships to feel forced, which is why I only partner with companies I feel very passionate about and actually use on a regular basis.**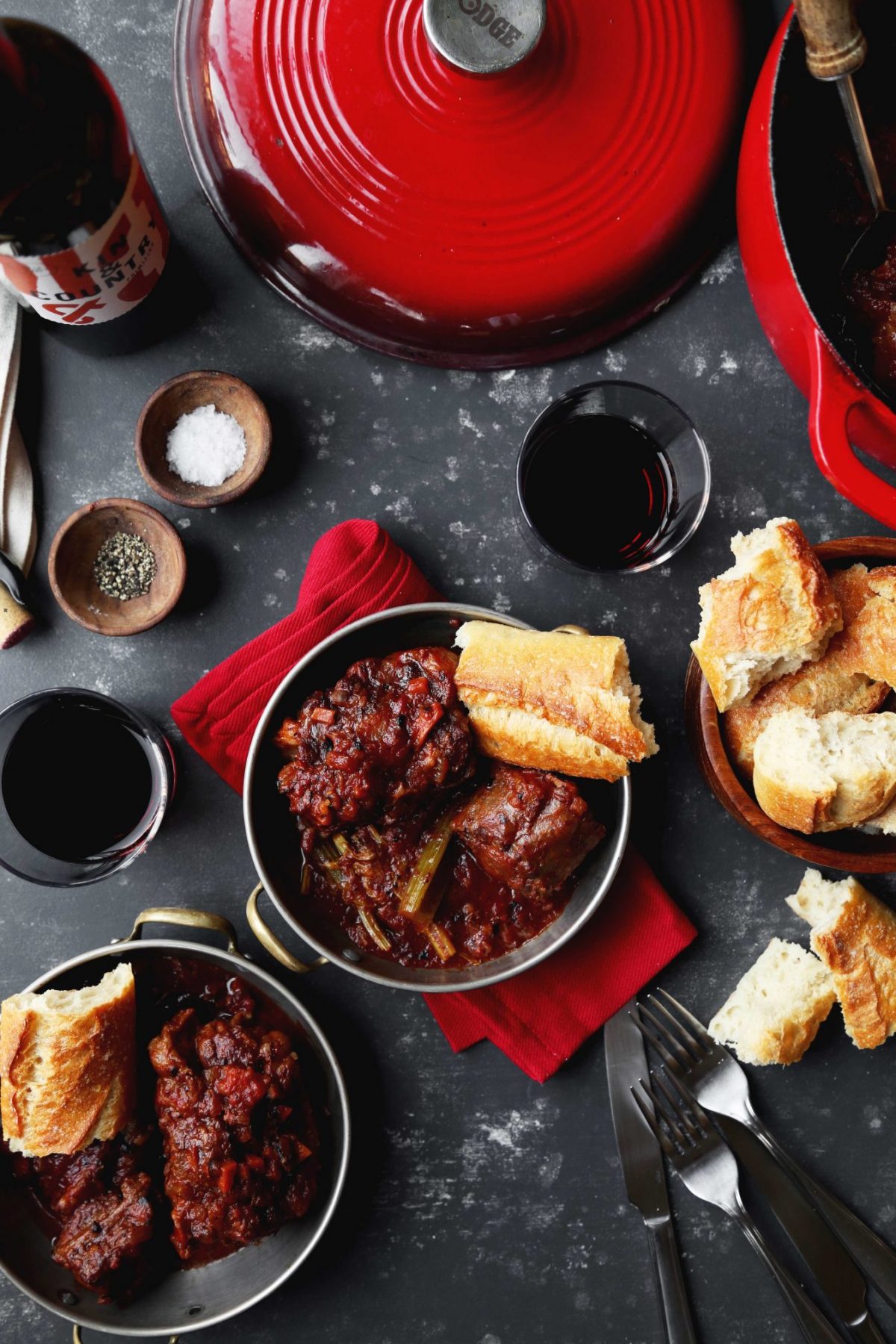 Coda alla Vaccinara (Italian Braised Oxtails)
Coda alla Vaccinara (Italian Braised Oxtails) is a classic Roman Italian stew that I first had in Italy earlier this year. Oxtails braised in a red wine sauce with celery!
Ingredients
3

pounds

oxtails

3

teaspoons

salt

3

teaspoons

black pepper

4

tablespoons

olive oil

1/4

pound

pancetta

diced

1

carrot

peeled and finely diced

1

small onion

finely diced

5

celery stalks

2 finely diced and 3 cut into 3-inch long pieces

1 1/2

tablespoons

tomato paste

2

cups

red wine

3

sprigs fresh marjoram

or 1 1/2 teaspoons dried

1/4

teaspoon

ground cloves

1/4

teaspoon

ground cinnamon

1

28-ounce can peeled Italian tomatoes

crusty bread for serving
Instructions
Preheat oven to 325 degrees F.

Season both sides of the oxtails, liberally with 2 teaspoons salt and 2 teaspoons black pepper. Set a large heavy duty dutch oven over medium high heat, with 2 tablespoons olive oil. Once hot, sear the oxtails in batches, until both sides are browned and crispy. You're not looking to cook them all the way through, just give them a nice brown color. I'd say about 2 minutes per side. Transfer to a plate or platter and continue browning the rest.

Add the remaining 2 tablespoons olive oil to the pot, and throw in the pancetta, onions, carrots and diced celery. Cook, stirring often, util the veggies start to brown and begin to soften just slightly. Stir in the tomato paste and cook for a minute longer. Deglaze the pot with the red wine, scraping the bottom with a wooden spoon to pick up all of those bits and pieces. Simmer until the wine has reduced and evaporated by half, about 5 minutes. Add marjoram, cloves, cinnamon and remaining salt and pepper. Stir until well combined, and add the tomatoes, breaking the whole tomatoes as best you can with your hands. You can also break them up with the wooden spoon.

Return the oxtails to the sauce, tucking them into the sauce, making sure they're all in an even layer. Bring the liquid to a boil, cover the pot, and place it in the oven. Braise for 1 1/2 hours, turning the oxtails every now and then.

Uncover the oxtails, scatter the top with the remaining celery and cover and return to the oven until the meat is tender and falling off the bone, about 30 to 60 minutes longer.

Remove from the oven, and let rest for about 10 to 15 minutes to cool down a bit. Give it a taste and sprinkle with salt and pepper as needed. Serve with crusty bread on the side for dipping. Enjoy!