I've been making scones for as long as I can remember. I used to sell homemade baked goods out of my tiny kitchen when I was in college, to help my mom with my tuition. She had already put my two sisters through college, by the time I got around to it, so I wanted to help out any way I could. I'm sure it was illegal and it inconvenienced my family because I'd be in the kitchen for hours and hours, but I did it anyway because I was a rebel like that and I actually enjoyed it most days. It was a nice break from all the homework and studying. Really it was just a way for me to procrastinate the things I had to get done. There were two items that I had to make on a daily basis because people ordered them a lot, scones and pumpkin chocolate chip cookies. I've made so many batches of both that I now have the recipes permanently engraved in my brain. It's helpful. It got to the point where I refused to bake scones because I got tired of making them. At the time I offered the classic flavors, cranberry, blueberry, (and my all time personal favorite) cherry dark chocolate chunk. My family has since then made it a point to relentlessly try and coerce me into baking scones for them or their coworkers, and sometimes I do it. Other times, they're not as successful. Sorry family.
I've taken a break from my scone strike, however, to bring you these Carrot Cake Scones. I think it's worth breaking my promise to never make scones again, but let's not get used to it. It's a phase that will pass. I grate fresh carrots and mix them into my go-to scone recipe, with a few other twists, like a blend of spices, raisins and cream cheese frosting on top with chopped pecans make them taste just like a classic carrot cake. Which happens to be one of my favorite cake flavors. So if you like carrot cake and you like scones, then I don't think I need to say anything more to try and convince you to make them. They can speak for themselves. "Make me. Make me. Eat me. Eat me." Can you hear it?
This is our second to last Easter Brunch Bonanza post/recipe and I'm a little sad about it. Sure, I've saved the best for last (stay tuned tomorrow to find out), but that doesn't take away from the fact that it's almost over. I'll still bring you awesome and delicious recipes that'll get you excited though, and these springtime recipes from this week will now forever live online for all of your brunch needs so there's no need to cry about it. Let's get these scones started though, shall we? They wont stop calling out our names until we eat them.
This is one of those "one bowl wonder" recipes that doesn't require a lot of work or effort from you, the baker. You just need a bowl, your hands and a spatula. No mixer or fancy machines or tools. You got this, you can totally do it so don't be scared. Scones aren't scary. They're a breeze. Combine the flour, brown sugar, baking powder, salt and spices in a large bowl. Add the cold cubed butter.
**Tip: It's very important for the butter to be super cold. Like with pie crust, the cold bits of butter in the dough cause the scones to puff up and get flaky. I like to cube the butter and place it in the freezer until right before I need it.**
Using your fingertips, breakdown and rub the butter into the flour until the mixture resembles coarse crumbs the size of peas. Pour in the shredded carrots and raisins.
Toss everything together until evenly combined and fully coated in flour. Pour in the cold heavy cream.
Using a rubber spatula mix until just combined and comes together to form a dough ball of sorts.
**Tip: If it's too dry and isn't coming together, you can add a splash more of heavy cream and mix until it does.**
Turn the dough out onto a floured work surface and knead a few times. Using a rolling pin, or your hands to flatten it out, roll the dough out about ¾ of an inch thick. Cut out the scones with a 4 inch round cutter and place them on a baking sheet lined with parchment paper.
**Note: You can also just shape the dough into a circle and cut the scones into wedges using a sharp knife.**
Brush the tops of the scones with heavy cream, to give them that extra brown color when baking.
Bake in a preheated 350ºF oven for about 18 to 20 minutes or until golden brown. Remove from oven, transfer to a wire rack an allow to cool down completely.
**Tip: The scones have to be cooled completely before glazing because if not, the glaze will melt.**
Speaking of glaze, while the scones cool, let's make that glaze. Carrot cake always has a cream cheese frosting, so I wanted to tie that flavor into these scones to make them more traditional.
In a large mixing bowl, cream together the powdered sugar, butter, cream cheese, salt and vanilla extract for a few minutes on high until creamy. Add a splash of milk and mix until it's thin enough to drizzle but still thick that it won't just slide off the scones.
Transfer the cream cheese glaze to a pastry bag or plastic sandwich bag with the tip snipped off, and drizzle on top of each scone. While the glaze is still wet, sprinkle with chopped pecans.
Allow to set before serving and eating. Resist that temptation to sneak one in before they set, but trust you me, they're better went that glaze has set.
You can make these in advance and keep them in an airtight container at room temperature for about 2 days or in the fridge for about 4 days. Just rewarm in the oven for a few minutes or the microwave for a few seconds.
You can take it a step further and go the freezer route with these as well. You have two options for this, either cut the scones out and place them on a baking sheet. Freeze until fully frozen and then transfer to a freezer bag or container and keep them in there until ready to bake. Then just place on a baking sheet, brush with heavy cream and bake. Add about 1o minutes to the original time if you don't want to thaw them and just want to go straight from the freezer to oven. The second route would be to bake them, glaze them and top them with pecans, then freeze them. Just thaw them out right before serving and warm in the oven. Don't say I never think of you guys!
I rolled my dough a little too thin for my own liking, that's what I get for doing it really fast to avoid Napoleon's non-stop attempts at trying to eat the scone dough. If I were you, I suggest rolling it out a bit thicker so that you end up with higher and fluffier biscuits.
Our Easter Brunch Bonanza is coming to an end, sad face. I wish it could go on and on forever, but unfortunately I'd run out of ideas rather quickly and I'm sure we'd all get tired of it fast. Tomorrow is the last day, and in my opinion, I've saved the best for last. Come back and celebrate with me mañana. In the meantime, let's recap the week with the other recipes. Roasted Asparagus and Prosciutto Croissants, Cucumber and Strawberry Salad and Spring Eggs Benedict. I hope these Carrot Cake Scones make an appearance on you Easter (or spring brunch get together) table because they're delicious and easy to make. Enjoy!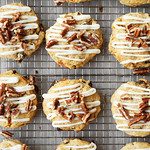 Carrot Cake Scones
These Carrot Cake Scones taste just like the classic spring dessert, carrot cake. Fresh shredded carrots and raisins in a heavy cream scone dough and baked and topped with cream cheese icing.
Ingredients
2

cups

all-purpose

or whole wheat flour

¼

cup

light brown sugar

1

tablespoon

baking powder

1

teaspoon

salt

1

teaspoon

ground cinnamon

¼

teaspoon

fresh ground nutmeg

¼

teaspoon

ground ginger

⅛

teaspoon

ground cardamon

⅛

teaspoon

ground all-spice

⅛

teaspoon

ground cloves

½

cup

1 stick unsalted butter, cold and diced

¾

cup

heavy cream

plus ¼ cup for brushing

1

cup

shredded carrots

½

cup

raisins
For the cream cheese glaze
4

tablespoons

unsalted butter

softened

¼

cup

cream cheese

softened

2

cups

powdered sugar

pinch

of salt

1

teaspoon

vanilla extract

1 to 4

teaspoons

milk

½

cup

chopped pecans
Instructions
Preheat oven to 350℉. Line a baking sheet with parchment paper and set aside.

In a large bowl, combine the flour, brown sugar, salt, and spices. Add the cold diced butter and using your fingertips, rub the butter into the flour mixture until it resembles coarse crumbs the size of peas. Stir in the carrots and raisins. Pour in ¾ cup heavy cream and fold with a rubber spatula until the dough comes together.

Turn out onto a lightly floured work surface and knead a few times. Roll out into a large circle about ¾ of an inch thick. Using a 4-inch round cookie cutter, cut out the scones and place on prepared baking sheet. Gather the scraps and gently reroll. Cut out once again. Brush the scones with heavy cream and bake for about 18 to 20 minutes or until golden brown. Remove from oven and allow to cool down completely on a wire rack.

To make the glaze, mix together all of the ingredients, except for the pecans, in a large bowl. Add as much milk as needed to get a pourable consistency, but not too thin. Transfer to a pastry bag or plastic food storage bag with the tip snipped off, and drizzle on top of cooled scones. Sprinkle with chopped pecans and allow to set for a few minutes before serving. Leftovers can be stored at room temperature well wrapped, for up to 2 days or in the fridge for up to 4 days. Can also be frozen! Enjoy!