I've been lucky enough to visit New Orleans more than a few times now to spend time and work with my friend Joy but also to sightsee and enjoy the city on a vacation with Julian. The first thing I always want to do right off the plane, like a tradition now, is get a Bloody Mary. Maybe even two of them. Before anything else, even before eating the amazing food there or sight seeing and listening to the super talented street performers. A Bloody Mary is top of the list. The greatest thing about it is that Joy never complains and just allows me to drink my cocktail while walking through the quarter to her place. I think that Bloody Marys are synonymous with Sunday brunch, and I couldn't picture my life without them. Don't even get me started on restaurants that offer endless Bloody Marys, those places can be very dangerous. The cold cocktail made with tomato juice and a bunch of spices and seasonings, garnished with celery sticks and everything else but the kitchen sink, just calls out to me. It makes breakfast taste better, doesn't it?
This whole Easter Brunch Bonanza wouldn't be complete without a brunch time cocktail. At first a mimosa sounded good to me because endless mimosas are just as equally as amazing. There was something holding me back though and then all of a sudden, Bloody Marys came to mind. I knew that I couldn't just give you a classic every day cocktail that we're all used to. This Carrot Bloody Mary was inspired by my mother because her favorite juice happens to be carrot juice. I've never wanted to drink it myself, but for some reason it just sounds more appealing when vodka is involved. All of a sudden I can't get enough of it. That's the power of a Bloody Mary.
Our mega Easter Brunch celebration has come to an end, but before we start crying and throwing things, let's focus on the positive. We now have five great recipes to make for a delicious and show-stopping brunch. We started the week off with a simple savory pastry that was almost too good to be true, Roasted Asparagus and Prosciutto Croissants. Then we made things super fresh and healthy with this Cucumber and Strawberry Salad, which was the perfect blend of savory and sweet. Plus it made us feel like we were making the right choices in our menu. We then made the brunch menu shine and turned things up a notch with our Spring Eggs Benedict that had all of the things we loved about brunch but with a much needed twist. What's a meal without some kind of sweet dessert? We rounded out our brunch with Carrot Cake Scones which I swear to you, taste just like carrot cake. It's something magicians would make without revealing their secrets. And last but certainly not least, we finished things off with these Carrot Bloody Marys and began an obsession with me that I don't want to talk about. I hope you've enjoyed this Easter menu and I hope you'll give them a try. Let's make some cocktails, now!
Let's start by making the base for our Carrot Bloody Marys. This recipe has all of the traditional and classic ingredients we all know and love from regular Bloody Marys. All the usual suspects, but with a carrot juice twist. The great thing about making them at home for yourself is that you can adjust the heat level. I like mine spicy with a bit more citrus than normal, and of course a lot of vodka so it's nice that I can adapt it to my needs, ya know?
Pour the carrot juice into a large pitcher and stir in the prepared horseradish, hot sauce (tabasco), Worcestershire sauce, pickle juice, celery salt, salt, pepper, Old Bay seasoning, lime juice and lemon juice. Whisk together until evenly combined.
**Tip: You can also just pour everything into a container with a lid and just shake it vigorously until well combined (with the lid tightly screwed of course).**
Chill the mixture in the fridge for at least 30 minutes but longer would be better. Overnight would be best but any time you can do will work.
**Tip: The longer the mixture sits and chills, the better the base will taste. It'll give the seasoning a chance to really develop some awesome flavor into the carrot juice.**
Right before serving, prepare the glasses by dipping the rim of the glass into a bowl or shallow plate filled with either lime or lemon juice. Then dip it into a bowl or shallow dish filled with celery and Old Bay seasoning.
Fill the glasses with lots of ice. An ice cold Bloody Mary always sounds so good to me when the weather starts to get really warm, so every day in California. They also remind me of New Orleans.
Fill the glasses with as much or as little vodka as you'd like. Depending on how you're feeling on the day you make them, allow that to determine how much booze you put in. A quarter way means you're just slightly tired and need a little pick me up. Halfway is, it was a long week and I need to unwind. Three quarters of the way filled is like you've just had the worst day ever and are tired of the world and need three or four cocktails pronto.
I wasn't have that bad of a day, but I still added a lot of vodka to my cocktails. Don't judge me, it's been a long week of work, what can I say? Top the glasses off with the carrot juice Bloody Mary mix we made earlier.
Give the cocktails a taste now and add more vodka if needed or more tabasco if you need it a bit spicier.
Garnish the cocktails with a celery stick (because that's classic), baby carrots (since it's a carrot bloody mary get it?!?!), pickled string beans, onions and olives.
Give them a squeeze of lime juice and garnish with a few lime wedges for that little bit of added pizazz.
Carrot juice can be easily found at most grocery stores now, but if you can't find it, you can totally juice carrots yourself if you have one of those fancy juicers. It would probably be better since you'd be able to make sure the carrot juice was super fresh.
This is the last Easter Brunch Bonanza recipe and unfortunately we have to bid it farewell. It's been a great week, full of delicious Spring recipes and Easter classics with a twist. In case you've missed any of the recipes, you can find them all in one central location on the Easter Brunch Page! I hope you've enjoyed the posts as much as I enjoyed writing them, and above all, I hope you give them a try this Spring/Easter. Have a Bloody Mary or two to celebrate, and above all I hope you enjoy each and every one of them!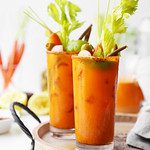 Carrot Bloody Marys
Made with carrot juice, these Carrot Bloody Marys are the perfect cocktail for your Easter or Springtime brunch! Flavored with all the classic ingredients!
Ingredients
48

ounces

carrot juice

3

tablespoons

prepared horseradish

2

tablespoons

lemon juice

2

tablespoons

lime juice

1

tablespoon

pickle juice

10 to 15

dashes hot sauce

Tabasco

2

tablespoonsWorcestershire sauce

½

teaspoon

celery salt

¼

teaspoon

salt

¼

teaspoon

black pepper

2

teaspoons

Old Bay seasoning

vodka
For the garnish
celery sticks

baby carrots

pickled green beans

pickled onions

olives

lime wedges

lemon juice

celery salt

Old Bay

ice
Instructions
In a large pitcher, combine the carrot juice, horseradish, lemon juice, lime juice, pickle juice, hot sauce, Worcestershire sauce, celery salt, salt, pepper, and Old Bay seasoning. Whisk until evenly combined. Cover with plastic wrap and place in the fridge. Chill for at least 1 hour or overnight. Shake well once again before using.

Prepare tall glasses by dipping upside down into lemon juice and then dip into a mixture of celery salt and Old Bay seasoning to coat the rim of each glass. Fill with lots of ice and fill half way with vodka. Top off each drink with the prepared Bloody Mary mix. Garnish with a celery stick, baby carrot, onion, olives and lime wedges. Serve immediately. Enjoy!
Notes
yields: about 4 to 6 bloody marys