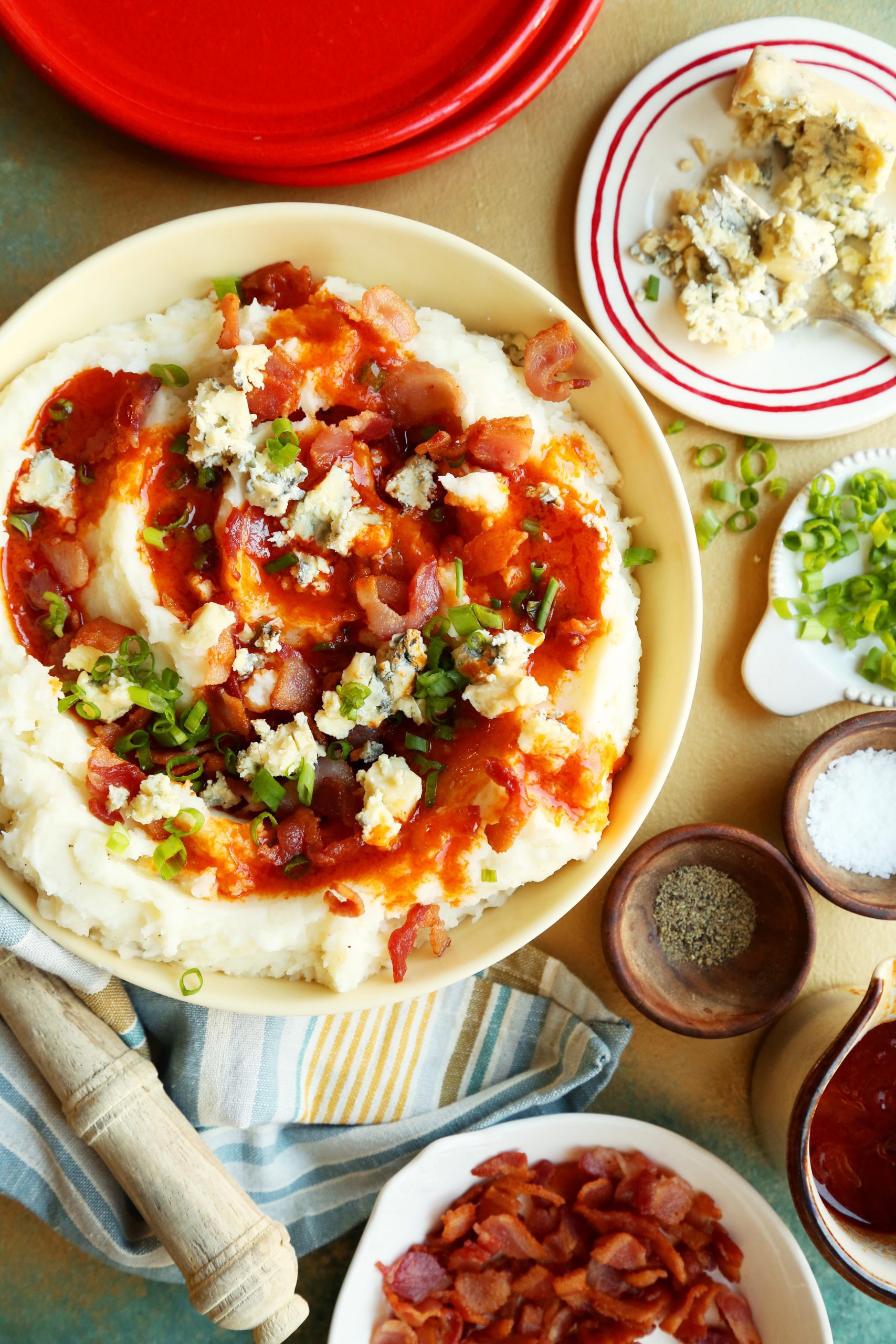 Since celebrations will look a bit different this year, why not take this opportunity to switch up your menu a bit this Thanksgiving? Put the classics on the shelf and try a spin on a beloved side dish. These Buffalo Bacon Mashed Potatoes take all the flavors we know and love from a buffalo chicken wing and piles them on top of fluffy buttermilk mashed potatoes. It's chicken wing meets potato meets bacon and it's a must on your Thanksgiving table this year. Not having a Thanksgiving feast this year? No problem! The good news is that they're really the perfect side dish to any meal all year long. It's sure to be a new favorite, especially when you're bored of the same old same old at the dinner table. Form leftovers into croquettes, dredge and coat in breadcrumbs and fry until golden brown and crispy for that perfect snack or appetizer. It's just the dish that keeps on giving.
You'll find that this post is a bit different from all the regular posts on the blog. You won't see it photographed step-by-step as per usual and that's just because I figured since you can see it being made in the video above, we really didn't need all those process photos. I hope this persuades you to watch the video because it's great!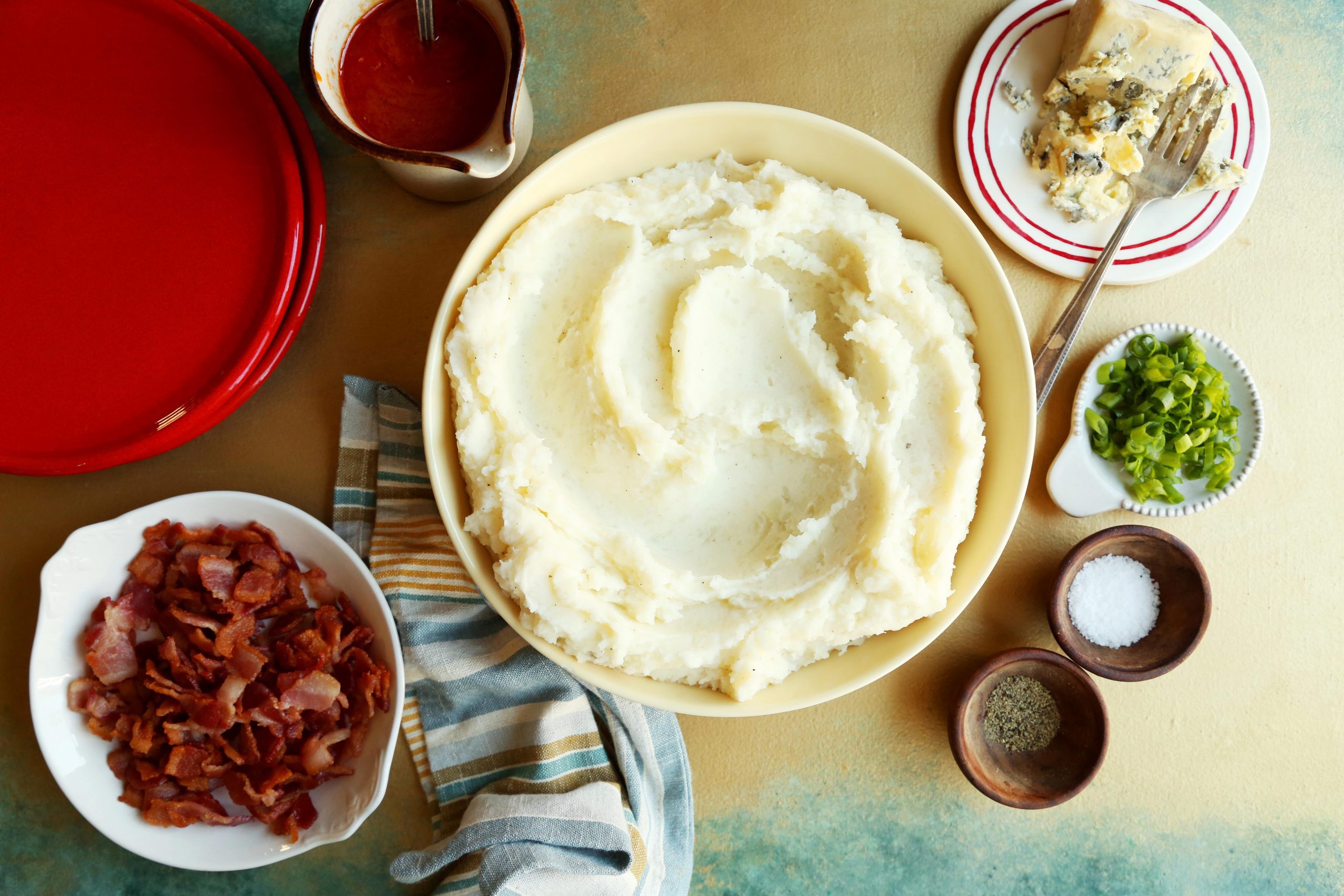 You can take any base mashed potato recipe (I always make garlic buttermilk mashed potatoes) and add the toppings as directed. The key is to cook the bacon in a skillet until crispy, drain off the grease, and then build the simple buffalo sauce in that same pan. It'll add tons of flavor to the dish.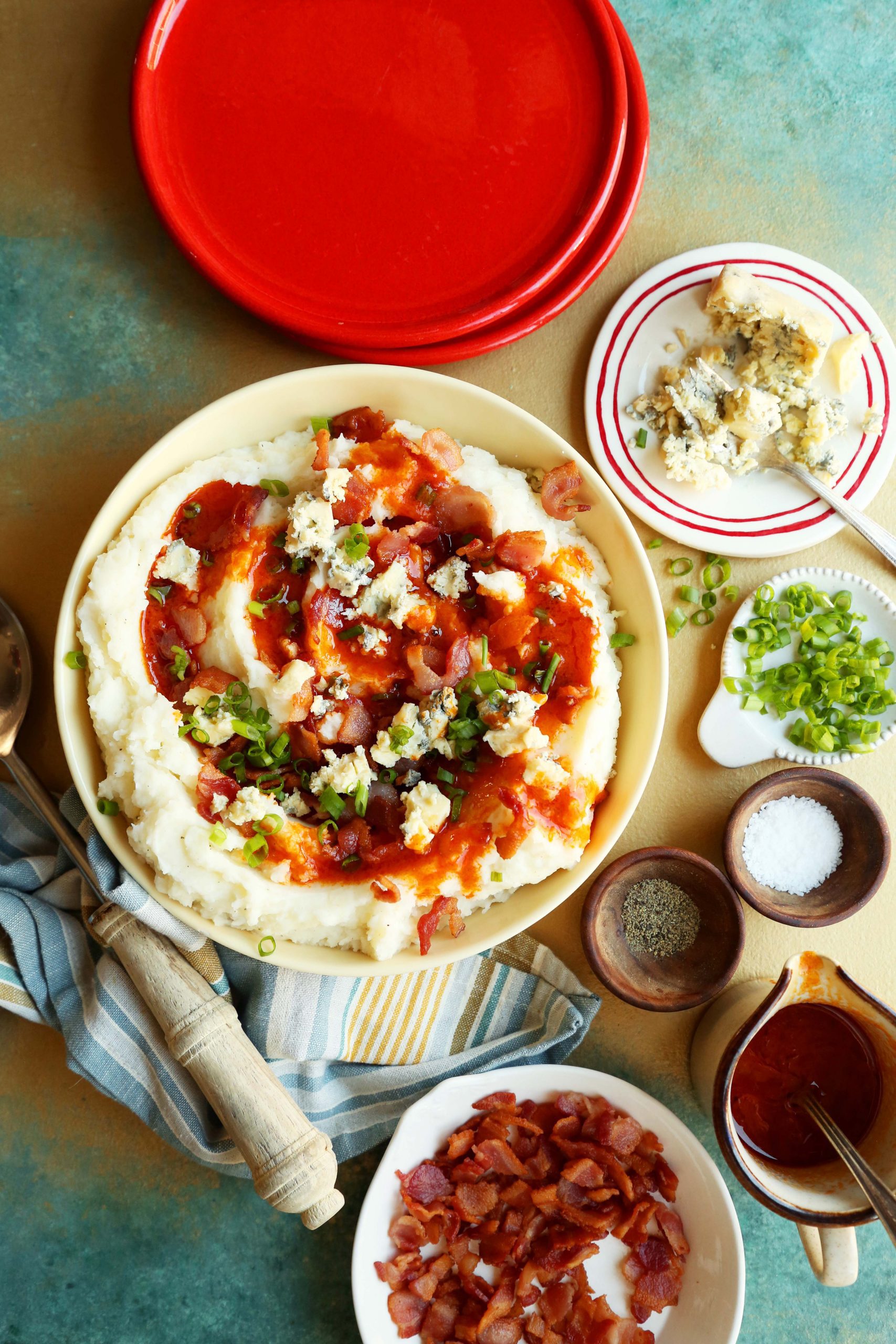 Then just pile the warm mashed potatoes onto a serving bowl or dish and top with the sauce, crispy bacon, crumbled blue cheese and scallions. Chives would also be great in here as well.
**Tip: If you want to make these ahead. I'd recommend making the mashed potatoes the day before and transferring to a casserole dish. Cool, cover and place in the fridge until the next day. Then just rewarm in the oven and add the toppings right before serving.**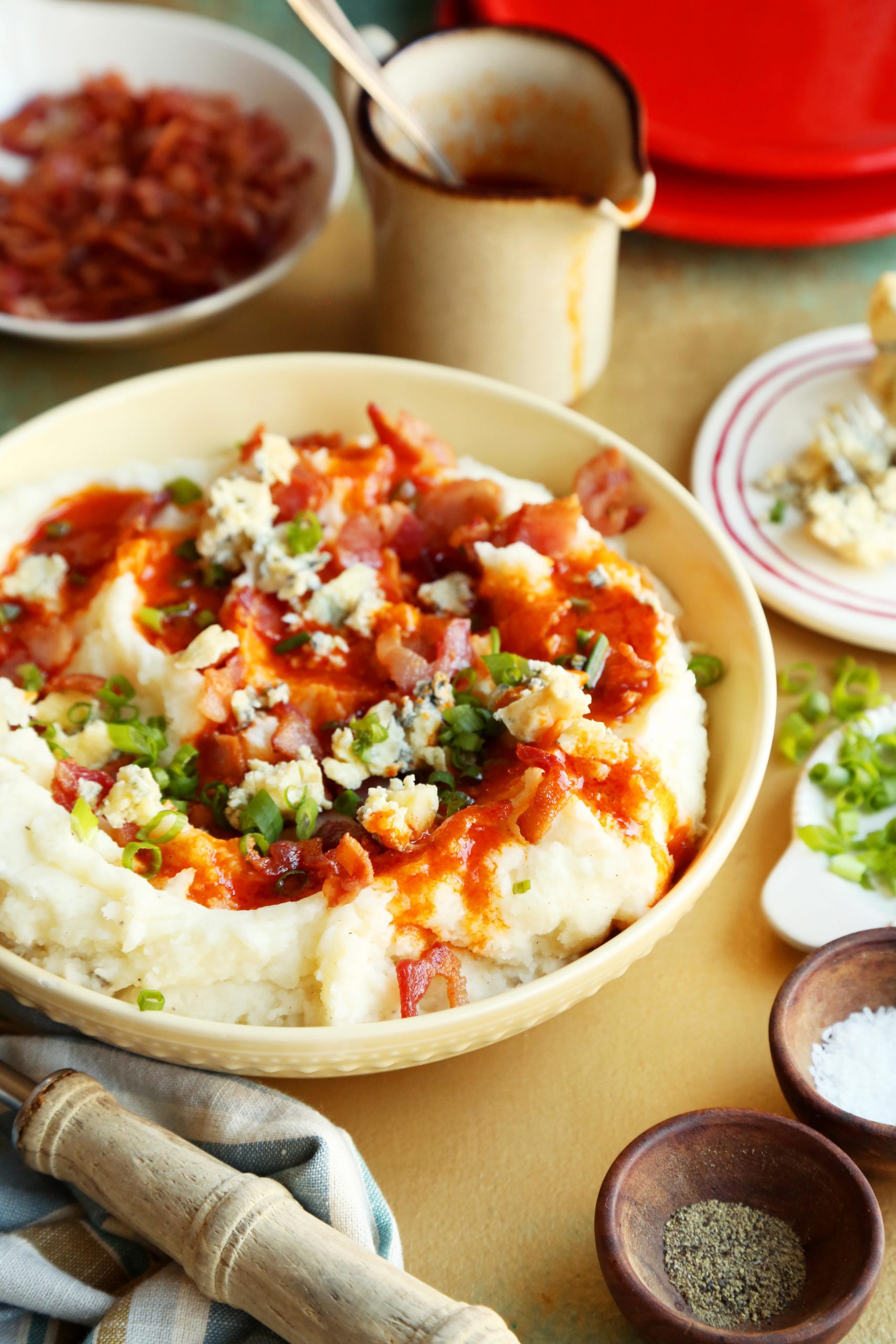 If you're looking to add even more flavor to the potatoes, you can mash them with half buttermilk and half ranch dressing. I know that might sound weird, but it will add to the overall buffalo wing taste…especially if you're like me and love ranch with your wings!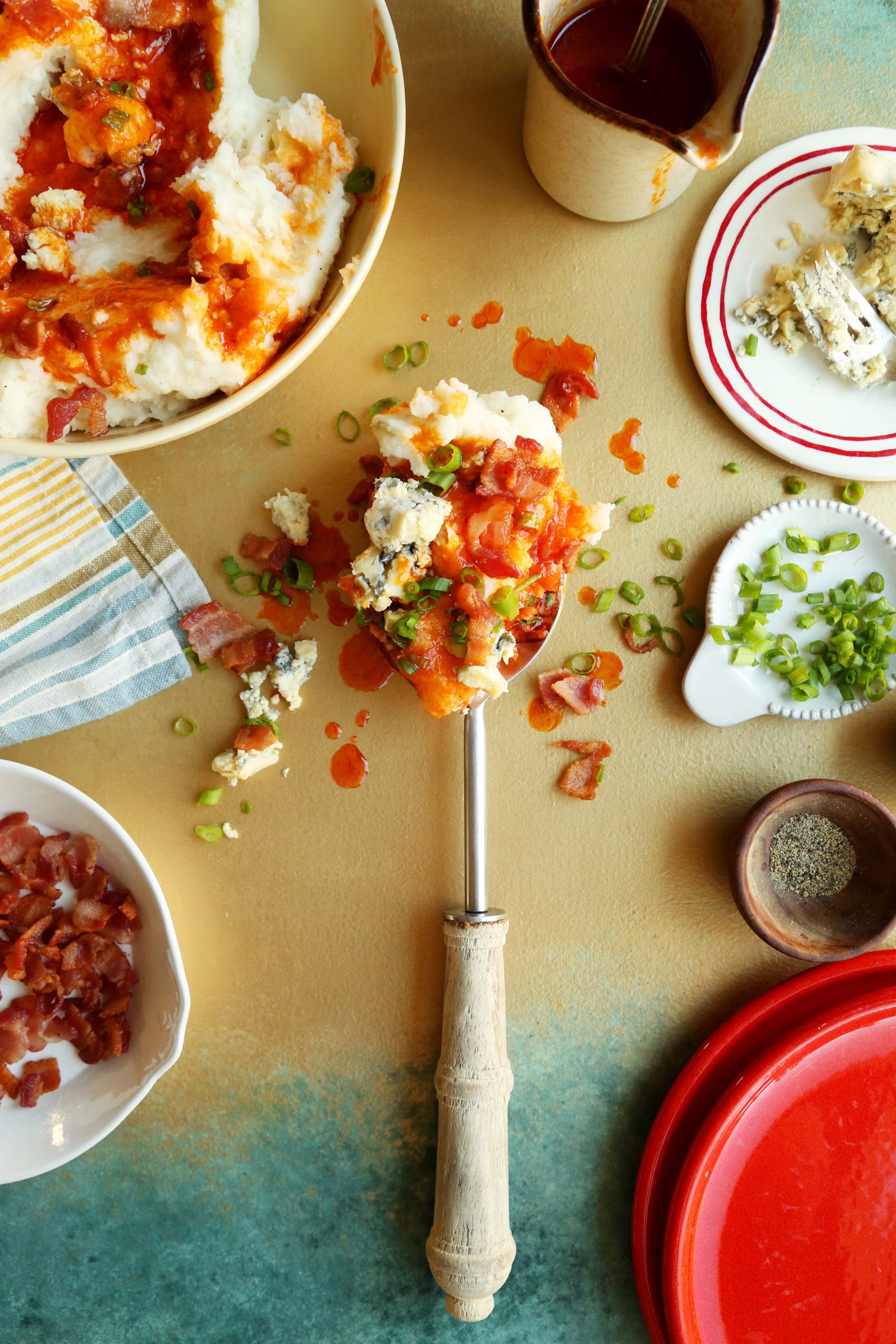 I hope you enjoy the video. I'll be releasing more like this (and sharing them on here so you don't miss them) every few weeks or so. They're fun to make and I think a nice change of pace from what I normally do on here. I've had this blog for almost 10 years now and so I think it's nice to switch things up a bit every now and then. Of course, I'll still be sharing regular posts as well. Let me know if you have any questions or comments below. As always, stay safe out there my friends.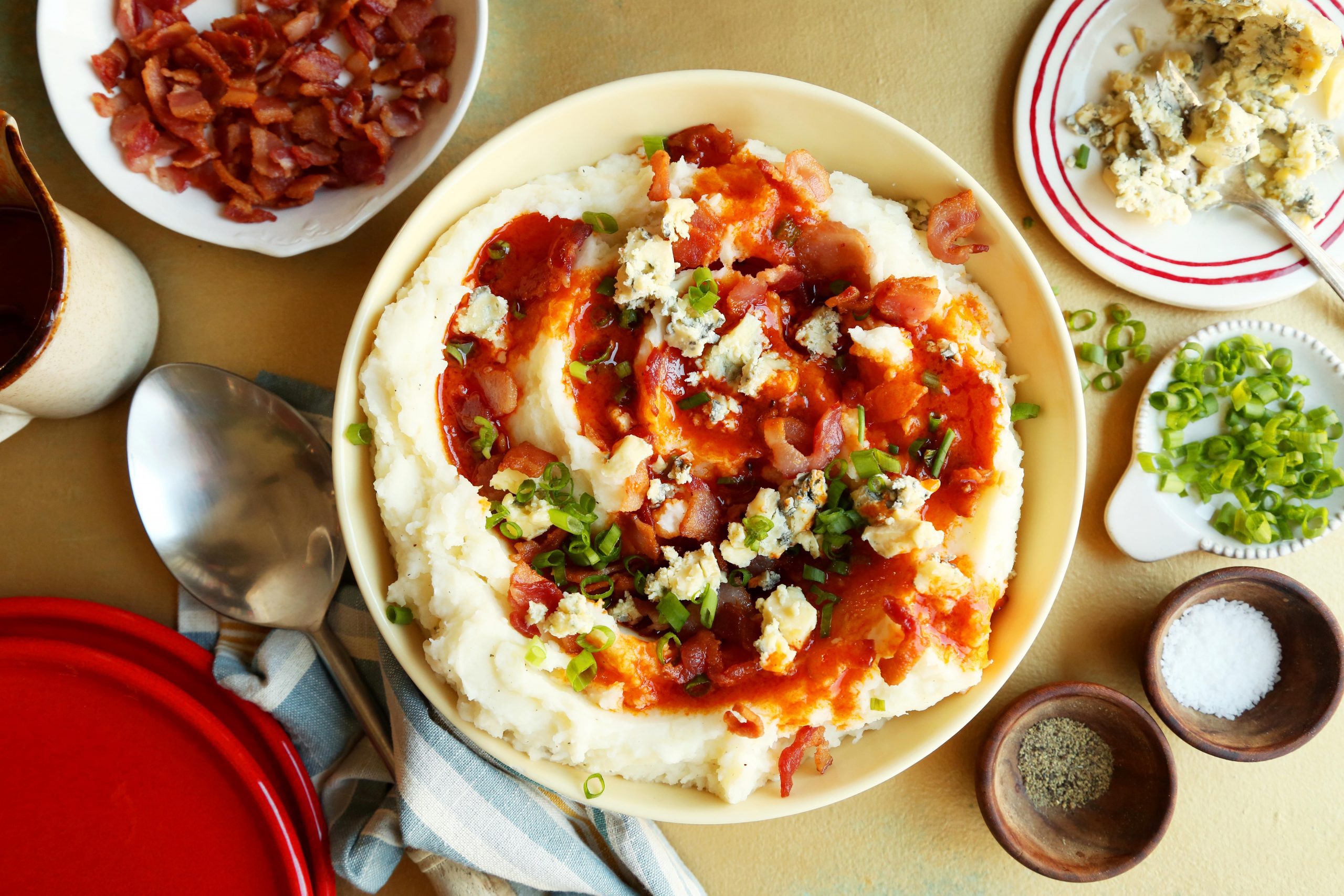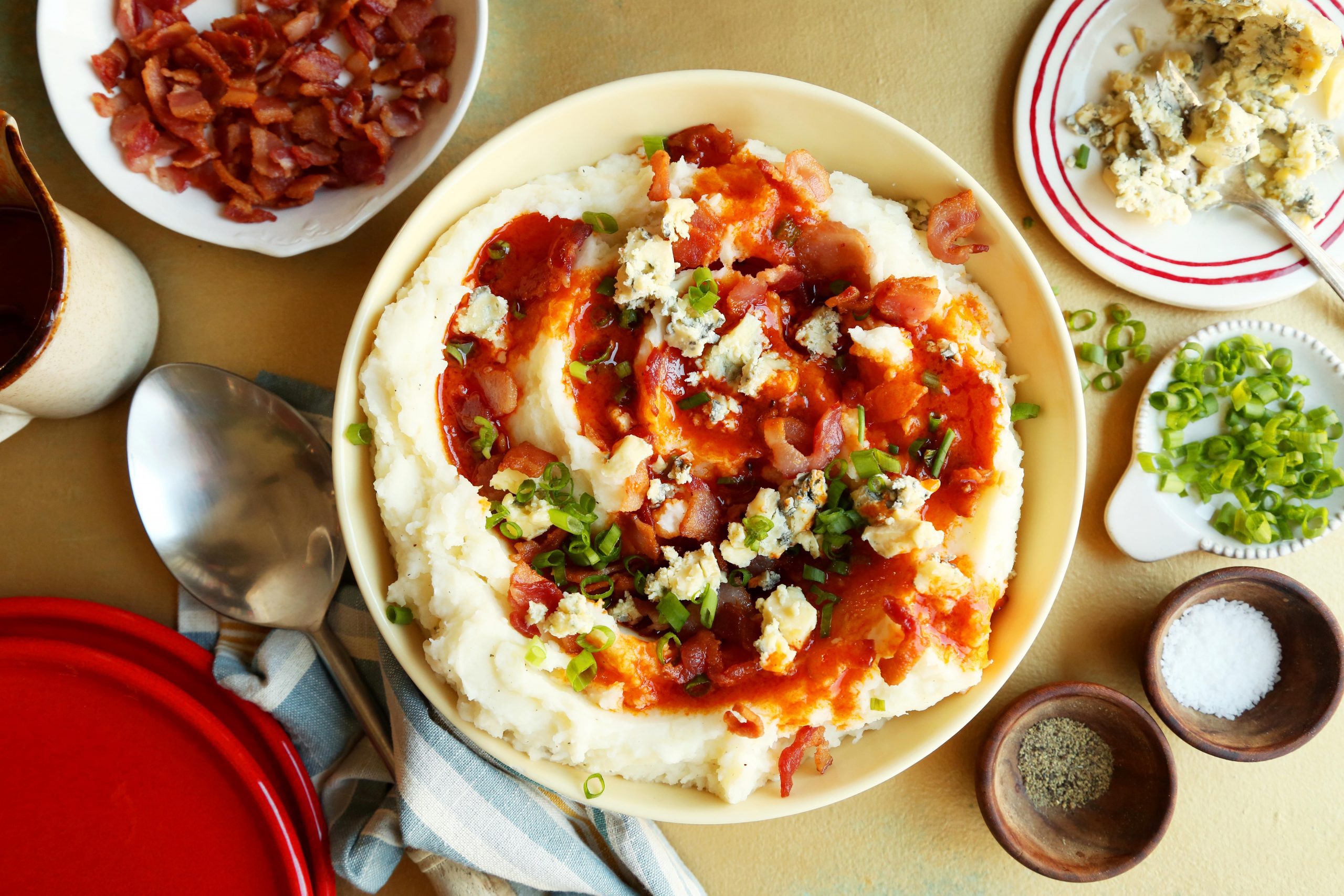 Buffalo Bacon Mashed Potatoes
Switch up a classic Thanksgiving side dish by making these Buffalo Bacon Mashed Potatoes instead! They taste just like a buffalo wing!
Ingredients
1 1/2

pounds

yukon gold potatoes

scrubbed

7

tablespoons

unsalted butter

divided

1/2

cup

to 3/4 cup buttermilk

1

teaspoon

granulated garlic

1

teaspoon

kosher salt

1/2

teaspoon

coarse black pepper

6

slices

bacon

sliced

4

ounces

buffalo hot sauce

4

scallions

sliced

4

ounces

blue cheese

crumbled
Instructions
Cut the potatoes into large chunks, all the same size, and place in a large pot. Fill with cold water and set over moderate heat. Bring to a boil and cook until fork tender, about 15 to 20 minutes.

Meanwhile, cook the bacon in a skillet, over medium-low heat until crispy, about 8 to 10 minutes. Use a slotted spoon to transfer to a plate lined with paper towels. Drain off all of the bacon grease and return the skillet to moderate heat. Add the butter, swirling the pan until melted through. Slowly stream in the hot sauce to the skillet and stir until well combined. Use a wooden spoon to scrape up any bacon bits from the bottom of the skillet. Remove from the heat.

Once the potatoes are done, drain and return to the pot. Add 4 tablespoons unsalted butter and enough buttermilk to reach your desired mashed potato consistency. Mash with a potato masher until smooth and well combined. Season with garlic, salt, and pepper.

Transfer the warm potatoes to a serving dish and then drizzle over as much of the buffalo sauce as you'd like. Top with the crispy bacon, scallions and blue cheese crumbles. Finish off with a pinch more salt and pepper, as needed. Serve immediately and enjoy!