I grew up eating breaded steak, or bistec empanizado which just means breaded steak, on a regular basis. My mom would make it for dinner pretty regularly. She'd also make this same cut of meat without breading it and would cook it in a tomato sauce with lots of fresh tomatoes and sliced onions. I liked that one too, but let's be honest, I'd pick fried breaded steak over anything anytime. I'd be crazy not to. Anyhow, with either dish she would make and serve it with some out of this world white rice, that even now I can't replicate to save my life, along with freshly boiled black beans. She'd also serve the whole thing with fried green plantains (the starchy kind) and the sweet ones as well, which are just plantains that have ripened. I never liked the sweet ones like my sisters do, so she'd make us both. One of my favorite things she would do (and still does whenever I beg her for it) is take her amazingly delicious fluffy white rice that no one else can make quite like hers and mix it with the black beans that took hours to boil on the stove top. She's against having them soak the night before so she just boils them on the stove with lots of water, garlic, and bay leaves. It's amazing. I don't always have time to cook dry beans so I'm forced to go with canned. Don't judge me. I'm sure someone out there is slowly shaking their head. It's not that bad.
As I was saying though, this white rice and black bean mixture is my entire childhood wrapped in one incredibly easy dish. A lot of Central American countries (even Cuba) have this dish, although everyone calls it something else. My grandparents were from Nicaragua and there they call it gallo pinto. I think in Costa Rica it's called the same thing. Don't ask me to translate it because I have no clue what it means or what it refers to. All I know is that it's delicious and addicting and can be eaten with anything. Next time you have some black beans and white rice leftover, mix the two together. This long rant about my childhood meals was to state that I could get down with breaded steak any day of the week. Especially when bread, cotija cheese and avocado are involved. That's where this sandwich comes into the picture. Breaded Steak Tortas should be your new go-to sandwich. Torta just means sandwich, although it could also refer to a sweet cake of some sort. Isn't it funny how one word can refer to different things? I find that funny for some reason. Anyhow, this isn't cake though, this is a sandwich, and it's the only way you should be eating your sandwiches, from now on. Don't deprive yourself, your family or your friends of this glorious meal. You'd be cruel not to make it.
It's important to get the right cut of meat for this dish. It needs to be thin so that it can cook fast enough, and it needs to not have that much fat in it. I'm using super thinly sliced round steak for mine, which is traditional. Sometimes it's listed as "milanesa de res," if you happen to be shopping in a Latin super market.
**Tip: The great thing about this recipe is that the round steak is a pretty cheap cut of meat. You don't have to spend an obscene amount of money to whip up these sandwiches, yet it's super delicious! If you can't find round steak at the grocery store, try using a super thin sirloin steak instead!**
Season it liberally with salt and pepper on both sides.
Let's prepare our breading station by mixing together, in a shallow dish, the flour, cornmeal, salt, pepper, granulated garlic, granulated onion, cumin, dried oregano and paprika (or chili powder).
Give it all a big whisk, making sure it's evenly incorporated so that the seasonings are distributed well through the flour and cornmeal.
**Note: Make sure your shallow dish is big enough to fit the size of the steaks. It'll make your whole breading and dredging a lot easier.**
Next up, whisk your eggs and milk (with a few dashes of hot sauce) in a separate shallow dish. Pie plates work well for this step!
We're going to bread the steaks by first going into the dry ingredients, then into the milk and once again into the dry. Pat it a few times on each side to make sure the flour mixture sticks to the steak.
Place the breaded steaks on a wire rack, set over a baking sheet, and continue breading the rest.
**Tip: Allow the steaks to sit for a few minutes so that they dry out a bit. This allows the coating to remain on the steaks while they fry.**
Heat a large skillet with enough vegetable or canola oil to fill half way, over medium-high heat, until it reaches 370ºF. Fry the breaded steaks, one at at time, until golden brown and crunchy on both sides. Transfer to a clean wire rack set over a baking sheet. Continue frying the rest.
**Tip: You can keep the steaks warm in a 250ºF while you continue frying the rest!**
Once they've all been fried, you can get the remaining ingredients ready. Wash the lettuce (just using romaine here), slice the tomatoes, slice the avocados, warm up the refried black beans (can is fine) on the stove, and crumble the cotija cheese.
I found some large rolls at the grocery store, split them and then warmed them in the oven. Then spread the top with mayo, the bottom with black beans and sprinkle cotija cheese on the black beans.
**Note: Cotija cheese is a crumbly Mexican cheese, which you can find in most stores now, but if you can't you can use feta or shredded Monterey jack cheese instead!**
Place a fried steak on top of the beans (bottom) and then place the lettuce, tomatoes and avocado on the mayo (top).
That's it. That's all you need to add. You can add a few slices of raw red onion if you like. I wanted to leave them out for this one. Sandwich it all together and feast your eyes on this hearty sandwich.
I like serving these for lunch because they're hearty enough to get us full, all on their own, but they're also not so heavy that you feel like you can't move after. Basically, it's the perfect lunch sandwich. But don't let that deter you from making it for dinner. It's great for dinner as well. Serve it with a tossed green salad on the side (with a creamy cilantro dressing), or some chips and guacamole with salsa to finish it off right.
Now, you know I'm always thinking of you and try to do my best when it comes to giving you meals you can make ahead of time or even just certain steps you can get out of the way before hand. Unfortunately with this recipe there's nothing you can make ahead. You want to fry the steaks right before assembling and serving the sandwiches because you want it to remain crispy and crunchy. If you make them ahead of time, they'll become soggy. You don't want that. The good news is that they take no time to make so you can get it all together rather quickly and still have time to spare to do other things you want. Like make the sandwiches and still have time to make a dessert. Or make the sandwiches and still have time to make a big batch of cocktails. Maybe you've had a long day and need a drink. I'm not saying anything.
You can also make this exact same sandwich with chicken instead of beef. I've been to some restaurants that make bistec empanizado and they always offer a chicken alternative on the menu. Use the exact recipe below, but swap out the top round with thin chicken cutlets.
**Tip: When using chicken, pound out the cutlets a bit with a meat mallet to make them super thin! You want them to be able to cook super fast, but also you don't want a thick piece of chicken in the sandwich. You want to be able to bite it rather easily!**
If you're looking for something new and exciting to make for dinner but have been in a rut, these will fill that void. You, your family, your friends and even your dog will love this recipe. I guarantee it or your money back. Well, if you had paid money for it, you'd totally get it back but there would be no need because you'd be completely satisfied. I promise. Get in the kitchen this weekend and make this torta. You won't regret it. Enjoy!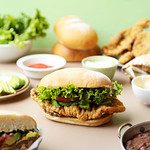 Breaded Steak Tortas
Liven up your dinner menu with these easy to make Breaded Steak Tortas. Breaded fried steak filled in a sandwich with beans, avocado, lettuce and tomato!
Ingredients
vegetable or canola oil for frying

6

thinly sliced top round beef steaks

2

teaspoons

salt

2

teaspoons

black pepper

1

teaspoon

granulated onion

1

teaspoon

granulated garlic

1/2

teaspoon

dried oregano

1/2

teaspoon

paprika

1/2

teaspoon

cumin

1

cup

all-purpose flour

1

cup

finely ground cornmeal

3

large eggs

2

tablespoons

milk

couple dashes hot sauces

1

15.5 oz can refried black beans

3

tablespoons

water

1/4

cup

mayo

2

medium avocado

sliced

2

medium tomatoes

sliced

6

romaine lettuce leaves

1/4

cup

cotija cheese

6

large rolls
Instructions
Season the meat liberally with 1 teaspoon salt and 1 teaspoon black pepper. In a large shallow dish, combine the flour, cornmeal and remaining seasonings. Whisk to evenly combine. In a separate shallow dish, whisk together the eggs, milk and hot sauce.

Dredge the steaks by passing them through the dry mixture first, then the eggs, and once again in the dry. Pat them well so that the coating sticks to both sides. Place on a wire rack, set over a baking sheet. Continue breading the rest and allow to rest for about 10 minutes.

Fill a large skillet about halfway with vegetable or canola oil and heat to about 370 degrees F over medium-high heat. Fry one steak at a time for 3 to 4 minutes on the first side, flip over and cook for another 2 to 3 minutes on the second side. It should golden brown and crunchy. Transfer to a separate cooling rack, set over a baking sheet, and continue frying the rest of the steaks. You can keep them warm as you fry, in a 250 degree F oven.

To assemble, warm the beans in a pot, mashing them with a potato masher along with the water. Cook over medium heat until warmed through. Toast the buns in the oven and split. Spread the tops with mayo and the bottoms with the refried beans. Sprinkle cotija cheese on top of the beans, and place a fried steak on top. Dress with lettuce, tomatoes and avocado. Sandwich together and cut in half. Serve immediately. Enjoy!