It's finally Friday and I think this calls for a cocktail or two. My number one goal in life is usually to convince someone else to Happy Hour with me, that way I won't feel so bad wanting to drink and eat snacks at 3 o'clock in the afternoon. So let's drink together because it's much more fun having an adult beverage with other adults trying to forget about the long week we just endured. Shall we talk about margaritas for a bit? There's something about margaritas that get me really excited. Maybe because it usually means that chips and salsa and guacamole will be involved, hopefully. Or maybe because it means that tacos will also be involved, that's even better. Maybe it's just because I happen to really like margaritas with salt, over ice. Although in the summer when it's super hot outside and there's a pool in sight, I have been known to get down with the blended variety.
I recently tried a great restaurant, for the first time, right around the corner from my place called Maradentro in Studio City. As a drink special that night, they were making Blood Orange Margaritas, so I decided to try it. They were awesome. Just the right amount of sweetness with just the right amount of booze. By my third one I was thinking that the cocktail could've really benefitted from a fresh herb of some sort to make it really pop. So this Blood Orange Rosemary Margarita was born. If you're ever in these neck of the woods, you should give the place a try. On Mondays their happy hour goes until 10 at night and they have some great fish tacos and a guacamole topped with lobster and super crispy bacon. If that isn't a dream come true, then I have no idea what it. None. Make sure to let me know, and I'll go with you. If you can't make it out, just bring the place to yourself. Booze it up in your own house. Get some chips, salsa and guacamole and make yourself a big pitcher of these margaritas. Blood oranges happen to be in season here in California, but if you're having trouble finding them, these margaritas can easily be made with red grapefruit, blackberries or even frozen strawberries (just purée them in the blender).
This is a great cocktail to whip up in a flash on a Friday (but really any day of the week) when you've just had the longest day or week. If you're in need of even more margarita inspiration, don't forget about these Spicy Honeydew Cucumber Margaritas. They're made with a jalapeño simple syrup that the fresh cucumber and honeydew pairs really well with. Or if margaritas and beer are more you're thing, these Watermelon Texas Margaritas are calling your name. Also great with strawberries instead. And last but not least, if morning drinking is your game, these Good Morning Margaritas are perfect for those early morning late afternoon weekend brunches. There's something for everyone!
This is a pretty easy cocktail to put together. There's a little bit of working in juicing the blood oranges, but don't let that fool you. If that's the most complicated step, then we're in the clear.
Cut the blood oranges in half and then juice each half into a bowl or pitcher.
**Tip: This entire juicing process would be even easier if you used an electric juicer or one of those citrus claws that squishes the juice out, or even at the very least one of those wooden hand held juicing things. You know what I'm talking about?**
Once all of the oranges have been juiced, pour the mixture into another pitcher through a fine mesh strainer. This will get rid of the pulp for you. This is a crucial step so don't skip it.
**Note: This isn't the time to keep the pulp, so if you're a big fan of it, I'm sorry. But you want the juice to be super clear so that nothing gets in the way of making the best margaritas possible.**
The rest is a walk in the park from here. Just mix everything else into the pitcher. Pour in the fresh lime juice, tequila, and triple sec.
**Note: Triple sec is an organe flavored liqueur, which you can find in the booze section of your grocery store. It adds a great depth of flavor to the margaritas because it's made from a mixture of sweet and bitter oranges.**
**Note: These aren't super sweet margaritas which is the way I prefer it, so if you like drinks more on the sweet side, feel free to add in agave or simple syrup to this step.**
Give it a good stir and then set it off to the side while you prepare in the glasses. I love salt on a margarita, so we're jazzing this one up. Giving it a make over. In a shallow dish, combine the coarse salt, cayenne pepper, and chopped rosemary.
Dip each glass upside down into a separate dish of fresh lime juice, and then into salt rosemary mixture. Flip the glass over and then voilà, you have a salt and rosemary (with just a touch of heat) rimmed glass.
**Note: The cayenne is completely optional, so if that's not your thing, then just leave it out. We're only adding a tiny bit to give them a kick. Nothing crazy.**
Fill the glass all the way up with lots of ice. You want these drinks to be cold.
Once ready to serve, give the margarita mixture another stir and then pour it into each glass. If you want, you can fill them up just shy of the top and then top them off with sparkling water or club soda, for a little bit of fizz.
Garnish each cocktail with a slice of blood orange, and a sprig of fresh rosemary.
So these aren't super strong, hitting you over the head, with the rosemary flavor. I feel like when using herbs for cocktails, you should keep them minimal. That's my rule of thumb. So by adding the chopped rosemary to the rim and the fresh sprig in the glass to swirl it around, that'll give us just the right amount of rosemary taste that pairs so perfectly well with the blood orange.
This is a great party cocktail because you can make a big batch of this and keep it in a large pitcher (or in one of those party water dispenser glass things) and then have people just serve themselves. You can make the mixture in the morning and keep in the fridge, well covered, until dinner. Just make sure to give it a good stir before serving.
Let's get the weekend started with these Blood Orange Margaritas. Remember that day drinking is totally acceptable when you're not doing it alone and it's paired with a delicious lunch or delicious appetizers to graze through. So let's make a promise to each other that this weekend will be filled with margaritas, food, and good times.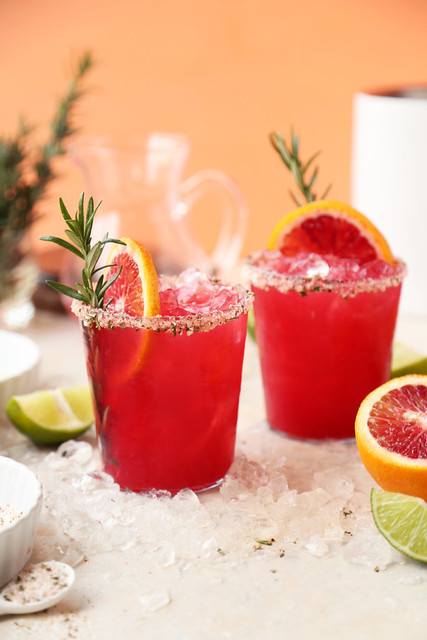 Blood Orange Rosemary Margaritas
Get your Happy Hour on with these delicious Blood Orange Rosemary Margaritas! Fresh blood orange juice mixed with tequila and orange liqueur.
Ingredients
Salt Rim
1/4

cup

coarse salt

2

teaspoons

fresh chopped rosemary

1/4 to 1/2

teaspoon

cayenne pepper

1

lime

juiced
Cocktail
6

blood oranges

juiced

3

fresh limes

juiced

1 1/2

cups

silver tequila

3/4

cup

triple sec

orange liqueur

1/4

cup

agave or simple syrup

optional

ice

1

blood orange

sliced

fresh rosemary sprigs

for garnish
Instructions
In a small shallow dish, combine the salt, rosemary, and cayenne pepper. Pour the lime juice into a separate small dish. Dip each glass upside down into the lime juice and then into the salt mixture, set aside.

Strain the blood orange juice with a fine mesh sieve into a large pitcher. Add the lime juice, tequila, triple sec and simple syrup (if using). Give it a good stir until evenly combined.

Fill each of the rimmed glasses with ice and then divide the margarita mix evenly among each glass. Garnish with a blood orange slice and a small sprig of rosemary. Enjoy!