It's Friday and there's so much to celebrate. We need to celebrate that the week is finally over and it's time for the weekend. We need to cheers that Fridays are perfect for cocktail posts, and most importantly we need to be happy with the fact that it's time for another installment of my new favorite segment called, Cheers to the Weekend! We're on our third installment and there's no going back from here. I'm in this to win it. In case you need a little reminder, the first installment was a delicious Pork Schnitzel Sandwich that is the perfect lunch or dinner to make any weekend when you're in need of a quick and easy meal. And then the second installment last Friday touched on the topic of breakfast with a Roasted Tomato Breakfast Tart that needs to be added to your weekend recipe rotation no matter what you think is right or wrong, because when it comes to savory breakfast tarts there's only right, never wrong.
This time around however, we're tackling a cocktail because it is Friday after all, and it wouldn't be a proper weekend without sharing such a delicious drink recipe with you that we can sip all day long. Day drinking is always so much better than night time drinking let's be honest. We've had a long week and we've worked so hard and we've waited for this moment all week long so why not celebrate with an icy cold cocktail or two? The only logical thing to do is whip up a batch of these blended bellini and forget about the long endless week we've just endured. Gather some friends around the table and drink and eat and have a good time. Make a roasted tomato tart for brunch perhaps and make these cocktails and above all else, I think it's important to Cheers to the Weekend because if you and I don't do it, then who on Earth will?
This is probably one of the easiest recipes I'll ever post on here, but with that being said I'm going to try my best to still explain this post as best as I can, although it doesn't take much effort at all. So the first thing we need to do is add a bunch of ice to a blender and peach juice and fresh peaches that I've peeled and pitted.
**Note: Use whatever peach juice you can find at the grocery store. I like using the combination of peach juice along with fresh peaches because it bumps up the peach flavor in this cocktail which is key.**
Add some prosecco or champagne. I like to do this in two batches because it all won't fit in the blender all at once. So add half of the ice, peach juice, fresh peaches and prosecco.
**Tip: Don't get any prosecco or champagne that will break the bank. We're not trying to show off or anything here. We're making these for brunch and we're making a big batch and when we're going to be drinking them for a while, so let's not splurge too much. A medium high-end bottle. Something from Trader Joe's will be just fine.**
If peaches aren't in season when you decide to make these blended bellini, then you can most definitely use frozen peaches. The best part is that you don't even have to thaw them out because the frozen peaches themselves with the ice will make them even icier and smoother. That's really the best way to go if you have no other option.
Blend everything together until completely smooth and pour out among different glasses. Then you can make another batch right away because you're going to want it. You're going to need it. It's not brunch without lots of alcoholic beverages readily available at hand. That's not a brunch I'm willing to attend to be honest.
These don't even require much of a garnish at all. The only thing you need to do is add a fresh slice of peach on top because it signifies to your guests what it is and it adds a little bit of freshness to the cocktail that I think really takes it over the edge.
These are a must the next weekend brunch or breakfast you plan on having. It's super easy to make with literally only a handful of ingredients and the hardest thing you have to do is turn on the blender. It makes a big batch so it's great for a crowd and you can just keep them coming all day long. Weekend day drinking is the best kind of drinking.

You can easily make different blended bellini flavors and switch out the fruit. Make it with strawberries or cantaloup would be amazing. Try it with fresh pineapple and pineapple juice for a tropical twist. It's a great cocktail to make with whatever fresh fruit that's in season or with whatever frozen fruit you can find! The world is your oyster. Go wild. I give you permission.
Remember to keep checking back every Friday for a new Cheers to the Weekend segment. This is the third installment and there are some really great recipes coming up that you definitely don't want to miss. So make yourself a cocktail, this blended bellini will do, and sit back and relax. You deserve it.

If you make this recipe, along with any other recipe from the site, be sure to snap a picture and share it on Instagram or Facebook and tag me and hashtag it with #CandidAppetite or #TheCandidAppetite. Once you start making these Cheers to the Weekend recipes, be sure to also tag it with #TCAweekend! I'll be monitoring it all closely and share my favorites throughout! Happy Cooking!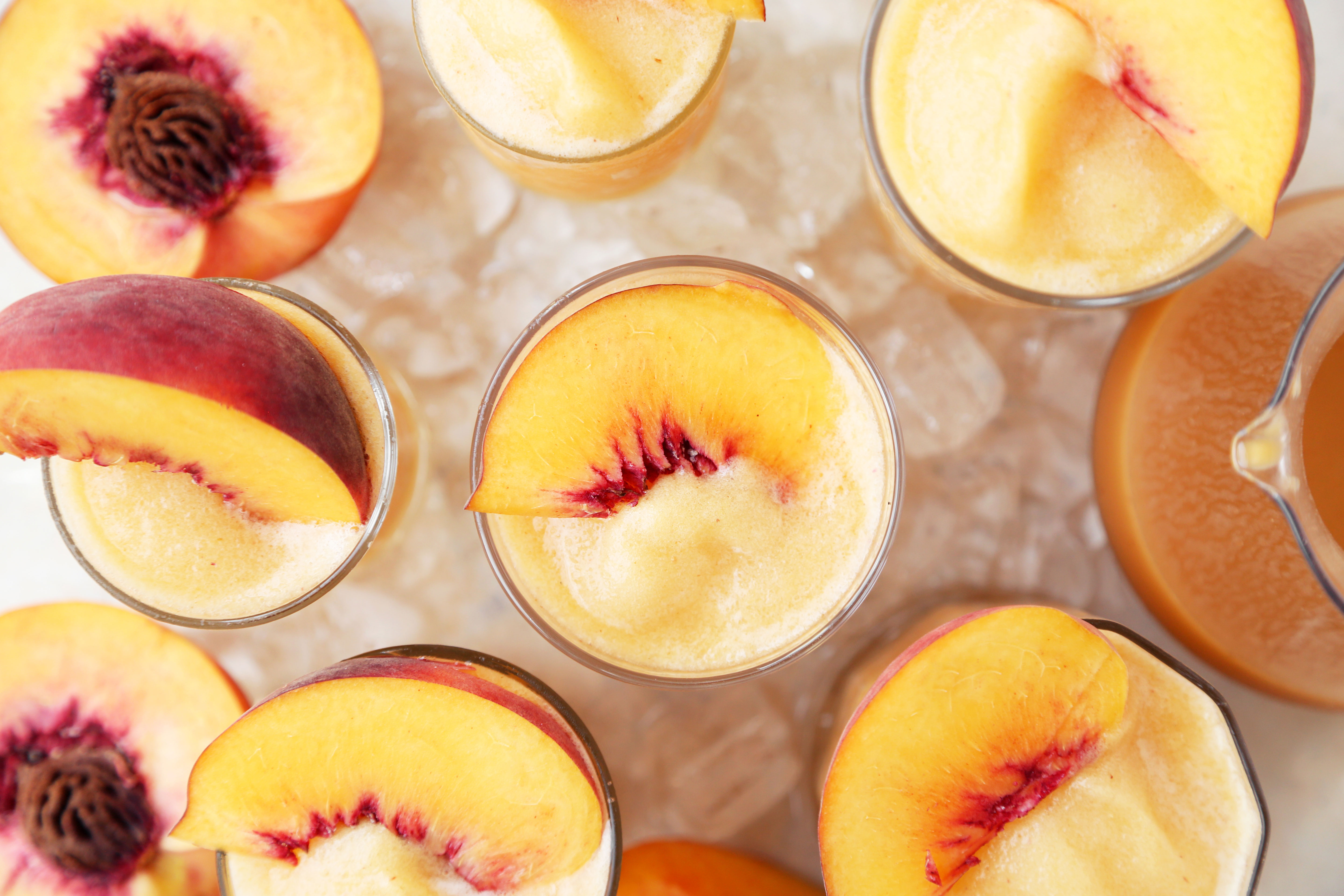 Blended Bellini
Lets all Cheers to the Weekend with these Blended Bellinis. It's the perfect drink for Sunday Brunch. Make a big blender full and drink all day through with friends and family!
Ingredients
1

cup

peach juice

2

fresh peaches

pitted, peeled, and diced

ice

1

bottle Prosecco or Champagne
Instructions
Blend this in two batches because it all won't fit in a blender all at once. So I recommend putting half of the peach juice, 1 peach, lots of ice and half of the bottle of prosecco. Blend, pour out, drink and then repeat with the remaining half. Garnish with a slice of fresh peach if desired.