It's been a hot minute since I've made and shared a fudge recipe on here, and quite honestly I think this is my biggest regret in life. I figured the only respectable thing I can do to remedy this tragic situation is to share another decadent and delicious fudge recipe ASAP. If you recall, the last time I made fudge I gave it that birthday cake treatment. I loaded it up with multi-colored sprinkles and topped it with an obscene amount of frosted circus animal cookies. Although, if you know me at all, you'll know that there is no such thing as too many frosted circus animal cookies, but that's a story for another occasion. This time around though, I'm taking the classic German dessert, Schwarzwälder Kirschtorte (just fancy German talk for Black Forest Cherry Torte), and turning it into an incredible Cheers to the Weekend dessert. Dark chocolate fudge studded with dried cherries, and topped with whipped cream, maraschino cherries and chopped chocolate. Can you even handle it? If you've been looking for a great weekend project, well look no further because this sweet treat is calling out your name. It's easy to make and even easier to devour, which can be a serious problem depending on how you look at it.
Let's start by creating the base for the fudge. This is the same base I use for all of my different flavors of fudge. It's butter, evaporated milk and lots of sugar.
**Note: Please, please, please, don't be scared about the amount of sugar that goes into this recipe. It's a whopping 3 cups BUT before you come at me with pitchforks, keep in mind that fudge is very sweet and decadent, that's why it's cut into small pieces. You're not eating the entire thing yourself…it's meant to be a tiny treat.**
Once that mixture comes to a boil and has cooked for about 5 minutes, stirring often so that it doesn't but, remove from heat and stir in the marshmallow fluff, dark chocolate chips, vanilla and salt.
**Note: I love dark chocolate for this recipe, but feel free to use whatever chocolate chips you have on hand. Semi-sweet, milk chocolate, or even bittersweet would be great!**
**Tip: If you don't have or can't find marshmallow fluff where you're at, then an 11-ounce bag of mini marshmallows will do as well!**
Keep stirring until the chocolate and marshmallow fluff has melted and the mixture is completely smooth. Then stir in the dried cherries. At this point you can add cherry liqueur if you have some an hand. If not, don't worry about it.
Pour the fudge into a 9-inch square baking pan that has been lined with foil (with the excess hanging over to make it easier to pull the fudge out) and greased lightly with cooking spray. Spread out into an even layer.
Allow it to cool slightly, then cover with plastic wrap and chill for at least 1 hour. Remove from the fridge and then dollop the top with thawed whipped topping. Using a spoon, make swirls and peaks. It doesn't have to be perfect. You want it to be rustic. Top with the cherries and chopped up chocolate.
**Tip: Cover once more with plastic wrap and chill until completely firm, about 4 hours or overnight. This will make it easier to cut the fudge later on.**
I know that the thought of using the frozen whipped topping might be a little off-putting. Normally, in all other circumstances, I'd say always use the real homemade deal, but in this case I'm asking you to throw all of that out and go for the processed stuff. Why? Because it holds up better and firms up a bit, again, making it easier to slice.
Once ready to eat, slice into tiny squares. Again, you want to cut these into small squares because it's VERY decadent and rich and a large piece would just be too overwhelming. With fudge, less is more. You'll enjoy it more this way.
Leftovers can be stored in the fridge, wrapped in plastic, for about 4 days. Just make sure to cover it with plastic wrap because if not, the fudge will dry out and not be as great. Fudge also makes for GREAT gifts so keep that in mind if you need something for someone's birthday or something.
One thing you want to keep in mind is that draining, rinsing and drying the maraschino cherries is crucial for the topping. If you don't drain or dry them properly, the red syrup the cherries are in will begin to bleed into the whipped topping and make it a little harder to slice the fudge. Just some food for thought on this Friday.
If you're looking for a great weekend "baking" project, then this Black Forest Fudge is the only thing that matters at the moment. The best thing about it is that there's no actual baking involved. You don't have to turn on the oven to make a sweet treat that everyone will love. Let's all Cheers to the Weekend especially because fudge is involved.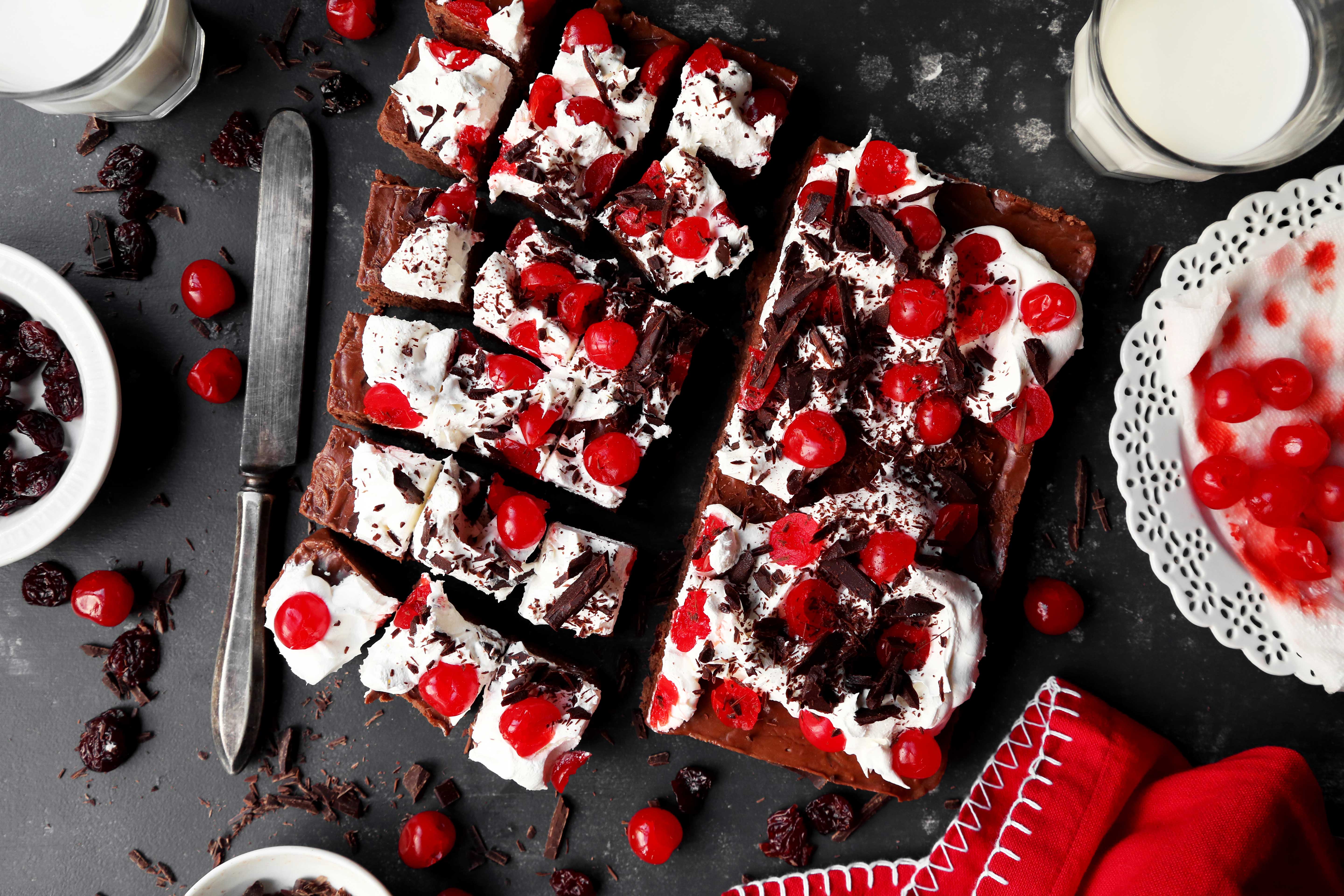 Black Forest Fudge
Black Forest Fudge is a decadent and delicious treat that you need to make as soon as possible. Dark chocolate fudge, studded with dried cherries, and topped with whipped cream, maraschino cherries and shaved chocolate.
Ingredients
3

cups

granulated sugar

3/4

cup

1 1/2 sticks unsalted butter, diced

1

5-ounce can evaporated milk

2

cups

dark chocolate chips

1

7-ounce jar marshmallow fluff

1

teaspoon

vanilla extract

pinch

of salt

1/2

cup

dried cherries

3/4

cup

frozen whipped topping

thawed

1/2

cup

maraschino cherries

halved

2

tablespoons

roughly chopped bittersweet chocolate
Instructions
Line a 9-inch square baking pan with foil and lightly grease with cooking spray. Set aside.

In a medium saucepan, combine sugar, butter and evaporated milk. Set over medium-high heat and cook until boiling, stirring often, about 5 minutes.

Remove from heat, and stir in chocolate chips, marshmallow fluff, vanilla extract, and salt until melted through and completely smooth. Stir in the dried cherries, pour into prepared pan and spread out evenly. Allow to cool slightly and then cover with plastic wrap. Chill in the fridge until firm, about 1 hour. Dollop the top with the whipped topping and then swirl around with a spoon. Top with the halved cherries and sprinkle with the chocolate.

Chill once more for least 2 hours, or until completely firm. Slice and serve. Leftovers can be kept in the fridge, wrapped in plastic, for up to 4 days.