Jump to Recipe
School is finally out and I find myself in the kitchen more and more these days. Long hours of cooking, baking, dinner making, and filling in order after order after order. These days, I wake up and the first thing I do is cook while the last thing I do before bed is cook. It isn't a bad thing. No. On the contrary, it's a good thing. It's exciting. It's inspiring. Summer and winter are the semesters when I love being in the kitchen the most because I do not have to go to school. This gives me more time to experiment and try out new recipes that I've been dying to test. It gives me an excuse to make extravagant meals, solely because I have more time for such pleasures. Sure when I'm being a student during Spring and Fall, I still cook every night. But during those times, I do it more because I have to. Because I need fuel in order to focus on school work, projects, and studying. I need nutritional substance to be able to balance and juggle everything I have on my plate-pun intended. During the fall and spring semesters, however, I lazily make dinner in a fast pace with an eagerness to eat so as to finish all the other ten million school tasks I have to do before bed. Before having to go to sleep to only do it all over again the very next morning. I do not particularly care for the kitchen during school, of course not discrediting the few days I play hookie (shh..don't tell anyone) or on the occasional and very much embraced weekend where I have nothing to do. When those rare weekends fly by me, I make sure to grab them and hold on tight to every second I can. I enjoy school very much, don't get me wrong. I especially enjoy it more these days now that I'm nearing the finish line. The light at the end of the dark tunnel is finally coming closer and you better believe I'm following the light happily. And without hesitation. What's more, I'm looking forward to the next semester. Fall semester will be my favorite semester of all because it happens to be my last. Two classes left before I officially join my sisters up on the ol' lady's wall of college diplomas that her children have granted her. A spot that has been burning a hole just waiting for me to finish. Years. Months. Weeks. Days. Just waiting for me to say Yea I graduated college too. No biggie, as I dust off my shoulders. A few congratulations, a couple pats on the back, maybe even a few envelopes with money (wouldn't hurt) and I'm good to go. But don't lets get ahead of ourselves. That's all still a few months away-six months to be exact but who's counting? Let's focus on the now. And right now is summer vacation. Summer vacation before my last semester. In a way, I guess we can say this is my last summer vacation.
Yes, summer break is in full swing and there is nothing I want to do more than to cook. To blast on some music-and the AC because let's face it, summer is almost here and the heat in Southern California is steadily rising day by day-and just cook my days away. There are people out there, like those on the HGTV shows, that look for homes with big backyards. Living rooms that are spacious-enough so, so that their family gatherings go without a hitch. You know the shows. The one's where the perfect family, dad, mom, 2.5 kids are going from home to home taking their time to determine which house to call home. Most of the time, their deciding factor is whether or not the backyard is big enough or has a pool or if there are enough bathrooms. To me what's important is not the size of the home. It's not whether or not there is a bathroom attached to my bedroom. And it surely isn't whether there is a pool or not. Just give me a decent kitchen with granite counter space for days and I'll be as happy as a clam. So I do not really need a huge kitchen that can fit a sofa and still have space. I've been managing with a shoebox all my life and it hasn't stopped me yet. The kitchen is the center of the home. It is where everyone gathers around. Have you ever thrown a party and noticed that at some point during the evening-maybe even several points-there are a number of guests gathered around in the kitchen? Laughing and having a good time? No? Well I have. I've catered numerous parties and each and every time, without question and without fail, everyone ends up in the kitchen. The reason is simple. The kitchen makes people happy, even if they do not know how to cook. It brings families together and makes memories worth keeping.
The most complicated and fanciest of dishes do not necessarily need to come out of the kitchen. Just simple good food from the heart. There was one thing my mother would always tell me as a child, and that was that you had to cook with love because it's what makes food taste so good. Cooking at an early age gave me the opportunity to hone-in on my cooking with love technique. And believe you me, she always knew then and knows now, when I do not cook with love. She'll know when I made something fast and without much thought. And at the same time she knows perfectly well when I've taken my time and poured my heart and soul into a meal or dessert. I say the best food out there is the simplest kind. The food that you grew up with and have made numerous times. The food you know will always turn out good. It will never let you down. For me, it's empanadas. Potato and beef empanadas that of which defined my childhood. And still make me happy. When people find out about my baking/catering business, or stumble across my blog, or see my food photography work for school, I'm always asked the same question. What do you enjoy making most? What's your speciality? In reality and in all honesty, I enjoy cooking more. Baked goods however, sell more. People respond a lot more to my baking. But if given the chance I'd prove that savory cooking could be just as good to look at and eat. My answer to that question is always the same, just with different savory dishes each time. But I think that the real answer has always been there. Empanadas are my favorite thing to make. Not because they are easy, because yes they are, but because the possibilities are endless. You can fill them with anything your heart desires and the best part is they are portable. A food on the go, all wrapped up in an edible envelope. The perfect snack or meal. What's your favorite thing to make?
We start by making the dough for the edible envelopes.
An empanada dough is probably the easiest dough to make.
I'm going to shock everyone right now and do this dough by hand. Whaaaaat?!?!
I know I know. Are pigs starting to fly? Are we going to see Piggy Wiggy spreading his wings outside our window?
I normally use the mixer for everything-out of sheer convenience-but this dough is better done by hand, because you have to feel for the dough's consistency.
Start with an empty bowl.
Add the dry ingredients:
          All-Purpose Flour                            Masa Harina (Instant Corn Flour)
Baking Powder                                                            Salt
Give it all a stir and make a well in the center of the dry ingredients.
Pour the melted butter and water in the center.
Carefully begin to mix the wet and dry ingredients together.
If the dough appears to be dry and not coming together, add a bit more water.
Pour a little at a time. Remember you can always add some, but you can't take any back.
At this point, you can start to use your hands to mix the dough. They work much better than any other utensil.
Work the dough until it comes together and is slightly sticky to the touch.
Note that it shouldn't be completely smooth.
Cover the dough with plastic wrap and refrigerate it until we're ready to use it.
It's important to allow the dough to chill, it will make for a flakier crust.
In the meantime, let's make the filling.
Here's what you'll need:
Heat a large, heavy duty, pan over medium high heat.
Drizzle in the vegetable oil. (Any oil will do).
Add the ground beef. I'm using a lean ground beef, something with little fat.
But feel free to use ground turkey or chicken.
Breakdown the beef with a wooden spoon, and allow it to brown.
Meanwhile, as the beef cooks, cut up the veggies.
Start with an onion.
Dice the onion, you'll want it in very small pieces.
Don't know how to small dice an onion? Well have no fears I can show you.
Cut off the ends, slice in half, and peel.
Make thin slices, length wise.
Then make a cut in the opposite direction.
Dice.
Repeat with the other half.
Garlic time.
You'll need a few cloves.
Give the cloves a smash with the side of your knife, peel them and begin to mince the garlic.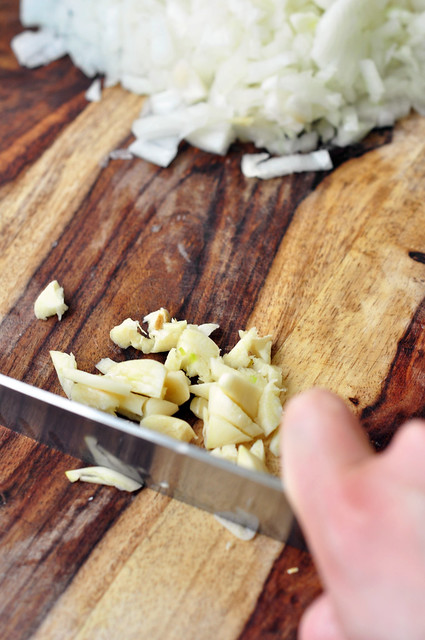 Let's turn our attention back to the beef.
Once it is cooked and browned, it will look like this.
Throw in the diced onion and minced garlic.
Give it a toss and allow the onions to cook in with the meat.
Next up is a red bell pepper.
Slice it in half and remove the stem and seeds.
Then make thin slices, lengthwise.
Dice the slices in the opposite direction, making a small chop identical to the onion.
Throw it into the pot with the rest of the goodies.
Repeat the same process with a green bell pepper.
Just make sure that all the veggies are the same size. That way it all cooks at the same time.
Plus, it'll be easier to fill the empanadas later.
Add it to the pot, and give it all a toss.
Continue to cook.
The next ingredient is the best one, in my opinion.
Potatoes. They make everything better.
Use a light and thin, skinned potato. 1) because you don't have to peel them. 2) because they cook faster.
I'm using small yukon gold potatoes.
Last ingredient to chop are olives.
Green olives with pimentos (red bell pepper).
Give them a rough chop.
And now for the finishing touches.
The seasonings.
Granulated Garlic                    Garlic Powder                                   Salt
Crushed Red Pepper                     Cumin                               Dried Oregano
Paprika                           Fresh Cracked Black Pepper                     Tomato Paste
Worchestire Sauce                    Chicken Broth                                      Stir
Allow the filling to simmer and the potatoes to soften a bit.
Cook on low, for about 5 minutes and let the broth evaporate.
Once done, pour the filling into a bowl and allow to cool.
When the beef and veggie mixture has cooled, it's empanada filling time.
Grab the filling, the dough from the fridge, and a sandwich bag. Yes a sandwich bag.
Cut the bag on the sides, so you end with with a strip of plastic.
This will make the empanada making and filling a lot easier.
You could also just use a piece of plastic cling wrap.
But I feel that the sandwich bag is a lot sturdier, and will last the entire time. Whereas the plastic wrap is really thin and you might have to use a few pieces.
Anyhow, let's gets started.
Grab a piece of the chilled dough and roll it into a ball – about the size of a golf ball.
Place the dough ball onto the plastic bag.
Bring the sandwich bag over to cover the dough.
Using the palm of your hand flatten the dough.
Then use your fingers to shape it out into a circle, about a 1/4 inch thick.
Grab a spoonful of the filling.
Place it in the middle of the dough circle.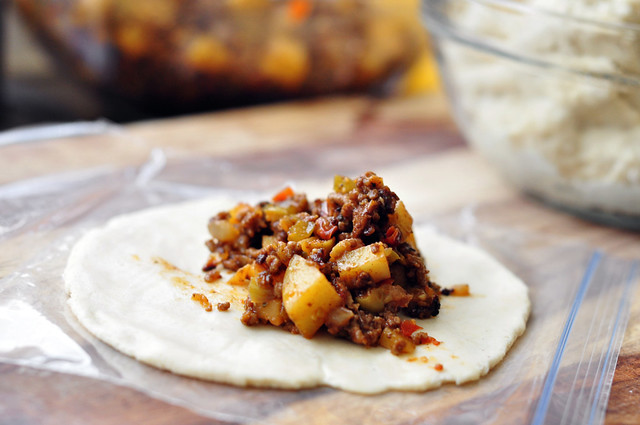 Using the bottom of the sandwich bag, carefully bring the circle over onto itself, into a half-circle shape.
Close the edges, with the bag.
Then grab the empanada and crimp the edges, to ensure that the filling stays in, while it bakes.
Repeat the process with the rest of the dough and filling.
You'll probably still have filling left over. But don't panic. It's really the best thing ever.
I use it later in the week for breakfast. Scramble it with some eggs and fill a tortilla. BAM. Breakfast burritos. You're Welcome.
Anyhow, that's another recipe. Another time.
Let's get back to the empanadas.
Before you bake them, they need an egg wash.
Crack an egg into a bowl.
Add a splash of water.
And give it a whisk.
Brush each empanada, liberally, with the egg wash.
This will allow them to get golden brown in the oven as they bake.
Coat each one.
Pop them in the oven and bake until golden brown.
In the meantime, let's make a dipping sauce for these treats.
A cilantro dipping sauce.
Wait…a cilantro lime dipping sauce.
NO! Better yet, a creamy cilantro lime dipping sauce!
Yum.
Here's what you'll need.
In a food processor add  the following ingredients:
Sour Cream
Mayonaise
Pumpkin Seeds
Cilantro
Garlic
Salt
Pepper
Lime Juice
Slap a lid on it, and pulse.
Pulse until the sauce is smooth.
Taste and add salt or pepper accordingly.
Once satisfied with the taste, transfer the dipping sauce into a serving bowl. Chill until ready to serve.
The empanadas should be done by now.
Look at them.
They look as good as they taste.
Resist the urge to reach in and grab one.
Believe me, it's painful. Don't do what I did, and bite one right out of the oven. They're extremely hot.
Allow them to slightly cool down.
These are a great appetizer for any party.
Or dinner anytime of the week with a few sides.
At this point you can allow them to cool completely, store them in a container in the fridge, and they're the perfect snack for the kids or yourself during the week. Pop them in the oven (or nuke them) for a few minutes and it's an instant treat.
Or you can just eat them all now, like I did.
Serve yourself a few.
Yea I'm tempting you all with a close up.
So make them this week.
Right now. This very second.
Well, finish reading the post first, and then go make them.
Make two batches. One for now and one for snack time during the week.
[print_this]
Beef and Potato Empanadas with a Creamy Cilantro Lime Dipping Sauce
These empanadas are a perfect snack or dinner. I like to serve them with rice, black beans, and a green salad. If you don't eat meat, you can skip it, and throw in a few more veggies. Easily becomes vegetarian.
Yield: About 20 empanadas, depending on size.
Ingredients:
For the dough:
1 1/2 cups all-purpose flour
1 cup masa harina
1 teaspoon baking powder
1 teaspoon salt
1/2 cup (1 stick) unsalted butter, melted and cooled
1 cup water, might be less
1 large egg beaten with 1 tablespoon water, for egg wash
For the filling:
1 tablespoon vegetable oil
1 1/2 pounds lean ground beef
1 onion, diced
3 garlic cloves, minced
1 red bell pepper, diced
1 green bell pepper, diced
12 large pimiento-stuffed green olives, chopped
3 to 4 yukon gold potatoes, or red (about 1/2 pound), peeled and diced
1 teaspoon granulated onion
1 teaspoon garlic powder
1/2 teaspoon crushed red pepper flakes
1 teaspoon salt
fresh cracked black pepper
1/2 teaspoon ground cumin
1 teaspoon dried oregano
1 teaspoon paprika
1 tablespoon worchestire sauce
1 tablespoon tomato paste
1/2 cup chicken broth
Preparation:
Make the dough first: In a large bowl, sift together the flour, masa harina, baking powder, and salt. Stir in the melted butter. Gradually add 1/2 cup to 3/4 cup of water, working it in with your hands to incorporate; the dough should be easy to handle and not sticky. If the dough appears to be dry add a bit more water, as needed. Form the dough into a ball, wrap it in plastic, and chill for 30 minutes.
Meanwhile, place a large skillet over medium flame. Add the ground beef, and cook, stirring for 5 minutes, until the meat gets browned. Add the onion and garlic and continue to saute until the onions sweat and become translucent. Add the diced red pepper, green bell pepper, diced potatoes, and olives. Cook for another five minutes stirring occasionally.
Season the mixture with the spices. Add the worchestire sauce, and tomato paste. Mix thoroughly and cook and stir for 5 minutes, until the mixture is soft. Pour in the broth and simmer for 3 minutes. Allow the filling to cool before stuffing the empanadas.
Once the filling has cooled remove the dough from the fridge. Grab some of the dough and roll it in between your hands forming it into a small ball, the size of a golf ball. Place it on a sheet of plastic wrap or a sandwich bag that has been cut at the sides. Using the palm of your hand squish the ball down and form it into a circle about 1/4 thick. Place a spoonful of the filling in the center of the dough circle. Fold in half and close the edges with your fingers. Crimp the sides to as to avoid any spillage during baking. Repeat with the remainder of the dough and filling. Placing the shaped and filled empanadas onto a baking sheet lined with parchment paper.
Whisk together the egg and water to create the egg wash. Brush each empanada liberally with the wash and bake in a preheated 350° oven for about 30 minutes, or until golden brown. Serve with creamy cilantro sauce (recipe follows). Enjoy.
Creamy Cilantro Lime Dipping Sauce
This sauce can be used for a number of things. Spread in fish tacos or as a salad dressing, as well as for dipping delicious treats with.
Yield: About 1 cup
Ingredients:
1/2 cup sour cream
1/2 cup mayonaise
1/4 cup pumpkin seeds
2 garlic cloves
handful of cilantro
2 limes, juiced
1 teaspoon salt
1/2 black pepper
Blend all the ingredients in a food processor or blender until smooth and creamy. Taste and adjust seasonings accordingly. Store in a container in the fridge until ready to use.
[/print_this]