It's practically the 4th of July and while normally I would've given you something red, white and blue for a dessert, I've moved on to more sinful pastures. Can you blame me? It's hot and all the grilling and poolside drinking (and by poolside I mean daydreaming about a pool because I don't have one) and chatting with friends and family calls for ice cream, because as we all know, ice cream is the answer to everything, especially holidays. Have I mentioned before that the 4th of July is my favorite holiday?! Well it is and I might be slightly obsessed, but that's neither here nor there. It's the grilling, the eating, the American flag paraphernalia, the cocktails and cold beer that have a lot to do with it. It's just the best holiday all around. Relaxed and chill without any of the effort of Halloween or the stress of Thanksgiving or even the commitment of Christmas. The way I look at it, July 4th is a chance to not work, to see friends or family and to fire up that grill. No one is worrying about anything, maybe just wondering where we can watch fireworks for free and that's it. Stress-free is the way to be.
Speaking of stress-free, a dessert for the greatest holiday ever needs to be easy and straight to the point. Let's not worry about such things as baking times, or whether something is cooked all the way or not. No stove needs to catch on fire this time around. I'm throwing the word pie out there, but don't worry, this pie is the easiest pie you'll ever make. The kid in us all will be jumping up for joy with this behemoth of an ice cream dessert, and not just one ice cream flavor but three. Yes three ice cream flavors and bananas and whipped cream and chocolate and cherries. Let's not fight it.
I just recently got a new-to-me cook book called First Prize Pies by Allison Kave. I say new-to-me because it was published last year and I only recently came across it. I'm a little late to the party, but the more important thing is that I finally arrived and it's everything I never knew it was. I know that pies can be a year round seasonal treat, but for some reason I only make baking and eating pies during the summer and autumn seasons. I think that's because berries are perfectly in season during the summer and in the fall it's because I just like being in the kitchen baking. It's no surprise that I got this book and am now making pies left to right. It feels like the appropriate thing to do this summer. So let's all get in the kitchen, making and eating pies like our lives depend on it. And if you don't want to turn on that oven because it's so hot outside, don't worry about. Allison and I have you covered with this no-bake chilled pie because that's what friends are for. To tempt you with ice cream. You can thank us later.
I still can't get over what a genius idea this is—I'm only mad that I didn't think of it myself—of using ice cream sugar cones for the crust of a pie. It's the greatest invention ever known to man. (I might be exaggerating just a tad so bear with me). But this is an ice cream pie after all and ice cream and cones go hand in hand, so again, it's genius.
Give the cones a crush in a ziplock bag or a food processor until finely ground. It's much easier to do it in a food processor, so if you have one use it. Don't be like me and think "oh gosh I don't want to take it out of the cupboard and then dirty the bowl and clean it out after. It's worth it.
**Note: If you don't want to use ice cream cones (although why wouldn't you? WHY?) then you can totally just use graham crackers. I won't be too mad.**
Combine the cone crumbs with a bit of sugar, yes more sugar, and the melted butter. You should know that I did this by hand so your crumbs should be more fine than mine.
Pour into a 9-inch pie plate with somewhat high sides. Press down on the crumbs so that the bottom and sides are covered.
**Tip: You can also use a springform pan for this recipe. It might even be easier when you go to cut and serve the pie later on.**
Pop the crust in the freezer for about 10 minutes to firm up. In the meantime, you can soften the ice cream a bit so that it's easier to work with.
**Tip: Just leave the ice cream at room temperature for the 10 minutes while the crust sets. You'll be good to go. No need to thaw it under running water or in the microwave or any other crazy ideas you might have.**
I'm switching things up from the book, only slightly, and using three different ice cream flavors instead of just two. Why just settle on two, chocolate and vanilla, when you can have the best of three worlds. Or something like that. Plus, I feel like when you order a banana split, you often get three scoops. So my three ice cream flavors are totally justified.
Scoop out the chocolate ice cream onto the chilled crust. Then very carefully, while holding your breath and crossing your fingers, spread the ice cream as best you can in a single layer. If it's softened enough, it should be rather easy. Top with a few banana slices.
We're going to go ahead and top and spread the pie with the next ice cream layer.
**Note: I'm using chocolate, maraschino cherry, and vanilla for my pie, but feel free to use whichever flavors you really like. This isn't set in stone and there's no right way to do it. Although my way is probably right (kidding!)**
At this point, you can pop the pie in the freezer and allow it to chill for about 15 to 20 minutes. That way when you go to add the third and final layer, you don't have to worry about it getting super messy. Once chilled, top with the remaining banana slices and then with vanilla ice cream. Spread it out into an even layer and cover the top with plastic wrap. Allow to chill and firm up in the freezer for at least 4 hours, or overnight.
Once you've waited for as long as you possibly could without losing you mind, and the pie has chilled, you're almost ALMOST ready to eat it. You still have to worry about making the toppings, but don't worry, they're easy.
First thing, make the whipped cream. Beat the heavy cream until soft peaks form. Add the vanilla and powdered sugar and continue to beat until stiff. (But not too stiff because it'll turn to butter if you're not careful).
Let's talk about hot fudge sauce. The best topping for ice cream, in my humble opinion. Aside from sprinkles, of course. But let's also talk about how easy this one is to make. Just heat the cream until scalded and then stir in all the other ingredients. Return to the stove and cook for a bit more until bubbly around the edges. Boom. You're a chocolate wizard.
**Tip: Allow the hot fudge sauce to cool down a bit before adding it to the pie. I know it's supposed to be hot, but you don't want it to melt the pie right away. Warm fudge sauce is what we're looking for.**
Cut the pie into wedges or pieces I guess, and then add your toppings. Whipped cream, fudge sauce, and chopped nuts. Don't forget about the cherry!
**Note: Other appropriate toppings that I'll allow: sprinkles, caramel, strawberry slices, and more chocolate.**
The greatest thing about this pie, aside from it's taste, is that you don't have to turn on the oven at all. The hardest thing about this pie is waiting the 4 hours for it to chill. It doesn't get any easier than that, friends. Let's take advantage of that and make this pie all summer long.
You can definitely make this pie a few days ahead of time. Just don't add any of the toppings. After you've added the last layer of ice cream, cover with plastic wrap and place in the freezer until ready to serve and eat, up to 4 days. You don't want to do anything more than that because the bananas will brown a little too much for my taste.
Let's not dwell on anything else other than devouring this pie. But a word of advice is to invite people over because if you don't, you'll probably end up eating the entire pie yourself and you'll stare at an empty pie plate and realize what you've done and be like "OMG what did I do!?!" Or something like that….I'm just saying…it's not like I would know or anything.
Do yourself a favor and get your ice cream pie on this summer. It's a bit more fun than just having a scoop of ice cream on a cone. Take it to the next level. At least you can have three different flavors, and bananas and whipped cream and hot fudge sauce and nuts and a cherry. It's all of your childhood dreams come true. Enjoy!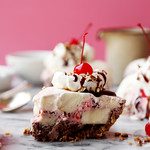 Banana Split Ice Cream Pie
All the flavors you love from a banana split, rolled into a mega summer pie! Perfect to beat the heat and stay cool this summer!
Ingredients
For the crust
12 to 15

sugar cones

2

tablespoons

granulated sugar

1/2

cup

1 stick unsalted butter, melted
For the filling
1

cup

chocolate ice cream

softened

1

cup

maraschino cherry ice cream

softened

1

cup

vanilla ice cream

softened

3

medium-ripe bananas

sliced
For the whipped cream
1

cup

heavy cream

2

tablespoons

powdered sugar

1

teaspoon

vanilla extract
For the hot fudge sauce
1/2

cup

heavy cream

4

ounces

bittersweet chocolate

chopped

1/2

cup

sugar

1

tablespoon

butter

pinch

of salt

1

teaspoon

vanilla extract
Other toppings
nuts

sprinkles

maraschino cherries
Instructions
To make the crust: In the a food processor, add the broken up sugar cones and pulse until finely ground. Add in the sugar and melted butter and process until moistened. Pour into a 9-inch pie plate or springform pan and press down onto the bottom and sides of the pan. Place in the freezer and allow to firm up a bit, about 10 minutes.

Add the chocolate ice cream to the chilled crust and spread out into an even layer. Top with a third of the banana slices. Add the maraschino ice cream and spread out into an even layer. Place in freezer for about 15 to 20 minutes. Top with the remaining banana slices and the vanilla ice cream, spreading into an even layer. Cover the top with plastic wrap and chill for at least 4 hours, or overnight.

To make the whipped cream: Beat the heavy cream until soft peaks form. Add the powdered sugar and vanilla extract, and beat until stiff peaks form.

To make the hot fudge sauce: In a medium saucepan, heat the cream over medium heat until it is hot (but not boiling). Add the chocolate, sugar, butter and salt and stir until they are fully dissolved. Continue to cook, on low, until smooth and heated through. Remove from heat and stir in the vanilla extract. Allow to cool slightly before topping. You can refrigerate it for up to 2 weeks, in an airtight container.

Once ready to serve the pie, cut into pieces and then top each piece with whipped cream, hot fudge sauce and other desired toppings.