Have I ever told you how much I love Indian food? It's my all time favorite type of food to eat, in case you didn't already know that. I'm obsessed with it. I can't get enough. Sometimes I even dream about eating Indian food, and not just a little dish here and there, no I dream about devouring an entire feast. Yeah, in my dreams I eat it every single day of my life and I never get tired of it. In my dream, samosas are falling from the sky like it's raining and I'm out in the street eating them as they fall onto my plate. I'm trying very hard to make that dream come true but I don't think the people in my life really appreciate it. I'm always the first to suggest an Indian restaurant when my family and friends ask where we should go eat. I always get a no. One of these days though they'll say yes and when they do, I'll be ready for it.
I won't tell you about the time I pretended to be super sick (lying on my deathbed) just so I can get a plate of Indian food out of pity. That was my only cure. It was a low point for me. Don't judge. I will however, tell you about a time where I visited a close friend in North Carolina and we ate two Indian dinners in one night. IN ONE NIGHT. I guess we wanted to tour all of the city's Indian Cuisine offerings. We started at one place and were forced (not really, we ate it willingly) to eat a bunch of delicious food. Then we ventured to another Indian restaurant (don't ask us why) and within a few hours proceeded to eating an entire second dinner, filled with multiple dishes. Oh there were drinks in between that were involved and we made a night of it. Just me, my friend and a whole lot of curry and chutney and samosas. I was in heaven.
So here I am today with a yearning for vegetable samosas and the need to share it with all of you, friends. It might seem a little daunting at first but fight that feeling. It's not daunting at all. What we have here is nothing but delicious pockets of curry flavored potatoes and peas. I'm all for anything wrapped in buttery pie dough, especially if potatoes are involved. So let's shout a big WOO HOO at the top of our lungs (not optional) and get to making and eating samosas. Let's be adventurous and try new dishes because that's how we find new favorites, right? These here are your new favorite. I just know it.
I'm not going around saying that these are the most authentic samosas out there. I know that I'm probably missing a few things here and there, and that I'm doing it all wrong, but I think these are really good at being close to authentic as possible. Sure, I've switched up the dough and turned them into mini-pies but if you really think about it, I'm doing us all a favor. By baking these guys instead of the traditional frying, it means we can eat a lot of them (all perhaps) without feeling all that excess guilt. Say it with me, "Baked samosas for good samosas."
We're going to start by making the dough because it needs to chill for at least an hour in the fridge. Might as well get that out of the way right off the bat. We're going to be making a pie dough. A simple, everyday, pie dough. I know I know, that's not the way samosa dough is supposed to be, but like I said, this is my take on it, but I promise you I wont disappoint.
We need a large mixing bowl with flour. Just all-purpose flour will do. To that, add the salt and a bit of sugar. Give it a mix.
Traditional samosa dough has a dark seed/spice running all throughout it. Since I want to get the flavors just right, we're going to be adding that seed to it now. What is this seed called you might ask? Ajwain seed. I had no idea what it was either but I asked the friendly man at the Indian grocery store for it and he got really excited and showed me the way.
**Note: I learned, by the friendly store clerk, that ajwain seed is also known as carom seed. So you might need to look out for either of those names. If you cannot find this spice anywhere, though, a good substitute would be caraway seed. They are similar in flavor, not one hundred perfect the same, but it's a good substitute.**
Once you've added the ajwain/carom (or caraway seeds), give the dry ingredients a stir and then add the cold diced butter. Using your fingers or a pasty cutter, cut in the butter until it resembles coarse crumbs the size of peas. Just like if you're making pie dough, because guess what, we are making pie dough.
Now we're going to add the ice cold water. Add a few tablespoons at a time (about 4 to 6 tablespoons) and mix until the dough comes together and all the flour is incorporated.
**Tip: Only add one tablespoon at a time until the desired consistency is reached because remember, you can always add more water, but you cant' really take some back once it's in.**
Wrap the dough in plastic wrap and place it in the fridge for at least 1 hour to chill. You can also make it a couple days in advance so it's ready to go when you need it. Just let it come down to room temperature for a bit before rolling out, to make it easier on your arms.
While the dough chills, let's turn our attention to the filing. We're making these vegetarian, with the help of my favorite vegetable, a potato (and a bunch of other things that aren't really important right now). I'll tell you what is important right now, and that's the potatoes. Yes the taters. Those are very important. They make up about 98% of the filling. SO peel and dice up a few russet potatoes, and throw them into a pot. Fill them with cold water, bring them up to a boil and cook them until fork tender.
Once cooked, drain the potatoes, throw them into a bowl and allow them to cool for a bit.
We are now going to sauté some onions, garlic and the spices.
**Tip: Cooking the spices allows them to develop their flavor as well as giving your samosas a kick up in deliciousness.**
Heat a skillet over medium heat and add a bit of butter. You can also add ghee which is an Indian clarified butter, if you can find it, but if not, regular unsalted butter will do.
Throw in the onions and garlic and cook until tender and translucent.
Next up is freshly grated ginger and a very important spice. Garam Masala. Most major super markets are now carrying this product, if not a specialty food store for sure.
**Note: Garam Masala is an Indian spice mix. Just a mixture of various spices like, turmeric, black and white peppercorns, cloves, cinnamon, black and white cumin seeds, and cardamon. Some garam masala mixes also have onion, garlic, and star anise.**
If you can find it in your super market, then by all means add it. If not, I'm sure you can find it online like amazon or something. Look out for it because it's crucial to samosas!
We're also going to add cumin seeds to the mix.
The thing I love about Indian food is the amount of varying spices in the dishes. If you think we've already added a lot of spices, just you wait. We're about to add a bunch more.
We're going to add chili powder, ground coriander, cinnamon, salt, dried mango powder (if you can find it), turmeric and black pepper. Phew. Is that a lot or what? Add them to the onions and garlic and give it all a stir. Cook for a few minutes to develop the flavors of the spices.
Once the spices are aromatic, add the potatoes, and a few chopped green chilies.
**Note: You can add as little or as many chopped chilies as you'd like. If you like things super spicy, then add about 3 or 4 (with the seeds). If you don't like things spicy and just want a little kick, add one. Or just don't add any if you're not a spicy type of person.**
Mix everything together. You don't have to super careful when mixing, if the potatoes breakdown a bit, that's actually a good thing. You want that to happen. Or I want that to happen. I want you to make that happen.
Throw in a handful of chopped cilantro and a bunch of peas. Frozen is okay, just thaw them out before adding. Stir once more and cook for a few minutes to get everything just right. Yeah, you want everything just right and those last two minutes of cooking will get you there.
Remove the skillet from the heat and allow the filling to cool.
**Tip: The filling needs to be cold or at room temperature so that it doesn't warm our cold dough when we go to fill it. It's just like pie dough, the butter needs to be cold in order for it to get flaky while it bakes. So hot or warm filling equals bad for the cold buttery dough. No bueno.**
Don't worry though, we still have plenty to do. So in the meantime let's make ourselves useful. We need some kind of sauce for our samosas. I've told you already how much I love Indian food and one of my favorite things about it is all the different chutneys they serve alongside the food. So we're going to be making a chutney.
It's a spicy green chutney. Or a spicy mint chutney. Or a spicy cilantro chutney. Or a tikhi hari chutney. It's all the same thing really.
We're going to make this in a blender (or you can do it in a food processor). Add the cilantro, mint and parsley. All fresh. All the time. Let's also dump in a few garlic cloves, green chilies (again as many as you'd like, I added four), salt and pepper, fresh lemon juice, a splash of water and a handful of salted peanuts. Blend until completely smooth.
**Note: The peanuts are optional, but in researching this recipe I found that a lot of recipes called for chopped nuts so I added peanuts. Also, you might need to keep adding water to help blend it all together. You want it to be a smooth paste but still pourable.**
And that's it for the spicy chutney. Give it a taste to make sure the seasoning is right. Add a bit more salt and pepper or a few more chilies if you wish. Transfer the chutney to a bowl. Wrap it tightly with plastic wrap and store it in the fridge until ready to eat.
By now the filling should be cooled and the dough should be chilled. Take the dough from the fridge, unwrap it and place it onto a lightly floured work surface. Roll it out into a giant oblong shape, about a quarter of an inch thick. You don't want the dough to be too thick. Using a large circle cutter, or bottom of a glass, cut out a bunch of circles.
Lay out the circles onto a baking sheet lined with parchment paper. Brush the edges of each circle with egg wash and then fill add about a spoonful of the cooled filled on the center of each.
Fold the handpies over to back half moon circles and then crimp the edges with a fork. That ensures they seal properly and none of the filling will ooze out. Brush each samosa liberally with egg wash.
Bake the samosas in a preheated 350ºF oven for about 20 to 25 minutes or until golden brown all around. I like to rotate the baking sheet, halfway through cooking to ensure even browning.
Just in case you can't really see the baked samosas, or just aren't convinced yet about their magic, I'll tempt you again with another image because that's the type of guy that I am.
So they're right out of the oven and they're all golden brown and delicious looking and you really want to eat one right away? What do you do? WHAT DO YOU DO? You let it cool down for a bit, like five minutes even though you know those five minutes are going to be the longest five minutes of your life, yes that's true. After those long five minutes pass, you've cleared the danger of burning off the roof of your mouth zone, so you can eat a few here and there while you stand over the baking sheet. Then serve yourself a few properly, with some of that spicy green chutney from earlier.
These samosas do require a bit of work with various steps, like making the dough, chilling the dough, boiling potatoes, cooking the filling with the spices, cooling the filling, rolling out the dough, cutting the dough, filling the dough, folding the dough, baking the samosas……that's a lot right? Well I recommend that you make a big batch of these and then freezing them before baking. Lay them out onto a baking sheet after you've stuffed and folded and crimped, then freezer them. Once frozen, transfer the samosas to a freezer bag or airtight container. Then you'll have samosas ready to be baked whenever you need them. Just lay them onto a baking sheet (no thawing necessary), brush them with the egg wash and bake them up until golden.
I like to eat these as a snack or appetizer any day of the week. I think it adds something different to the start of any menu, and I find that people really enjoy them, especially if they've never tried Indian food before or aren't that keen on eating new things. This is a good transition into Indian food. So if you've been wanting to try it for sometime but have been putting it off, now is the time. This is it. There's no more stalling. Begin with these vegetable samosas, they're a classic Indian dish found in pretty much every single Indian restaurant and I just know you'll love them. What's not to like, it's dough filled with potato?! Nothing could go wrong with that situation.
The green chutney really takes this dish over the edge. My boyfriend told me that you can literally put that sauce on anything and he'll eat it. He even went as far as to say that it's the best dip/sauce/spread I've ever made. And that's saying something. So if you make these samosas you HAVE TO make the spicy green chutney to go along with it. It's an order. But also because I feel like you need something cold and spicy to go with the warm flaky handpies, ya know what I mean?
I've made this post in hopes that many of you will be adventurous and try out this recipe. I know it seems a bit out there and maybe a little too foreign, but it's actually very delicious. Some of the spices might be hard to come by, but you might be able to find it in bigger grocery stores or online for sure. If you're around a World Market, they have tons of spices there. I recommend stopping in one to check. If worst comes to worse you can alway omit some of the spices or trade them in for something else. I dare you to be adventurous and daring in the kitchen. That's what makes cooking fun. Enjoy!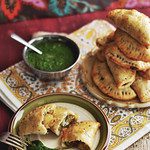 Baked Vegetable Samosa Handpies
A delicious Indian appetizer or snack, loaded with potatoes, peas, and lots of great Indian spices, wrapped in a buttery and flaky crust. These handpies are the perfect way to expand your culinary horizons.
Ingredients
For the crust
1½

cups

all-purpose flour

½

teaspoon

sugar

½

teaspoon

salt

1

tablespoon

ajwain

carom or caraway seeds

½

cup

1 stick unsalted butter, chilled and diced

¼

cup

ice cold water
For the filling
2

russet potatoes

peeled and diced

4

tablespoons

unsalted butter

or ghee

1

yellow onion

diced

3

garlic cloves

minced

2

teaspoons

fresh ginger

grated

2½

teaspoons

garam masala

½

teaspoon

whole cumin

½

teaspoon

salt

½

teaspoon

black pepper

½

teaspoon

chili powder

½

teaspoon

ground turmeric

½

teaspoon

ground mango powder

optional, if available

¼

teaspoon

ground cinnamon

¼

teaspoon

ground coriander

2

green chilies

chopped

¼

cup

fresh cilantro

chopped

1

cup

frozen peas

thawed

1

egg

for egg wash
Instructions
To make the crust: Mix together the flour, sugar, salt and ajwain (carom or caraway) seeds in a large mixing bowl. Add the cold butter and cut-in with a pastry blender or with your fingers, until it forms coarse crumbs the size of peas. Add the cold water and mix until the dough comes together. Add more water as needed, 1 tablespoon at a time, until desired consistency is reached. Wrap tightly in plastic wrap and place in the fridge to chill for at least 1 hour.

To make the filling: Place the peeled and diced potatoes in a pot, fill it with cold water and bring to a boil over medium-high heat. Cook until fork tender. Drain and allow to cool.

Heat a large skillet over medium-high heat. Add the butter (or ghee) and melt. Throw in the diced onions and garlic, and sauté for about 5 minutes until translucent and soft. Add the grated ginger and all of the spices. Stir and cook for another 5 minutes to develop all of the great flavor. Add the cooked potatoes, green chilies, cilantro and peas. Stir and cook for another 2 minutes. Remove from heat and allow to cool down completely.

Preheat oven to 375°F. Place the chilled dough on a lightly floured work surface. Roll out into a large rectangle, about ¼ of an inch thick. Cut out into medium circles and place on a baking sheet lined with parchment paper. Brush the edges with egg wash. Fill each with about a tablespoon of filling in the center. Fold over and crimp the edges to seal. Brush the tops with egg wash and bake for about 20 to 25 minutes or until golden brown.

Serve warm with a spicy green chutney (recipe follows). These can be frozen and baked right before serving. No thawing necessary, just add a bit more time when baking. Any leftovers can be kept in the fridge for up to 4 days. Enjoy!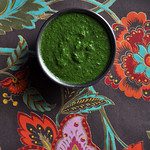 Spicy Green Chutney
A spicy chutney perfect for a dipping sauce for samosas or other snacks!
Ingredients
1

cup

fresh cilantro leaves

1

cup

fresh mint leaves

1

cup

fresh flat leaf parsley leaves

3

garlic cloves

2 to 4

green chilies

depending on your heat preference

1

teaspoon

salt

1

teaspoon

black pepper

1

tablespoons

fresh lemon juice

¼

cup

peanuts

water to help blend sauce
Instructions
Throw all of the ingredients into a blender or food processor and blend until a smooth thin paste is formed. Add as much water as needed to reach the consistency of a sauce. Check for seasoning and adjust accordingly. Store in an airtight container in the fridge. Will keep for up to 4 days. Serve with Baked Vegetable Samosa Handpies.