The golden rule we should all keep in mind this New Year is that if you bake your doughnuts, you can top them with anything you'd like; they'll still be healthy because they're baked. So go ahead and get crazy. Add that chocolate, place those marshmallows on top, and make it rain down graham crackers because all bets are off. The more you fight it, the more these s'mores doughnuts will call to you. They'll wake you up in the middle of the night. Do you really want that? Sure, we're all trying hard to make healthier choices, and yeah, there's been talks about clean eating and diets and cleanses, but deciding to bake these doughnuts instead of frying is about the healthiest decision I'll ever make. I'd say that I'm nailing this whole New Year's resolution thing. I'm basically a pro.
I didn't eat s'mores as a kid mainly because I had no idea what they were. (Go ahead and feel sorry for me now, I deserve it). I also didn't eat them because whenever there were marshmallows in the house, you could bet that mom would be making rice cereal treats for my sisters and I. I never complained, though, because I actually happen to really love rice cereal treats, especially the way she makes them. I don't know how she does it, but mine never seem to come out as good. And it's not like they're complicated or anything. She just has the magic touch, I guess. Now as an adult I know all too well what I've been missing out on. S'mores are out of this world. I'm making up for lost time now, by baking them up completely from scratch and sandwiching them together with these Homemade S'mores, and turning them into tiny cakes with these S'mores Cupcakes (from the vault). Whatever your vice is, you now have a slew of delicious s'mores desserts to choose from, here to remind you of your childhood. There's something for everyone.
These are a take on a previous post, Baked Salted Caramel Chocolate Doughnuts. They use the same recipe as the base. But just to refresh your memory, let's go through the motions again.
Whisk or sift together the dry ingredients until well combined. Set aside, and then in a separate bowl, whisk together the wet ingredients.
**Tip: For even more chocolatey flavor, try adding a bit of instant espresso or ground cinnamon to any of your chocolate recipes. Both of those ingredients really enhance chocolate's flavor. I added both to this recipe.**
Make a well in the center of the dry ingredients and then pour in the wet ingredients. Stir together until just combined.
**Note: Try not to over mix the batter at this point because if you do, your doughnuts will become tough and dry. No one wants that.**
Once the batter comes together, spoon or pipe it into a baked doughnut pan, filling up to the top of each.
**Note: Any baked doughnut pan will work for this. If you're in need of a really good pan, Wilton makes a great one. You can find it here. They're really inexpensive, so I recommend getting two of them so you don't have to wait and cook them in batches!**
Bake until puffed up and a toothpick inserted in the middle comes out clean, about 10 to 12 minutes.
Let the doughnuts cool in the pan, then invert onto a wire rack. Once at room temperature, they're ready to be glazed and topped.
**Tip: Sometimes the batter baked over the center, and because I want these to look like traditional doughnuts, I cut the center out with a pairing knife to create the hole.**
Let's make the marshmallow glaze. This is the perfect glaze for these s'mores doughnuts because of the marshmallow flavor! Combine the butter and water in a saucepan. Cook on until the butter has melted. Stir in the mini marshmallows and cook until fully melted through.
Pour the melted marshmallow mixture into the bowl with the powdered sugar, vanilla and salt. Whisk until completely smooth.
**Note: If the glaze is too thin, stir in a bit more powdered sugar to get the right consistency. You want it to be pourable but not too thin. Somewhere in the middle.**
Dunk the doughnuts, one at a time, into the glaze—allowing the excess glaze to drop off—and while the glaze is still wet, sprinkle with the crushed graham crackers and top with the large marshmallows.
**Note: It's crucial for you to sprinkle the crumbs and place the marshmallow right away so that the glaze doesn't set and doesn't let them stick.**
Continue dipping and sprinkling until all the doughnuts are topped. Let them sit for about 10 minutes to allow them the glaze and marshmallows to set.
Let's take these to the next level. Grab your blow torch or kitchen baking torch and blast the marshmallows until charred and almost burnt. I love burnt marshmallows so I tend to go overboard a bit.
**Note: Don't have a kitchen torch? Pick one up at a restaurant supply store, online or at a B3 (Bed Bath and Beyond) near you! B3 is probably your best bet because you can use a coupon and their coupons never expire! **
The marshmallows might catch on fire, if they do, just blow them out and they'll be fine. Don't start panicking. It's a controlled fire situation, I promise. The faster you blow out the flame, the less charred they'll be.
Once they're all torched, top them with a piece of chocolate, because these are s'mores after all and there can never be enough chocolate.
These can be eaten right away or covered with plastic wrap and kept at room temperature for up to 2 days. Anything longer, and the doughnuts will start to get stale, but you don't have to worry because I don't think these will even make it to the second day.
I really like baked doughnuts because they don't require all of the work as regular fried doughnuts. Think about it, you don't have to make a yeast dough and let it rest and rise, and then cut them out and then rise again and then heat up a giant pot of oil and then fry them and then drain them and then top them. Who has that kind of time, this time of year? Don't get me wrong though, I love regular doughnuts just the same. They're my first true love. Baked will always come second, but they're a good second.
If you're watching what you're eating because of the New Year, I'm sorry. If you're currently in a cleanse, I'm sorry you're going through that. Keep these in the back of your mind or pin them for later. Then once you're free or on your cheat day, pull this recipe out and make them for yourself because you deserve a treat. 2016 is for baked doughnuts.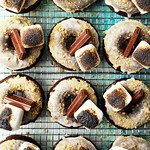 Baked S'mores Doughnuts
These doughnuts are just like the classic s'mores we love. Chocolate, marshmallow and graham crackers on a baked chocolate doughnut!
Ingredients
Doughnuts
1 3/4

cup

cake flour

1 1/4

cup

light brown sugar

2/3

cup

cocoa powder

1

teaspoon

baking powder

1

teaspoon

baking soda

1

teaspoon

salt

3/4

teaspoon

espresso powder

optional

1/4

teaspoon

ground cinnamon

optional

2

large eggs

3/4

cup

buttermilk

2

teaspoons

vanilla extract

½

cup

1 stick unsalted butter, melted and cooled
Glaze
1 1/2

cups

powdered sugar

pinch

of salt

3

tablespoons

unsalted butter

2

cups

mini marshmallows

1

teaspoon

vanilla extract
Topping
1/2

cup

graham cracker crumbs

about 6 squares

18

large marshmallows

18

chocolate squares

such as Hershey's
Instructions
Preheat oven to 350°F. Grease two doughnut pans with cooking spray. If you only have one, you'll have to bake the doughnuts in batches. Set to the side.

To make the doughnuts: In a large bowl, combine the flour, brown sugar, cocoa powder, baking powder, baking soda, salt, espresso powder and cinnamon. Make a well in the center of the bowl. In a separate bowl, whisk together the eggs, buttermilk, vanilla extract, and melted butter. Pour the wet ingredients into the dry and fold until they're just combined. Do not over-mix.

Fill the prepared doughnut pan about ¾ of the way up. Bake for about 10 to 12 minutes or until a toothpick inserted in the middle comes out clean. Remove from the oven and allow to cool down in the pan. Transfer the doughnuts to a wire rack and allow to cool completely. If you only have one pan, keep baking the doughnuts in batch until all the batter is used. Allow to cool completely before glazing.

To make the glaze: Combine the butter and 1/4 cup water in a small saucepan, and cook over medium until the butter has melted. Add the mini marshmallows and cook, stirring often, until they've completely melted. Transfer to a large bowl, and whisk together with the sugar, salt and vanilla until well combined. Let cool slightly.

Dip the doughnuts, one at a time, allowing the excess to drain off. Place on a wire rack set over a baking sheet. While the glaze is still well, sprinkle with graham cracker crumbs and a large marshmallow. Let sit for about 5 to 10 minutes to set. Toast the marshmallows with a kitchen torch until charred. Garnish with a piece of chocolate. Serve immediately or wrap in plastic and store at room temperature for up to 2 days.