A while back, I traveled to New Orleans, as I do every month, and shot some recipes with Joy. Again, as we do, but this particular time was special because she thought up of an out-of-this-world cheeseburger fried rice that changed my life completely. It's hard to say that about a singular dish, but if you've been following my blog for a while now, then you know I have an undying love for all things bacon cheeseburger. Maybe these pierogis, wellington, or soup will help prove my case? That fried rice helped inspire this Bacon Cheeseburger Spaghetti, which believe me when I tell you that it'll be your new favorite pasta dish. Sure, it's not the healthiest of dishes but let's chalk it up as one of those dishes we'll save for whenever we want to splurge or whenever we're having a rough day or week and we are in dire need of a comfort food treat. For this, I assure you, is the ultimate comfort food.
Start by cooking the bacon until golden brown and crispy. Transfer with a slotted spoon to a plate lined with paper towels. Remove all but a tablespoon of bacon grease and brown the ground sirloin. Season with salt, pepper and garlic powder and then stir in the onion, cooking until the onion has softened.
**Tip: I love using thick cut peppered bacon (from the butcher counter) for this because it gives the dish a great taste and a better texture than the thin bacon you find in the refrigerator section.**
Once the onion and beef have cooked, stir in the cherry tomatoes and pickle chips and cook for just a short period of time so that they don't get too mushy.
**Note: I know that warm pickles don't sound the most appetizing to most people but you have to trust me on this. They're very important to the dish in order to give it that bacon cheeseburger taste.**
This pasta dish doesn't really have "sauce" so to speak, but rather we're going to try to build one with some ketchup and prepared yellow mustard. Again, these are both vital in order to give the pasta that authentic burger taste. Don't skip this step.
**Tip: Cooking the mustard and ketchup a bit will enhance their flavor and really develop a great "sauce" for the spaghetti.**
Cook the spaghetti, according to the pasta directions, and transfer to the skillet with the meat-mixture. Add in the cheese and about 1/2 cup of the pasta cooking water. This will help create somewhat of a sauce.
**Tip: Whenever you're cooking pasta and don't want to bog it down with a heavy sauce, a great tip is to add a bit of the hot pasta cooking liquid. It's the best to use because it's starchy from the pasta and will thicken and enhance a dish nicely.**
Give the pasta a stir, cooking over very low heat, until the cheese has melted through. Stir in the iceberg lettuce, sesame seeds and the cooked bacon from earlier.
**Tip: You want to add the iceberg lettuce at the very end because we want to wilt it slightly, without cooking it to death. Again, I'm sure that warm iceberg lettuce doesn't sound too appetizing BUT I promise you, it really makes the entire dish!**
Garnish the dish with a bit more sesame seeds on top with sliced scallions to finish things off because we want to be healthy after all.
This dish is best served right away while it's hot, so that you get that creaminess from the cheese and faux-sauce that we created with the pasta water and ketchup and mustard. With that being said though, it won't be the worst thing if you eat it at room temperature if you need to make it ahead of time or anything.
If you're not a beef person, you can easily swap out the ground sirloin with either ground chicken, turkey, or even pork. Any of those would be great instead!

My mom came over right after I made this and I served her some and she gave it her stamp of approval, which says a lot because she's a difficult person to please. She also said it sort of tasted like a pastrami sandwich…I'm thinking it was because of the mustard and the taste from the bacon and beef. But I say this to say that a pastrami pasta situation would be just as delicious. We'll have to dream up of something like that soon.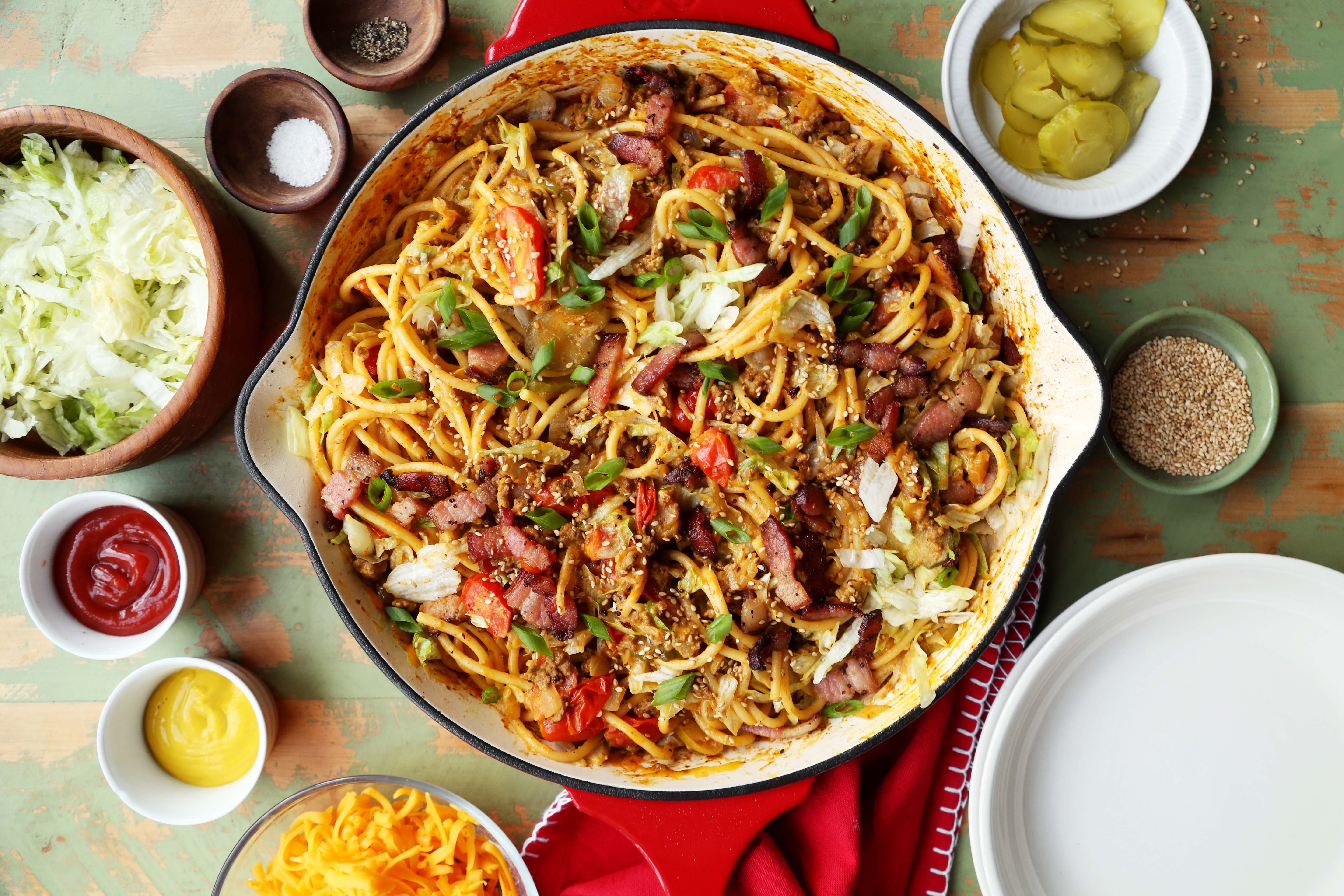 Bacon Cheeseburger Spaghetti
This Bacon Cheeseburger Spaghetti is going to be your new favorite weeknight pasta dinner that tastes just like your favorite fast food treat! Make it fast!
Ingredients
6

slices

thick cut peppered bacon

sliced

1

pound

spaghetti

cooked according to package directions

1

pound

ground sirloin

3/4

teaspoon

salt

1/2

teaspoon

black pepper

1

teaspoon

garlic powder

1

small onion

diced

1

pint

cherry tomatoes

halved

1/2

cup

pickle chips

1/2

cup

ketchup

1/2

cup

yellow mustard

1 1/2

cups

shredded cheddar cheese

2

cups

shredded iceberg lettuce

1/3

cup

sesame seeds

plus more for garnish

3

scallions

sliced
Instructions
Set a large skillet over medium-high heat. Once hot, add the bacon and cook until golden brown and crispy, about 5 to 8 minutes. Transfer to a plate, lined with paper towels, with a slotted spoon.

In the meantime, bring a large pot of water to a boil and season generously with salt. Add the noodles and cook according to package directions. Reserve about 1/2 cup of the pasta cooking water and then drain.

Remove all but 1 tablespoon of bacon grease and add in the beef. Break it up with a wooden spoon and cook until no longer pink. Season with salt, pepper and garlic powder, and stir in the onion. Cook until the onion has softened, about 3 to 5 minutes. Stir in the pickles and cherry tomatoes and cook for another minute or two. Add the ketchup and mustard and cook for a minute longer. Add in the cooked spaghetti, shredded cheese, and reserved cooking water. Lower the flame and stir until the cheese has melted through. Stir in the lettuce, sesame seeds and cooked bacon. Serve immediately with more sesame seeds and scallions as garnish. Enjoy!