I've been wanting to make corn dogs for the blog since for as long as I can remember. In fact, I'm like 99% sure that I wanted corn dogs to be my very first recipe/post. I said, "Jonathan, you should totally make corn dogs as the first ever recipe/post on this new blog you want to start!" Unfortunately, as life would have it, it didn't work out that way, and I ended up making a cinnamon swirl loaf instead. I wasn't upset or anything, I happen to love cinnamon and bread is sort of my weakness, so there were no complaints here. I kept telling myself that corn dogs would be the next post, and then the next post and the next. Each post came and went, and as you know, corn dogs always got cut. So flash forward to me now, about two and a half years later (or is it three already? I really can't remember at the moment) and corn dogs are still no where to be found. Until now of course.
Whenever I wrote it into the schedule of upcoming posts, something would always come up, be it a holiday or special day, where corn dogs just didn't seem to fit. Now I know what you must be thinking, "Corn dogs always fit, Jonathan. Always and forever." You're right they do. That's where I dropped the ball. I wasn't thinking straight. I didn't realize that by continuing to push corn dogs down the long list of upcoming posts I would be depriving not only me, but you as well. Corn dogs are delicious and I'm happy I finally got around to fulfilling my deep fried, corn battered hot dog dreams (with a few jazzed up ingredients of course). It's hard for me to do simple on here. Don't get me wrong, I love simple recipes. It's just that I think you all deserve better than that. Plus, how can you possibly tell me that bacon and cheese and jalapeños don't make everything better. They really do.
Sure it's summer and I should be making lighter dishes and sharing healthy recipes that don't require too much time in a hot kitchen. Sure, I should be doing that, but somehow my brain isn't getting the memo. Somehow, I keep craving rich comforting foods, loaded with cheese and bacon and butter. I'll get around to that "healthy" cooking and eating at some point. Right now, just let's enjoy the moment. This moment being hot dogs on a stick, coated in a corn, bacon, cheddar cheese and jalapeño batter, and deep fried until crunchy and golden brown. Did I mention there's a sweet and spicy honey mustard dipping sauce involved?
I'm almost embarrassed to admit how easy corn dogs are to make (and that it took me this long to share even knowing this). It's ridiculously easy. You just dump everything into a large bowl, mix, dip and fry. Corn dogs are heaven. We begin by putting together the corn batter. Cut the bacon into small pieces and cook it in a skillet over medium-high heat, until brown and crispy, about 7 to 10 minutes.
Drain the cooked bacon with a slotted spoon and transfer it to a plate lined with paper towels (to catch the excess grease, ya know?). Set to the side and allow to cool down. Sure, you can have a few pieces for snacking, but make sure you save some for the batter itself. Let's not get carried away now.
In a large mixing bowl, mix together the flour, salt, sugar, baking powder, cornmeal, buttermilk, and eggs. Mix until the batter is well combined and lump-free.
**Tip: If you find that your batter is too thick, toss it all out and start from scratch. Great going, you've just ruined it! I'm totally kidding. Just add a splash of buttermilk. That'll do the trick. No need to throw the entire thing out. That's so wasteful. Why do you have to go to the extreme? Sheesh!**
Now, let's add our three stars-of-the-show ingredients. The only three that matter. BACON (what's left of it, anyway). CHEESE (there's never enough). And JALAPEÑO (it gives it a nice kick).
Gently fold until everything is evenly combined. Try not to over-mix the batter at this point because it will result in dry, tough corn dogs that can double as swords. If you gently fold in the bacon, cheese and jalapeños, you'll be good to go.
Set the batter off to the side for a few minutes, while you skewer the hot dogs. I found these thin popsicle sticks at the craft store, but I'm sure you can find them online, like at Amazon or something. Carefully stick the wooden skewer into the hot dog.
**Note: As delicious as the batter looks and sounds (because of the bacon and cheese and jalapeños all up in it) it actually doesn't taste good raw. I had a taste and it was awful. Not that you would, but don't stick your finger in and give it a taste because it's nothing like cake batter or cookie dough. It's deceiving.**
Roll the skewered hot dogs in all-purpose flour. Give them a shake to dust off the excess. Shake shake shake. Shake your hot dogs.
**Note: This step is very important because it helps the batter stick to the hot dogs. Without it, the batter might slide off, or at least that's what I read online and it scared me so I thought I might as well just coat them in the flour because you never know and one can never be too sure. Plus, you have to believe everything that's on the internet. They never put anything that isn't real.**
Okay, it's now time to coat the hot dogs in the delicious batter, but before we do, how's about a nifty (yes I just said nifty) tip?!
**Tip: To make the dipping process a lot more enjoyable for all, you and hot dog included, pour the batter into a tall drinking glass. Then dip in the hot dogs one at a time, until completely coated. I like double dipping the hot dogs by dunking it completely into the batter, taking it out and dipping it again to fully coat.**
Carefully drop in the corn dogs into the hot vegetable oil. Don't overcrowd the pan because it'll drop the temperature of the oil and then the corn dogs wont cook evenly. I recommend frying them in batches, depending on how big your pot is, I'd say about two at a time. Cook until golden brown all around, turning halfway through. Drain with a slotted spoon or a pair of thongs and transfer to a wire rack, set over a baking sheet, while you continue frying the rest.
Once all of the corn dogs are fried, you can pop the baking sheet into the oven and allow them to reheat and recrisp.
In the meantime you can whip up a quick sweet and spicy honey mustard sauce for dipping and dunking and drenching.
It's really easy, it's just equal parts yellow prepared mustard, spicy brown mustard (or dijon), honey and a tad bit of sriracha. Add as much or as little of that depending on how spicy you like things. Then just whisk it all together until smooth and well combined.
Serve the corn dogs hot, right out of the oven with this awesome spicy and sweet mustard sauce, or just plain ketchup and mustard will do, if that's what you're into. These corn dogs are already pretty "out there" because of the bacon and cheese and jalapeño so I think simple ketchup and mustard, straight up, will be perfect as well. But I am biased about this spicy and sweet sauce, so I of course, recommend it.
If you're not really into the idea of the bacon and cheese and jalapeño, you can totally just make this recipe without those ingredients. You'll have classic corn dogs that are still super delicious. Or if you want to switch out the hot dogs, for flavored hot dogs—which I've seen a variety of different kinds in the supermarket these days—feel free to do that as well.
I like frying up a batch of these and then freezing them. That way I have something great to snack on during the week or whenever I'm craving a delicious carnival treat. Yeah, sometimes I get these weird cravings for carnival treats. Like popcorn or cracker jack (which is popcorn all jacked up) or peanuts or pretzels or cotton candy and turkey legs. You know, all the normal carnival fare. Well, when I get those cravings I just reach into the freezer and reheat some of these corn dogs in the oven for a quick snack. I think you should do the same.
I'm currently looking into "healthier" recipes to make and share. Perhaps the next one will be a salad of some sort. Nothing but leafy greens, like if I'm an herbivorous dinosaur with a super long neck. Maybe the next one won't even have any oil or butter or cheese (and definitely no bacon) like at all. Maybe I'll get inspired by some kind of healthy dessert. Such a thing exists, right? I'm thinking it's just a bowl of fruit. Or maybe I won't even go that route. Who's to say, really? I might just bring you something cheesier and bacon-ier. We'll have to wait and see what my mind thinks of next. Hopefully it's something we don't have to feel guilty about eating, but I wouldn't make any bets. In the meantime, let's enjoy some corn dogs. We only live once. I'm happy that this one life I have is filled with bacon, cheddar, and jalapeño corn dogs.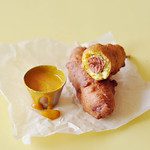 Bacon Cheddar Jalapeño Corn Dogs
Classic corn dogs get a delicious makeover with lots of bacon, cheddar cheese and jalapeños. A fun idea perfect for any night of the week.
Ingredients
¾

cup

all-purpose flour

¾

cup

yellow cornmeal

1½

teaspoons

baking powder

1

teaspoon

granulated sugar

¾

teaspoon

salt

¾

cup

plus 2 tablespoons buttermilk

2

large eggs

8

hot dogs

8

bacon strips

cooked and chopped

1

cup

cheddar cheese

shredded

3

jalapeños

chopped

½

cup

flour

for dredging

vegetable oil for frying
For the sweet and spicy mustard sauce
3

tablespoons

yellow mustard

3

tablespoons

spicy brown mustard

or Dijon

3

tablespoons

honey

1 to 2

teaspoons

sriracha
Instructions
Heat vegetable oil (about 4 inches) in a large pot, over medium-high heat.

In a large bowl whisk together the flour, cornmeal, sugar, baking powder, and salt. Pour in the buttermilk and lightly beaten eggs. Mix until evenly combined and smooth. Fold in the cooked crumbled bacon, shredded cheese, and chopped jalapeños. Pour into a tall drinking glass.

Skewer the hot dogs with a thin popsicle stick. Dredge the skewered hot dogs in flour and dust to shake excess. Dip the floured hot dogs into the glass filled with the corn batter. Lift and dunk again to fully coat.

Carefully lay the coated corn dog into the hot oil. Cook about two at a time so you don't overcrowd the pot. Fry until golden brown all around, about 4 to 6 minutes, turning halfway. Drain excess oil with a slotted spoon or a pair of thongs. Place on a plate lined with paper towels to catch grease. Transfer to a wire rack placed over a baking sheet. Continue frying until all the corn dogs are cooked. Place the baking sheet in the oven to rewarm and get them crispy before eating.

To make the sauce: Whisk everything together in a small bowl. Serve with the hot corn dogs. The corn dogs, once fried, can be frozen. Lay them out on a baking sheet and place in the freezer until completely frozen. Transfer to a freezer storage bag or freezer-safe airtight container. Reheat them in a 350° oven for about 10 minutes. Enjoy!